What to Consider When Planning Travel In 2021
Ask yourself these questions before you book a trip.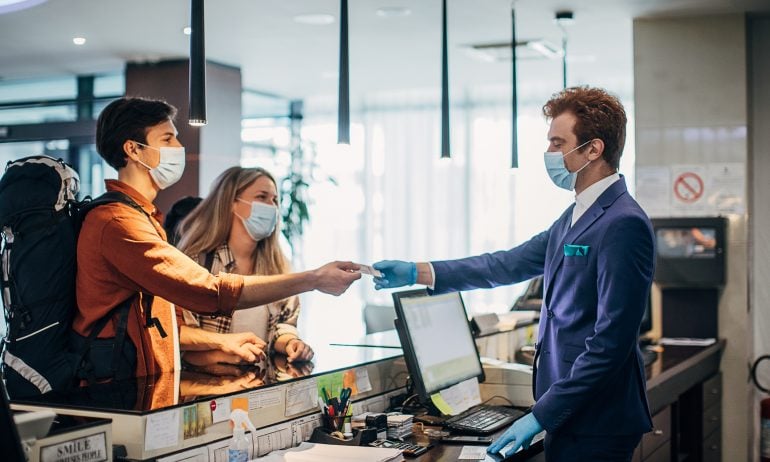 Many or all of the products featured here are from our partners who compensate us. This may influence which products we write about and where and how the product appears on a page. However, this does not influence our evaluations. Our opinions are our own. Here is a list of our partners and here's how we make money.
Between volatility in infection rates and shifting guidance from federal and local agencies, it can be hard to determine how best to travel, or whether it's .
Somewhere between "it's OK to travel" and "it's not OK to travel" lies a vast gray area of caveats, personal preferences and precautions. Here we cut through this complexity to offer some simple factors that anyone should consider when planning travel during the pandemic.
While I'm not a health expert, and you shouldn't take these considerations as health guidance, there are several travel-related aspects to take into account.
According to the Centers for Disease Control and Prevention (CDC), full COVID vaccination offers protection against infection, yet has not been proven to stop transmission to non-vaccinated individuals. You should, therefore, continue to be careful and cautious during and after traveling.
Wait at least two weeks after your last shot before changing your travel behaviors. And keep in mind:
Regardless of whether you're traveling by road or air, and no matter your risk tolerance or the current state of the pandemic, you're going to want the most flexible booking options available.
Check our pages on and flexibility policies to get a sense of which brands are offering the most generous flexible booking options. Be aware that these policies change constantly, so check with the airline or hotel for the most up-to-date information before booking.
For most airlines, a "flexible" fare doesn't mean you can cancel it and get your money back. Generally, you're allowed to change these fares without fees. If you cancel your flight, you'll usually receive a "voucher" for future travel with that airline. So avoid booking a bunch of flexible flights expecting to cancel them later.
For the most part, it's fine to book through these online travel agencies. Flights and hotels booked this way generally follow the same flexibility restrictions as those purchased directly from the airline or hotel. No matter how you're booking, make sure to check these restrictions carefully.
Travel insurance can offer helpful protections under most circumstances, and some policies are . However, this coverage generally doesn't include "cancel for any reason" protection, which lets you do precisely what its name implies. In other words, travel insurance can help cover your trip if you end up getting sick, but not if you decide to call off travel because of infection rates or other concerns.
It's important to remember that travel poses a threat not only to yourself, but also to anyone else you travel with or spend time with after. To mitigate the risk of spreading the disease while traveling, the CDC recommends getting tested both:
The first test will help determine if you should fly at all, and the second test can determine whether you were exposed while traveling.
The CDC also recommends staying home and isolating for seven days after travel, a much shorter quarantine period than the 14 days recommended previously. Keep this isolation and testing protocol in mind if you're traveling to visit friends or family and build it into your plans.
Many experts expect vaccines will be widely available to the general population by summer 2021 and that infection rates are likely to drop accordingly. So planning a (flexible) trip for the fall isn't unreasonable.
Keep in mind that the vaccination timetable for children and teens remains murky. Families looking to book travel should look later in the year, or consider lower-risk travel options, such as road trips.
Everyone has their own reasons to travel and their own individual risk tolerances, so it's impossible to make general statements about when it's OK to travel.
That being said, full vaccination offers protection, but doesn't guarantee you won't transmit the virus to others. As well: