When You're Ready to Travel, Should You Still Fly Delta Air Lines?
Delta did a lot to give travelers more flexibility and peace of mind during the pandemic.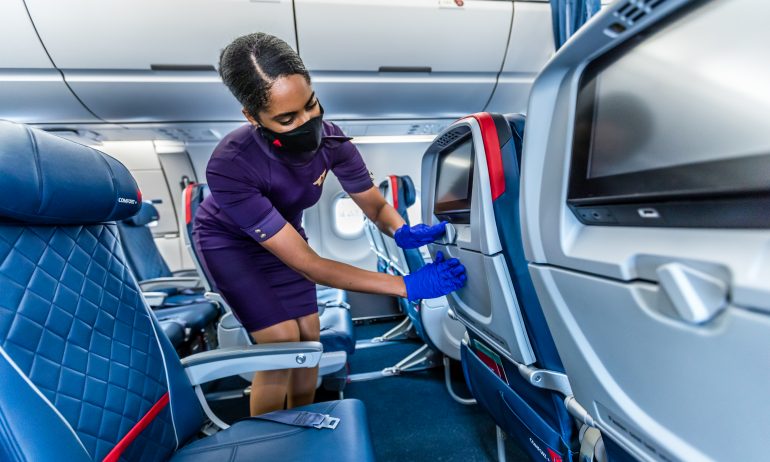 Many or all of the products featured here are from our partners who compensate us. This may influence which products we write about and where and how the product appears on a page. However, this does not influence our evaluations. Our opinions are our own. Here is a list of our partners and here's how we make money.
Although many travelers still aren't ready to set foot on a plane, others have begun taking to the skies. At one point, perhaps when the COVID-19 vaccine is more accessible, more and more passengers will consider air travel again.
You might be asking yourself, "Should I fly Delta Air Lines?" It's worth thinking about. Let's discuss whether you should keep — or start — flying with Delta when you're ready to get back out there.
What to expect when you fly Delta this year
Blocked middle seats through April 30
Being packed into a plane like sardines is a far cry from social distancing. Thankfully, Delta limits its aircraft to 60% capacity. The Atlanta-based airline is the only U.S. carrier that continues to block middle seats on all flights departing through April 30.
"We recognize some customers are still learning to live with this virus and desire extra space for their peace of mind," Chief Customer Experience Officer Bill Lentsch said in a statement. "We are listening and will always take the appropriate steps to ensure our customers have complete confidence in their travel with us."
Aircraft boarding from back to front
To further promote social distancing and eliminate the need to pass by a fellow flyer, Delta begins boarding its aircraft with those seated in the back rows. Everyone flying in the main cabin must follow the back-to-front boarding procedures.
The only exception to this policy lies with passengers flying in domestic first or international business class.
Extended elite status benefits
Delta elite flyers, or Medallion members, who earned status in 2020 have received a status extension through Jan. 31, 2022. Additionally, all Medallion Qualification Miles, or MQMs, will roll over into 2021 for all Delta SkyMiles members.
Other perks, including Delta Sky Club memberships, unused companion certificates, travel vouchers and drink vouchers, have been extended as well.
Flexibility when plans change
The coronavirus pandemic has been unpredictable. And Delta has implemented a few customer-friendly policies for when you need to change your travel plans.
Delta cancellation policies have been significantly modified as part of the airline's COVID-19 response, including the following updates:
All domestic and international tickets, including award tickets and basic economy tickets, purchased by March 30, 2021, are eligible for a change-fee waiver for up to one year from the purchase date.

Delta flights purchased before April 17, 2020, and scheduled to fly before March 31, 2021, can be canceled for free and converted into an eCredit valid through December 2022.
Nerdy tip:
The eCredit can be used toward a new ticket on new dates to a new destination. If the fare is higher, you'll be expected to cover the price difference. If the fare is lower, you'll receive another eCredit for the difference.
Additionally, Delta introduced a new fare-change policy in 2020. Tickets purchased for travel originating in North America to anywhere in the world in Delta's First Class, Premium Select, Comfort+ and Main Cabin will no longer incur change fees; the waiver doesn't include basic economy tickets. Be aware that fare difference will apply to these flights as well.
And finally, passengers who wish to cancel their domestic award tickets purchased with SkyMiles may do so any time before their travel date. In the past, any changes had to be made at least 72 hours before departure.
Easier elite status pathways
Holders of eligible Delta SkyMiles credit cards can enjoy easier paths to earning elite Medallion status in 2021 (with benefits extending into 2022).
These credit cards include:
Thanks to fewer requirements and your potentially strong desire to travel more in 2021, this could be a good year to dabble in earning elite status for Delta.
How Delta policies compare with other U.S. airlines
For starters, as already mentioned, Delta is the only U.S. airline currently blocking middle seats on its flights. Whether the practice actually reduces the spread of the coronavirus or not, the policy may give passengers greater peace of mind, especially those flying for the first time during the pandemic.
As for change-fee waivers, most U.S. carriers implemented similar COVID-related changes for their tickets in 2020:
American Airlines: American waved goodbye to change fees for all domestic and short-haul international flights for tickets issued on or after Aug. 31, 2020. Fare differences apply. If the new ticket is less expensive, you'll receive the remainder in the form of a travel credit for a future trip.

United Airlines: United is allowing fee-free changes and cancellations for tickets issued by March 31, 2021. However, the United cancellation policy doesn't allow for a refund if the new ticket is cheaper than the original flight.

Alaska Airlines: To keep up with its competitors, Alaska eliminated change fees as well. All tickets purchased through March 31, 2021, can be changed or canceled without a fee. Alaska will issue a travel certificate for a future trip.

Southwest Airlines: Southwest doesn't charge cancellation fees, so the policy stays the same. It remains our pick for the airline with the most flexible change and cancellation policies.
Delta was named the best airline to fly during COVID-19 per our analysis of airlines' change or cancellation policies and their latest health and safety measures. As travel rewards expert Sam Kemmis wrote, "Delta has aggressively set the standard of customer care throughout 2020."
Delta is doing a lot to invite hesitant travelers on board now, which will likely benefit the airline when travel picks up again. The longer the pandemic lingers, the further Delta keeps extending its seat-blocking and change-waiver policies, which customers generally view as a positive. As a Delta flyer, you'll know that you can book future flights with confidence and cancel for free if you change your mind, without losing out on any money.
Photo courtesy of Delta Air Lines.
How to Maximize Your Rewards