Which Airline Should You Fly Now That Change Fees Are History?
Now that major U.S. airlines have nixed change fees, you might want to reevaluate your airline loyalties.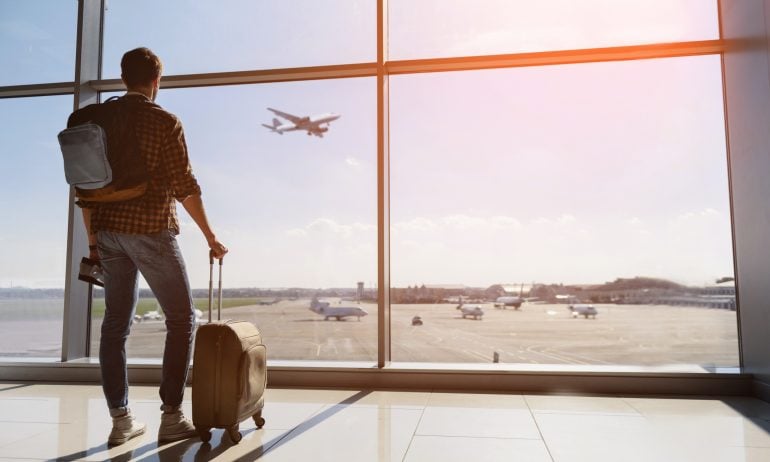 Many or all of the products featured here are from our partners who compensate us. This may influence which products we write about and where and how the product appears on a page. However, this does not influence our evaluations. Our opinions are our own. Here is a list of our partners and here's how we make money.
The COVID-19 pandemic has drastically affected airlines. Now, in an effort to woo travelers back to the skies, airlines are adopting more flyer-friendly policies.
United Airlines led the way in September 2020 by announcing the elimination of change fees and standby fees. Within 24 hours, Delta Air Lines announced a similar policy and American Airlines went even further in its policy changes.
Since then, all three airlines have expanded these policies to most international flights originating in (at least) the United States. This time, American Airlines led the way with Delta and United following a few weeks later.
These changes may leave you reassessing which airline is best for you. So, we dug into the details of the policies of the four major U.S. airlines. Here are the pros and cons of each to help you determine which airline to fly.
Southwest Airlines has long been known — — for its . And even after American, Delta and United made drastic policy changes, Southwest remains the most flexible airline.
Southwest passengers can still change or cancel a flight up to 10 minutes before departure, regardless of destination. That policy bests American, Delta and United, all of which require passengers to originate in a specific region to get free changes.
Unlike the three legacy U.S. airlines, Southwest doesn't offer basic economy. So you don't have to pay more for a ticket that allows changes.
Plus, Southwest famously still lets all passengers check two bags for free. That's a trump card for Southwest when you're traveling with checked bags.
Though American was the last to announce policy changes in September, it made up for the delay. American first of the three legacy airlines, and later led the second wave of change fee policy updates.
Under American Airlines' expanded policy, there are no change fees on flights originating in North or South America — as long as you don't book basic economy.
In addition, as of Oct. 1, 2020, all American Airlines passengers are able to standby for free when traveling domestically (including Puerto Rico and the U.S. Virgin Islands). That's regardless of the type of ticket you buy. The only limitation is that you have to fly to the same destination.
This standby policy matches United's new policy. Not even Southwest allows that kind of flexibility on its cheapest Wanna Get Away fares. So, American and United would be your best choices if you're flying a route with multiple daily flights and want the option to take a different flight.
Even better, American will give you a voucher for the price difference if you change to a cheaper flight. For example, say you change from a $500 flight to a $300 flight — you'll get a $200 voucher toward future travel. This is similar to both Delta and Southwest's change fee policy; United clearly states that passengers won't get the fare difference.
Though American's new policies lead the way, there are other considerations to keep in mind. Unlike Delta, Alaska and others, American is booking flights completely full. So you may want to opt for another airline to lower your infection risk if traveling during the pandemic.
American Airlines used to have some of the most restrictive basic economy policies. Now, American has some of the best. can already bring a full-size carry-on bag on board and purchase seats at the time of booking. As of Oct. 1, 2020, American also lets basic economy passengers add perks like upgrades, priority boarding, extra-legroom seats and even flight changes on the day of departure.
However, American's basic economy fares returned to being non-changeable and non-cancelable within the U.S., Canada, Central America, Mexico and the Caribbean in 2021. Basic economy flights to and from Europe, South America and Africa will be changeable for a fee.
In September, Delta was quick to match United's new change fee policy, for the same regions. Delta was second again in the second wave of change fee updates.
Under the new policy, Delta won't charge a fee for you to change a flight originating in North America (Delta defines North America as including the U.S., Canada and Mexico). As with American and United, basic economy fares aren't eligible to be changed.
Also like American and Southwest, you'll get a credit if you change to a cheaper Delta flight. As Delta explains, it's "similar to the experience of receiving a store credit when exchanging an item for a less expensive one." United is the only airline of the big four that doesn't currently offer a credit for changing to a cheaper flight.
There's one way Delta clearly beats the three other airlines right now: blocking middle seats. Delta has committed to blocking middle seats on flights through at least March 30, 2021. This helped land Delta at the top of NerdWallet rankings of the airlines that have .
Basic economy passengers can bring a full-size carry-on bag on board, but you won't be able to select your seat before check-in and elite members won't get upgraded.
Normally, fares are non-changeable and non-cancelable. That's a similar policy to what both American and United have adopted. However, Delta is allowing changes to all Delta basic economy tickets purchased by March 30, 2021.
That leaves United as the last — and least, in this case — of the four major U.S. airlines. United gets a lot of credit for being the in August. However, its change fee policies were quickly matched by Delta and then beaten by American. Then, United was the last of the three to eliminate change fees on some international flights.
Starting Jan. 1, 2021, all United passengers can standby for an earlier flight for free. American quickly matched this policy after it was announced, but American introduced its standby policy as of Oct. 1, 2020.
Like American and Southwest, United is continuing to book flights to capacity during the pandemic. In NerdWallet's rating of , United tied for fourth behind Delta, Alaska and JetBlue — beating Southwest, American and Hawaiian.
Of course, United may be the only airline to operate a nonstop flight on your route, particularly after the carrier added new nonstop routes this fall. By flying direct, you can limit your time aboard the aircraft and in airports, which may be a good reason to choose United under certain circumstances.
Unlike American and Delta, United doesn't allow to bring a full-size carry-on bag — unless you have , Gold elite status or a United credit card.
However, United is allowing changes to all basic economy tickets purchased by March 31, 2021. After that, United basic economy tickets won't be changeable or cancelable.
If you have a choice, pick the airline with the most flexible and generous change policies. Two airlines really stand out: Southwest and American.
Southwest is long known for having no change fees and allowing two free checked bags. Plus, Southwest hasn't introduced a stripped-down basic economy fare. Meanwhile, American has adopted the broadest and most generous change fee and standby fee policies of the three legacy airlines.
If blocked middle seats are your top priority, then you'll want to stick with Delta for the time being. And unless you really have to fly United because of routing or timing, you'll likely have more flexible options elsewhere.
You want a travel credit card that prioritizes what's important to you. Here are our picks for the , including those best for: