Why Basic Economy Fares Are Even Worse Now
Airlines continue their race to the bottom of the bargain bin.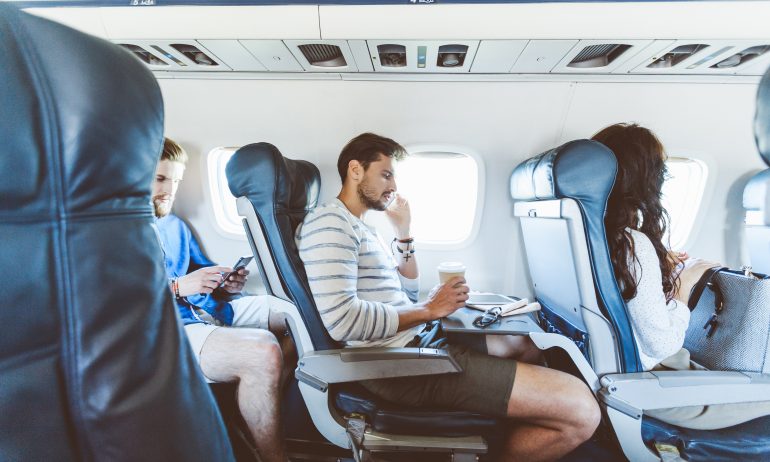 Many or all of the products featured here are from our partners who compensate us. This influences which products we write about and where and how the product appears on a page. However, this does not influence our evaluations. Our opinions are our own. Here is a list of our partners and here's how we make money.
Here's the saddest part about basic economy airfares: Even the airlines don't like them. Check out what happens when you try to book basic economy on Delta Air Lines: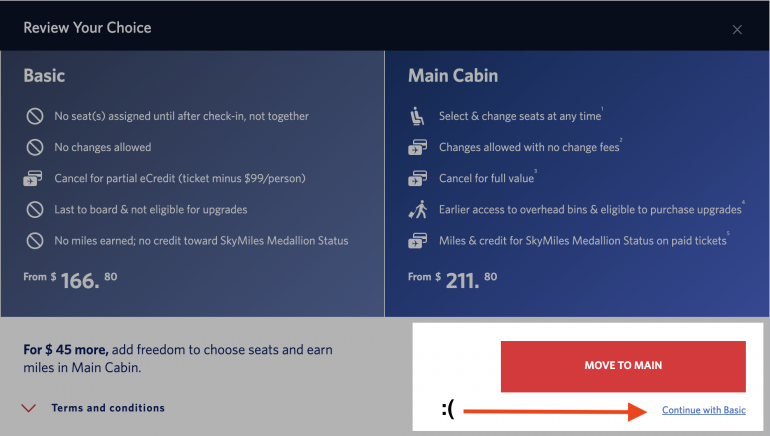 Like a Jane Austen matron, Delta tries to usher you away from its ugly, basic stepchild and into the respectable arms of its normal main cabin fare.
The reason for this is simple: Airlines don't actually want you to book these low-cost fares; they just want to show them on travel search engine results to compete with the likes of Spirit Airlines.
I've written a lot about basic economy and when you should or shouldn't book it, but airlines keep changing the rules — by making basic economy even worse. It's almost enough to make me feel bad for those scrappy little fares. Almost.
You can't change or cancel them
It was always true that you couldn't change or cancel most basic economy fares, but that wasn't a big deal. Why? Because you couldn't change or cancel main cabin fares without incurring huge fees, either.
But all that changed during the pandemic, when airlines began offering far more flexibility on non-basic fares. This was seen as a big win for travelers, who needed better options for rebooking tickets when their plans were perma-scrambled by wave after wave of the pandemic.
Yet throughout all this fanfare, nobody paid any attention to basic economy fares. Sitting alone in the basement with a mop, these fares maintained their no-change policies while flexibility was expanding to other fares.
This is a big deal. By improving the flexibility of non-basic economy fares, airlines made it even less appealing to book basic ones. Only travelers who are completely sure of their plans (and honestly, please put me in touch with such a traveler if you find one) can now possibly justify purchasing basic economy fares.
The rules are all over the place
My friend asked me recently whether United basic economy fares earn miles or not. My answer: Google it.
That's not (just) because I'm lazy, but because the rules governing these fares vary enormously from airline to airline. And they change constantly. Delta recently decided that basic economy fares would no longer earn redeemable or elite qualifying miles and neglected to mention it to … anybody. (Because Delta hates basic economy fares.)
Here's the current state of the basic economy multiverse:
No changes or cancellations.

Redeemable and elite qualifying miles earned at full rate.

No changes or cancellations.

No elite qualifying miles, dollars or segments earned.

Seat selection allowed (for a fee).

Redeemable miles earned at reduced rate.

Elites eligible for upgrades.

No changes/cancellations.

Does not earn SkyMiles or credit toward Medallion elite status.

No changes or cancellations.

No bonus miles for elites.

Redeemable and elite qualifying miles earned at full rate.

$100 fee for changes/cancellations.

No overhead carry-on bag.

Redeemable and elite qualifying miles earned at reduced rate.

No changes or cancellations.

No overhead carry-on bag.

Elite and redeemable miles earned at reduced rate.
Do basic economy fares earn miles? It depends. Are they even called "basic economy" fares? It depends. Can any mortal be expected to remember this complex landscape of rules? Definitely not.
It's impossible to price compare
Back in the good old days when airfare made sense, you'd make a search on Kayak or whatever and choose the lowest fare that best matched your preferences. These days, that's effectively impossible.
Why? A couple reasons. First, airlines charge different amounts for the markup between basic and regular economy, even across the same routes. We dug into the numbers and found some pretty stark differences.
| | Average difference in cost between main cabin and basic economy round-trip fares |
| --- | --- |
| | |
| | |
| | |
| | |
| | |
Second, airfare search tools are bafflingly bad at providing meaningful comparison tools. For example, is a $69 flight on Spirit Airlines actually cheaper than a basic economy flight on United? After factoring in baggage and other fees it should be fairly easy for engines like Google Flights to solve for this. But as yet, they haven't.
Because each airline has different rules for basic economy, and marks up the difference between basic economy and main cabin at different rates, it's up to us — the travelers — to decode the mystery. This is a lousy system.
I used to like basic economy fares. Under certain circumstances, they offered a way for price-conscious flyers to get cheap flights without the frills. But those days are officially over now that airlines have allowed free changes and cancellation on most non-basic economy fares.
What we're left with now is a hassle. There's no good reason to buy a basic economy flight, yet most flight search tools still show and compare basic economy prices. This is like going to a donut shop and seeing only the price for the plain, unglazed donuts. Nobody wants those, and nobody cares how much they cost.
Sorry, basic economy fares. Your own airlines don't like you. Customers don't like you. Now I officially don't like you. Looks like nobody's taking you to the soirée.
---
How to maximize your rewards
Get more smart money moves – straight to your inbox
Sign up and we'll send you Nerdy articles about the money topics that matter most to you along with other ways to help you get more from your money.