Your Guide to Earning Radisson Rewards Points
Radisson points can be earned through hotel stays, partners, credit cards and through special offers.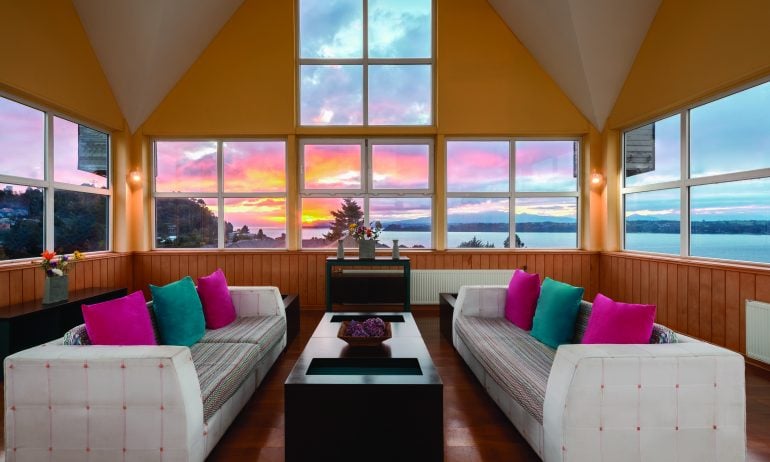 Many or all of the products featured here are from our partners who compensate us. This influences which products we write about and where and how the product appears on a page. However, this does not influence our evaluations. Our opinions are our own. Here is a list of our partners and here's how we make money.
While certainly not the biggest hotel chain in the world, Radisson Rewards is highly rewarding. Stay at a Radisson hotel internationally, and you'll earn points at among the fastest rates of any hotel brand.
Radisson Rewards Americas: This covers properties in the U.S., Canada, Latin America and the Caribbean.

Radisson Rewards: This covers properties in Europe, the Middle East, Asia Pacific and Africa.
This guide to earning Radisson Rewards points refers to all the ways you can earn points that can be redeemed for stays at properties in Europe, the Middle East, Asia Pacific and Africa. While it is easy to transfer points between the Radisson Rewards Americas and Radisson Rewards programs, they are two separate loyalty programs, which can be annoying — especially if you're an international traveler trying to earn Radisson elite status.
If you're looking to earn points that can be redeemed for stays at Radissons in the U.S. or elsewhere in the Americas, check out the NerdWallet guide to earning Radisson Rewards Americas points. And that guide isn't one to overlook. After all, Radisson Rewards Americas is the winner of NerdWallet's best hotel loyalty programs of 2022.
But if you're looking to earn Radisson points for stays at hotels in Europe, the Middle East, Asia Pacific and Africa, then this is your guide.
Here are the best ways to earn Radisson Rewards points:
1. Get Radisson points through hotel stays
The best, most straightforward way to rack up points is by staying at one of the more than 550 hotels in Europe, the Middle East, Africa and Asia Pacific. You can find them all here.
Sign up for the free-to-join Radisson Rewards loyalty program to start racking up points. Even Club members, which doesn't require any work to earn aside from handing over a bit of personal information (like your email address) earn at least 20 points per $1 spent on eligible stays.
Given NerdWallet's value of a Radisson point at 0.8 cent, that's roughly a 12% return in the form of Radisson points back on the cost of your stay.
In other words, Club members who spend $750 at Radisson will earn 15,000 points off hotel stays alone, which is enough for a free standard night at a Category 1 hotel.
You can earn points on up to three rooms booked under the same reservation, as long as you are staying at one of the rooms for the duration of the stay. That can be a nice way to earn a big batch of points in one go if you're traveling with a small group. Just understand that only one member can earn points on that stay — no double dipping allowed.
Points don't post to your account until after the stay has been fully completed and paid for.
2. Dine at Radisson hotel restaurants
In addition to earning points on stays, you can also earn points on food and beverages charged to your room.
Like stays, you'll earn 20 points per $1 spent, whether it's a Radisson restaurant or the pool bar. Though there are a few exclusions, including that it won't apply to alcoholic beverages, tips, tax or room service.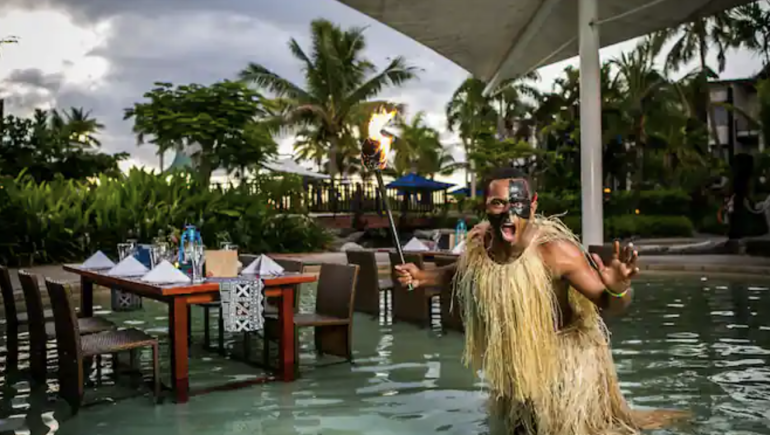 Many of Radisson's international properties offer unique dining options. The Radisson Blu Resort at Fiji Denarau Island is home to Lomani Wai, a dining experience that's located in one of the lagoon pools. You'll wade through water to get to your table and — while you eat your three-course meal — you'll watch a fire show.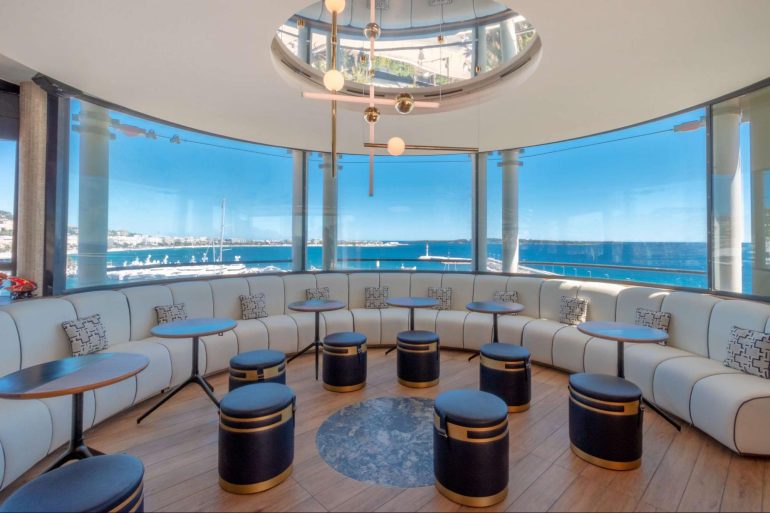 In Cannes, France, you might dine at the Radisson Blu 1835 Hotel's Vertigo Rooftop for views of the French Riviera.
3. Hold Radisson elite status
Earning 20 points per dollar spent at Radisson is good, but Radisson loyalists will do even better. With the highest tier of elite status, expect to earn 35 points per dollar spent. And considering NerdWallet values a single Radisson point at 0.8 cent, the most loyal members can get about 21% of the amount of money spent back in the form of Radisson points.
Here's the breakdown of earnings, depending on your Radisson elite status.
| | | | |
| --- | --- | --- | --- |
| Points earned per $1 spent on hotel stays | | | |
| Average value of points return on hotel spending | | | |
| | 9 nights or 6 stays per year. | 30 nights or 20 stays per year. | 60 nights or 30 stays per year. |
So while Club members would have to spend $750 to earn a free night, Silver, Gold and Platinum members could have enough points for a free night after spending about $682, $600 and $429, based on their respective earn rates.
4. Check the Radisson Rewards offer page
Visit the Radisson Offers page before making a reservation or even planning a trip, as you'll find member-only offers. Some earn you bonus points, while others offer discounts or freebie nights for long stays.
One recent offer nets 3,000 bonus points on your next stay simply by registering. Another offer awarded a one-time 3,000-point bonus for booking through the Radisson Rewards mobile app.
5. Plan a wedding, conference or group travel via Radisson Rewards for Business
Maybe you own a small- or medium-sized business (or at least manage the travel arrangements for one). Perhaps you've got a side hustle as a travel agent. Or maybe you're just trying to put together a wedding at a Radisson hotel.
Radisson Rewards for Business can earn you bonus points for business bookings at the more than 550 Radisson Hotels in Europe, the Middle East, Africa and Asia Pacific.
Travel agents: You'll earn 10 points per $1 spent on bookings. And should you want to stay at a Radisson yourself, here's another perk: Radisson offers a travel agent discount that can save you up to 50% on room rates.
Small- and medium-sized enterprises: If you're an executive assistant, administrative staff member or another employee at a small- or mid-size company who books travel for coworkers, you can pocket the bonus points. When you book rooms for your colleagues, you'll earn 10 points per $1 spent on those bookings.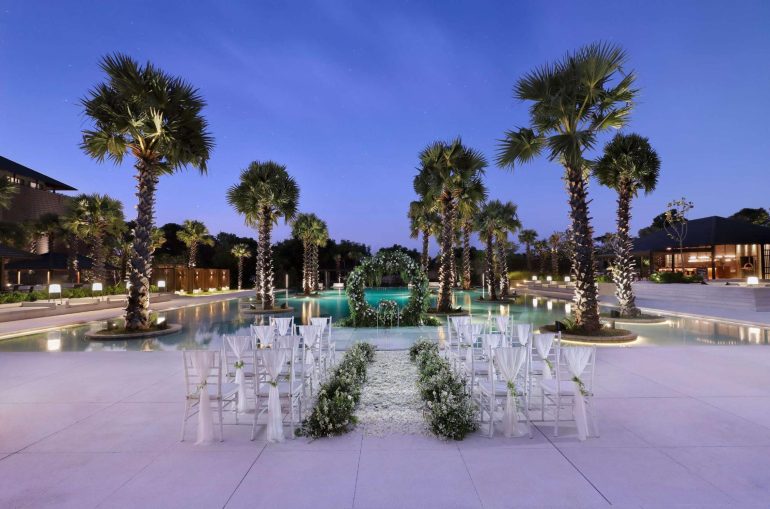 Meetings and event planners: You'll earn 5 points for $1 spent on meetings, conferences, weddings or other events hosted at eligible Radisson properties.
If a destination wedding is on your wish list, the bonus points might be an incentive to make it happen. Perhaps you tie the knot at the Radisson Blu Bali Uluwatu, which is capable of hosting up to 300 guests at its waterside venue. It doesn't hurt that stays booked at Radisson Blu Bali Uluwatu generally fit into our list of top Radisson sweet spot redemptions.
6. Shop at The Bicester Collection
When traveling in Europe or China, you might shop at Bicester Village, a small chain of luxury, outdoor shopping malls.
And when you shop, you'll earn Radisson points — either 10 points for every euro or pound spent at any of the Villages in Europe, or 10 points for every 10 yuan spent at either of the Villages in China.
You'll find villages near the following major cities:
Belgium: Maasmechelen (east of Antwerp and Brussels).

China: Shanghai and Suzhou.

Germany: Frankfurt and Munich.

Spain: Barcelona and Madrid.
To earn points, you'll have to present your Radisson Rewards membership card or other proof of membership, as well as your qualifying shopping receipts at the Village Welcome or Tourist Information Centre on the day of your visit.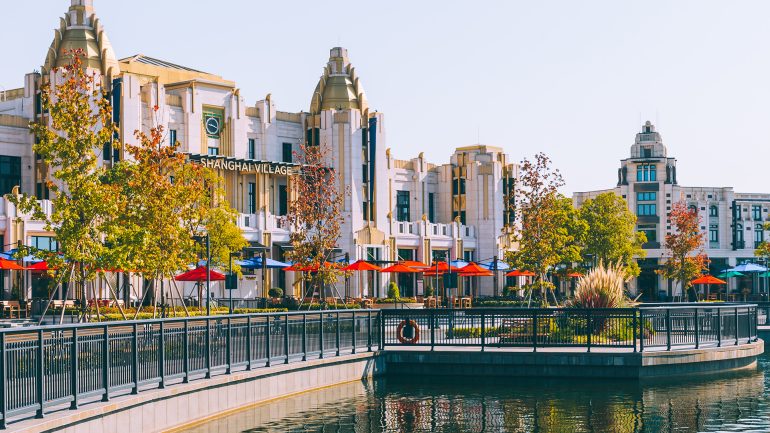 Stores vary by location (and many are outlet stores), but expect to find stores by popular designers including Gucci, Jimmy Choo and Prada. The slightly-more-affordable-but-still-fancy end includes stores like Fossil, Lululemon and Nike.
Even if you can't afford to shop there, visiting one might be worth a spot on your travel itinerary as each location is highly planned and themed.
And if you really want to shop there but can't get there, The Bicester Collection can also set you up with private, virtual shopping appointments, where you meet with staff via phone, video call, email or WhatsApp to help you with your purchase, which is also eligible to earn Radisson points.
7. Book through Radisson car rental partners
Rental cars are another opportunity to rack up points, with the amount earned depending upon the rental agency you choose. Currently, Radisson has partner offers with two rental car companies internationally: Europcar and Sixt.
With Sixt, you'll earn 750 points with each car rental worldwide, an additional discount of up to 15%, and — if you have Gold elite status with Radisson or higher — a free upgrade, when available.
With Europcar, you'll earn 300 Radisson points for each eligible rental day, to a maximum of 1,800 points (that's six days). Though, rentals made in the U.S., Canada, China, India and Japan are excluded from the deal.
Just don't expect the points to appear right away. It typically takes about eight weeks from the completion of your rental for points to post.
If you've found a stellar points redemption, then this wouldn't be a bad idea. And if Radisson happens to sell its points at a discount, then it can be worth it. Otherwise, skip this as a method of accruing Radisson points.
9. Transfer Radisson Rewards Americas points to your Radisson Rewards account
Remember how we said there was also a separate loyalty program called Radisson Rewards Americas, which is the loyalty program for Radisson hotels located in the U.S., Canada, Latin America and the Caribbean?
You can send those points over to your other Radisson Rewards account (and vice versa). Making the transfer is free and relatively easy, as long as the name and email on the two accounts match. To make it happen, visit the Global Points Transfer page.
One Radisson Rewards Americas point transfers to exactly one Radisson Rewards point, and you're eligible to transfer any amount up to 1 million points per transaction. You can make up to 25 transactions per year.
However, plan ahead if you need to book a room immediately on your points, as it can take up to 24 hours for the transfer to go through.
10. Transfer your points to someone else (maybe)
The final way you may be able to net yourself some more Radisson points — getting them from someone else. People eligible to transfer points include:
Members with elite status.

Members within the same household. Both members must have been in the Radisson Rewards program for at least one year and must reside at the same address.

Members who have died. Points belonging to a Radisson Rewards or Radisson Rewards for Business member who is deceased may be transferred to a beneficiary's account at Radisson's discretion. Be prepared to show documentation such as a death certificate. And make the request within a year, otherwise, those points will be forfeited.
The Radisson Rewards program has a superb earnings rate, making it a relatively quick process to accrue enough points from stays to fund future free nights.
What's even better is that award nights also count toward Radisson Rewards elite status. And the higher your elite status, the faster you earn more points toward more free nights, putting you on an accelerated wheel of more points and more status. In short, Radisson Rewards is — true to its name — certainly rewarding.
---
How to maximize your rewards
Get more smart money moves – straight to your inbox
Sign up and we'll send you Nerdy articles about the money topics that matter most to you along with other ways to help you get more from your money.