Countless investors hang on billionaire Warren Buffett's every utterance. The business magnate's annual letters to Berkshire Hathaway shareholders are probably the most highly anticipated and closely read company filings on the planet, and every year tens of thousands of Buffett disciples flock to Omaha, Nebraska, for the annual Berkshire Hathaway shareholder meeting (dubbed "Woodstock for Capitalists") to hear what he has to say.
It's no wonder that Berkshire Hathaway chief Buffett is called "The Oracle of Omaha":  He's got an unparalleled investing track record, an uncomplicated approach to stock picking and an uncanny talent for distilling the most complex investing concepts into Twitter-ready sound bites.
If investors were to choose a single Warren Buffett rule to guide them through a lifetime of investing decisions, our nomination would be:
"Buy into a company because you want to own it, not because you want the stock to go up." — Warren Buffett
Don't be fooled by Buffett's brevity. He packs a lot of advice into those 19 words (86 characters, for those who'd like to take a moment to tweet it).
Stock ownership = business ownership
This particular Buffett bon mot comes from a 1974 Forbes magazine interview. That year is significant because it's when Buffett got back into the stock-picking game after taking a five-year hiatus from investing money for clients.
When asked about his strategy coming out of hibernation, Buffett said he was keeping it simple and investing in common-sense companies that ran businesses he truly understood. (Here are some more common-sense tips on how to evaluate companies.)
He declined to name names when asked what stocks were on his radar. But when prompted to offer some general guidance for investors, Buffett's advice was (and still is): Stay sober. Don't get too fancy. Buy what you know.
Most importantly, as implied by a between-the-lines reading of our newly minted Buffett mantra: Focus on what you're buying — not ticker symbols or performance charts but tangible, real-life companies.
In other words, click that "buy" button because you want to become a part-owner of that business. Pick well, and the rest will work itself out.
---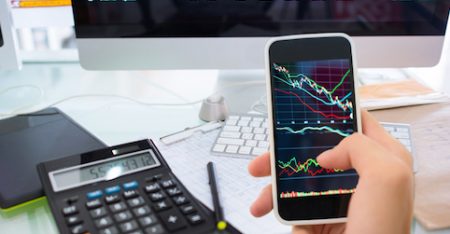 Find the best broker based on
Your investing style
The research and tools you want
The lowest cost options out there
4 ways to put Warren Buffett's words to work
Of course, when we buy shares in a company we want the stock price to go up. The odds of that happening increase exponentially when you shed the stock-picker mentality and put on your business-buyer hat (which you can buy when they're back in stock at Berkshire Hathaway-owned Fechheimer, the exclusive provider of "Berkshirewear").
That Buffett quote (which by now is printed out, framed elegantly and hung prominently in your home, right?) can guide you through every step of the investing process, from research to purchase decision to determining whether to buy more shares or sell a stake. Here's how:
Before you buy, pretend you're considering going into that business. As a business-minded investor, you want to know everything possible about the company: how it runs, the industry in which it operates, its competitors, its prospects and how it fits into the portfolio of businesses you already own. To see if you even want to go into that business, ask questions like:
Does this company have a competitive advantage (something about it that makes it difficult for others to imitate, equal or eclipse)?
Will this company be around in 20 years?
Are your potential future business partners superstars? (Who is on the management team, what's their background and tenure, and how much of a personal stake do they have in the company's success in equity or performance-based compensation?)
Write a love letter to the company to keep in your files. You're excited about making the purchase. Now's the time to record all of the "whys" behind your investment decision. We are, after all, talking about making a long-term commitment.
While there's no need to make it mushy, your love note (or your really-really-like letter) should list all the things about the company that earned it a place in your portfolio. It should also spell out how you hope the relationship progresses. For example, are you excited about the company's pipeline of products, its stability, a development in the industry or the fact that every other investor is treating it like a wallflower right now?
This is your "investing thesis" and will serve as a sanity check down the road when you're surrounded by short-term noise. Which leads us to …
While you're at it, draft a "Dear John" note. Even the best partnerships have their ups and downs — just take a magnifying glass to any successful company's long-term performance record. So let's play worst-case scenario with your stocks.
What would be a potential breakup-worthy situation? What would make you consider selling your shares? Perhaps a major product initiative doesn't pan out, a key executive resigns, a strong competitor emerges or your investing thesis doesn't materialize during a certain reasonable time frame.
This document serves as an accountability buddy to help you identify what's worth breaking up over, what's merely a minor setback and what's an opportunity to invest even more (at a discount!) in your relationship.
Don't get hung up on day-to-day (or minute-by-minute or even month-to-month) price movements: A business owner doesn't buy a company on an impulse or hammer a "for sale" sign on the front door at the first sign of trouble. Nor should an investor.
When you see a sharp price movement, certainly check it out to see if there's a fundamental change in the business behind it. Revisit your reasons for buying the company (your love letter) and review the reasons you said you'd sell (your "Dear John" note). And then make a decision that's not solely based on price movement. If everything checks out, lean back against your pillow cross-stitched with the Warren Buffett rule and wait it out.
When in doubt, heed 'The Oracle'
There will always be times when the streaming headlines, colorful charts, top-of-show rants and closing bell recaps tempt investors to act more like stock traders than business owners.
If you find yourself wavering, consider adding to your vision board another Warren Buffett quote in the same 1974 Forbes interview from which we plucked our investing mantra:
"People have been successful investors because they've stuck with successful companies. Sooner or later the market mirrors the business." — Warren Buffett
Remember, you don't just buy stocks (and certainly not ones you hope to flip for short-term profits, minus taxes, commissions and lost gains if the share price rises after you've bailed). You — and Mr. Buffett — buy businesses so you can share in their long-term prosperity.
» Ready to get started? Consult NerdWallet's guide on how to buy stocks
Dayana Yochim is a staff writer at NerdWallet, a personal finance website. Email: [email protected]. Twitter: @dayanayochim.
---