Do you ever wish you could invest like a top hedge fund manager? NerdWallet Investing examined the current and past holdings of some of the largest U.S. hedge funds to create a list of the small-cap stocks that are seeing the biggest inflows of hedge fund dollars.  
If the trend continues, these stocks could see significant upside, given their small size.  There is also a greater chance that small-cap stocks could be incorrectly priced, as they are less covered and traded than large-cap stocks.
Key Findings:
Radian Group (RDN) was the most popular small-cap investment with $115.83 million worth of shares purchased in 2013, which amounts to 6.26% of the company's market capitalization.
The company with the greatest ownership by top funds is Caesars Entertainment, which now has 14.43% of its shares held by activist investors Soros Fund Management and Paulson & Co.
The majority of the popular small-cap stocks were in the financial services industry, followed by technology, services and consumer products.
How Are Hedge Funds Investing Their Money?
NerdWallet Investing analyzed the SEC filings of a selection of ten of the largest, well-known U.S. hedge funds, including Omega Advisors and Bridgewater Associates. We focused solely on those securities with a market capitalization below $2 billion. Below are those stocks in which the hedge funds significantly added to their position in 2013.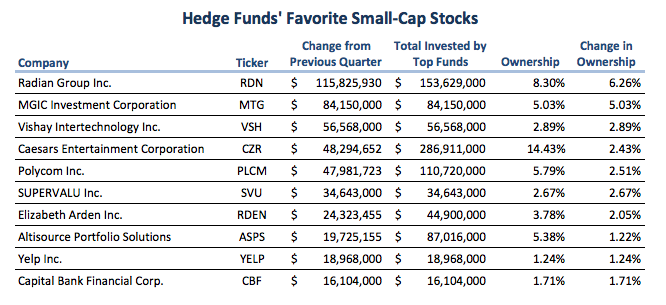 13F Filings and Hedge Funds
Every institutional money manager is required to file a 13F report within 45 days of the end of every quarter. This report contains all long positions and options, but generally excludes short positions. Why is this interesting to retail investors? While most people have to spend their days at work, hedge fund managers dedicate every day to finding the best investment opportunities to their clients. The publication of their investment holdings allows others without the same time or resources to mimic their decisions. By taking the analysis a step further and looking at trends, retail investors can approximate the top stock picks of professional investors with very little lag.
Availability to Retail Investors

If hedge fund managers are so great, why not directly invest with them? Currently, this option is only available to accredited investors, who must have a net worth over $1 million or make at least $200,000 per year. In addition, hedge funds charge an enormous amount in fees. The standard fee arrangement is "2 and 20", which means a 2% annual fee based on assets invested plus 20% of returns.
While hedge funds may be exclusively available to accredited investors, their stock picks can be mirrored by anyone with a brokerage account. All of their small-cap stock favorites are traded on the NYSE or NASDAQ and are priced between $6 – $96 per share.
Find Your Own Investment Ideas
Though the SEC provides all the raw data to source these stock picks, it would be very difficult to dig through hundreds of documents by hand. To address this issue, NerdWallet Investing has created a hedge fund holdings screener which allows users to filter current hedge fund investments by a variety of fields, such as:
The size and diversity of the hedge funds
A fund's conviction in the holding; the percentage of the hedge fund invested in that security
A fund's ownership of the holding; the percentage of shares outstanding it has purchased
The security's industry
The security's breadth; the number of hedge funds which are currently invested in it
…and many more
Additional Hedge Fund Resources
About NerdWallet Investing
NerdWallet Investing is committed to empowering investors by providing transparent access to information on financial markets and the economy. From tools that simplify complex issues to in-depth studies with innovative analysis, NerdWallet Investing serves those seeking unbiased information.
See also: Interested in learning how to invest, or ready to get started?  Check out NerdWallet's picks for the 

our favorite online brokerage accounts

 for new and experienced investors alike.