When I first started in the miles and points world back in 2013, I was obsessed with "free" travel. I signed up for cards, spent on them, and pored over arcane award charts, all in the hopes that I would never have to pay for travel again.
While I do still believe it's possible to get free or nearly free travel — depending on how much time you want to put into it and what other things you're willing to sacrifice — I have also decided that sometimes it just makes more sense to pay cash instead of using miles.
Nowhere is this more relevant than when we talk about getting from the Midwest and East Coast of the U.S. to Europe.
The state of award charts to Europe
Let's take a look at how many airline miles it takes to get from the U.S. to Europe on a couple of popular airline award charts.
Most other airline award charts are similar. One potentially interesting alternative is Air France/KLM, which offers monthly promo awards. Every month, these promo awards offer select deals from 25% to 50% off, which means you can find one-way travel from the U.S. to Europe as low as 14,500 Flying Blue miles.
Air France/KLM Flying Blue is a transfer partner of all five major flexible points currencies (Chase, American Express, Citi, Capital One and Marriott). But even when spending your rewards points, taxes and fees on Air France award tickets will often run $100 to $200 for a round-trip flight.
Fare deals to Europe
So is spending around 60,000 airline miles the only way to use miles and points to get to Europe? Nope — there are better ways, one of which is being flexible enough to snag a great deal.
Recently, it seems we've been seeing frequent fare sales to Europe nearly constantly. If you're at all flexible with your dates and/or your locations, finding fares under $400 to Europe isn't uncommon.
One important note is that these fare deals are almost exclusively for flying economy class. It's rare to find a business class cash fare from the U.S. to Europe under $1,000, so if that experience is what you're looking for, you're usually better off using your miles. As always, there is no one-size-fits-all answer for your miles and points — it all depends on your individual situation and how you want to travel.
» Learn more: Our guide to finding cheap flights
Real-life example: My family's trip to Lisbon and Barcelona
This past summer, my family decided that we wanted to go to Europe, particularly Spain. While we did want to narrow down our search a little bit, we also wanted to chase the deal instead of the destination.
In early February, a fare deal popped up: TAP Portugal had a one-way flight from Newark to Barcelona with a three-day stopover in Lisbon for $148. We used 14,800 Citi ThankYou points each to book this. It might not be the "most valuable" redemption of ThankYou points, but in my opinion the best use of your points is the one that gets you where you want to go when you want to go there.
For the return flight, we found another one-way on TAP Portugal via Lisbon for $189. This time we used our Chase Sapphire Reserve® to redeem for 1.5 cents per point, spending 12,581 Ultimate Rewards per person.
» Learn more: Full review of the Chase Sapphire Reserve
All told, for just over 27,000 points per person, we flew round-trip from New York to Barcelona, including a three-day stopover in Lisbon. That's cheaper than one-way award would have been with American Airlines. These fares did not come with checked bags, but they did include carry-ons and meals, even on the intra-Europe Lisbon to Barcelona legs.
What if you don't live in New York City?
You're in good company — I don't live in New York, either. It is true that most of the good fare deals are out of the larger cities (especially New York); sometimes fare sales come out of smaller airports, but they aren't as common.
In this case, one good use of airline miles can be a positioning flight to get you set up for your flight to Europe. For example, we decided to drive from Cincinnati to New York and made that part of our vacation, using hotel points to cover the overnight stay.
So if you live in a smaller city that doesn't see some of these really strong fare deals, consider the savings that flying out of a large city would get you versus the costs of repositioning in order to find what works best for you.
In our case, fares flying out of our home of Cincinnati would likely have been at least $300 to $400 more. Multiply that by eight passengers, and you can see why driving to New York made a lot of sense in our situation.
Optimizing this situation from the West Coast could be a bit trickier, but it's not impossible. There are plenty of fare deals to Europe from Los Angeles and San Francisco (and even more great deals to Asia). In a recent search, I found nonstop fares between San Francisco and London for as low as $368 round-trip, and another trip from Seattle that Google Flights shows is almost $400 cheaper than normal.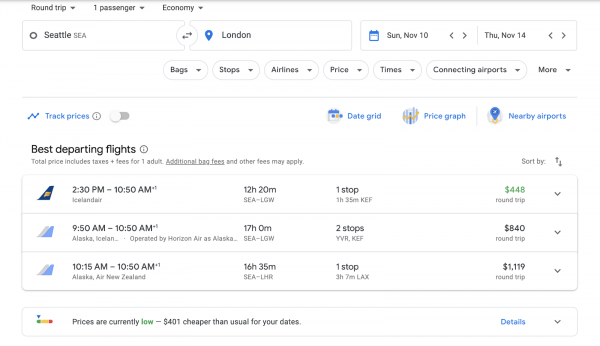 Photo by Dan Miller.
How to maximize your rewards
You want a travel credit card that prioritizes what's important to you. Here are our picks for
the best travel credit cards of 2020
, including those best for:
Planning a trip? Check out these articles for more inspiration and advice:
Find the best airline credit card for you
Should I get a travel credit card that earns points or miles?
Earn more points and miles with these 6 strategies