Meet NerdWallet's 5 Newest Executives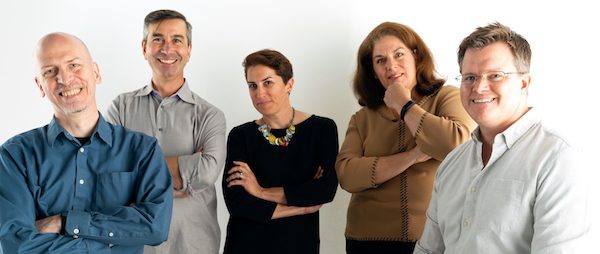 Many or all of the products featured here are from our partners who compensate us. This may influence which products we write about and where and how the product appears on a page. However, this does not influence our evaluations. Our opinions are our own. Here is a list of our partners and here's how we make money.
This post was written by Tim Chen, NerdWallet's founder and CEO.
I know it's only August, but it's already been an epic year at NerdWallet.
We've helped millions of consumers make better financial decisions, made meaningful progress on our membership experience, grown and innovated our financial marketplaces, and accelerated our growth rate as a result of these, and many other, efforts.
But one of the things I'm most excited about is the addition of five new leaders: Cameron Carr, vice president of data; Michael Chanover, vice president of design and user experience; Kelly Gillease, vice president of marketing; Tracy Mahnken, vice president of new markets; and David "Stork" Zabowski, vice president of engineering.
Speaking with these leaders during the interview process prompted some reflection about recruiting during NerdWallet's early days. In our first few years, we needed people who could help us move quickly, create flywheels for our business and recruit other outstanding Nerds — basically, people who could help us build something from nothing. We recruited some amazing Nerds during those early years, many of whom are still with us today, but our new phase of growth requires new skill sets to complement our organization and inspire continued success.
Today, we have a much larger, more interconnected organization, which brings with it new challenges and additional complexities. Our work now requires leaders who can help us scale the flywheels we've built, develop and grow our Nerds, collaborate effectively across the company and create environments in which their teams can succeed. I'm incredibly excited to say that our new leaders do these things and so much more. This group raises the bar for the entire company, and I'm thrilled to introduce them!
Cameron joins us from Facebook, where he led the data science and analytics teams. In previous roles, he served as the head of data for Sony PlayStation and Netflix, focusing on building great teams and finding product value in massive data sets. Among many other qualities, Cameron's broad experience, pragmatism, thoughtful approach and mentorship abilities stood out as must-haves for NerdWallet.
Nerdy fact: Cameron builds and plays classical guitars and straps various-shaped boards to his feet (snowboarding in the winter, wakeboarding in the summer).
Michael Chanover, VP of design and user experience
Michael comes to NerdWallet with extensive experience building and leading high-performing teams of creative professionals who marry business goals with end-user needs. Drawing on his experience from Shopkick, LeapFrog, Frogdesign, Disney and others, Michael's ability to apply design principles that build trust and create delightful experiences makes him a great add at our consumer-first company.
Nerdy fact: Michael loves playing his guitar and running until his feet are ready to fall off.
Kelly Gillease, VP of marketing
Kelly joins us following her third successful startup exit as chief marketing officer of StudyBlue, a mission-driven ed-tech company. Prior to StudyBlue, she was vice president of marketing at TripAdvisor for its rapidly growing attractions vertical. Kelly's deep commitment to serving as an inspiring leader and manager, as well as her extensive experience working cross-functionally and driving integrated campaigns, will be critical to executing on our ambitious strategy.
Nerdy fact: Kelly's a big-time yogi, having practiced for nearly 20 years. You may even catch her doing five minutes of desk yoga from time to time.
Tracy Mahnken, VP of new markets
Tracy comes to us with experience in a wide range of fields, most notably in product management, consumer marketing, go-to-market strategy, sales channel operations and overall sales strategy design. Much of Tracy's career was spent at Realtor.com/move, where she gained experience in the residential real estate category and loan origination and mortgage verticals. Given our big plans for NerdWallet's Home business, Tracy's deep experience in the real estate and mortgage space is invaluable.
Nerdy fact: Tracy spends plenty of time outdoors volunteering with Boy Scouts of America and is a big fan of musical theater, live music, fantasy and sci-fi. She's also addicted to Pokemon Go.
David "Stork" Zabowski, VP of engineering
David Zabowski joins NerdWallet with deep expertise in consumer technology, building software and services that help make people's lives easier and more fulfilling. From online music and photography to personal finance and his most recent role at Strava, he's worked on products that help people do things they need to do or love doing. Aside from his obvious engineering chops, David brings tremendous enthusiasm and passion for personal finance and NerdWallet's mission.
Nerdy fact: Most people refer to David as "Stork," a name given to him at age 12, when a schoolmate said he bore a strong resemblance to the bird. It stuck.
Above from left, David "Stork" Zabowski, Michael Chanover, Kelly Gillease, Tracy Mahnken and Cameron Carr.