Meet the Nerdlings, NerdWallet's Interns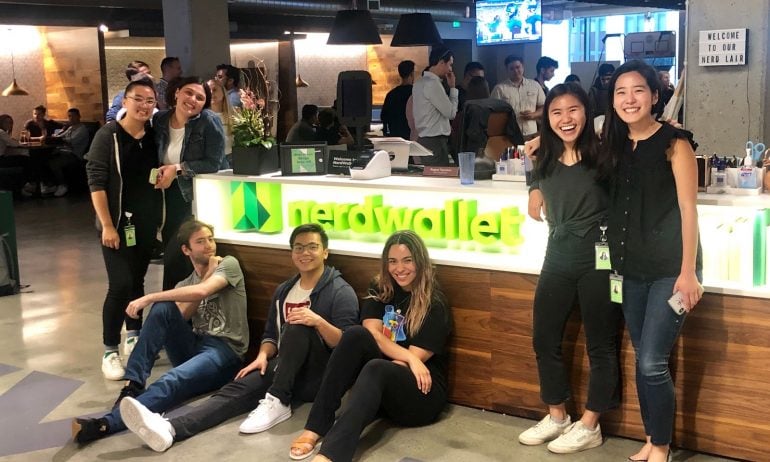 Many or all of the products featured here are from our partners who compensate us. This influences which products we write about and where and how the product appears on a page. However, this does not influence our evaluations. Our opinions are our own. Here is a list of our partners and here's how we make money.
This post was written by Kirsten Armstrong, on the People Ops team at NerdWallet.
Every summer, NerdWallet welcomes "Nerdlings," interns from around the country who join us for hands-on experience and career preparation. During their internships, our Nerdlings become integral members of the NerdWallet community, bringing new ideas and fresh perspectives to our work. In turn, we're committed to providing them with the space and resources for self-discovery and professional growth, while ensuring they all have a positive Nerdy experience.
This year, we were joined by seven Nerdlings. They were each placed on teams based on their goals for the summer — what they were most interested in learning, how they wanted to grow — and within those teams, they were paired with a mentor and two culture buddies to help shepherd them through their experience.
In addition to their work with their teams, all Nerdlings participate in a number of special programs, ranging from professional development workshops to introductions to different areas of NerdWallet's business. For instance, this year they attended seminars on technical presentations and blog writing, while our VP of product and VP of design both shared deep dives into their teams' work.
Our hope is that all Nerdlings end the summer feeling prepared for future career opportunities and with a comprehensive understanding of how NerdWallet operates. To make sure they get the most out of their internships, we work with their managers to set clear expectations from the beginning and provide feedback on their work regularly. Feedback is critical to Relentless Self-Improvement, one of NerdWallet's core five values, which we know will serve our Nerdlings long after their time with us.
It isn't all work! Much like NerdWallet teams plan offsites to celebrate achievements and get to know each other better, our Nerdlings enjoy activities like Escape Rooms and outings to SF Giants games, as well. They also have the chance to meet 1-on-1 with our founder and CEO, Tim Chen, who's always interested to hear from Nerdlings about their experience.
The summer ends with a special farewell event, where Nerdlings present final projects in a science fair-like setting to the rest of the company. These projects aren't just for show: Our interns all work on meaningful projects in support of our mission to provide clarity for all of life's financial decisions.
You can meet some of our 2019 Nerdlings and learn more about their experience below. Interested in joining NerdWallet for a summer? We hire interns for summer, fall and winter seasons and you can find more information here.
Annie Nguyen, University of California, Berkeley
Nerdy fun fact: One summer, I lived on a farm in Hawaii.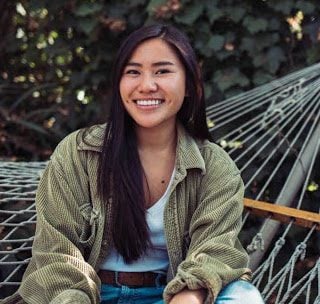 NerdWallet intern experience: I was an intern on the Loans team, which handles all things mortgage, personal loans, and student loans. My project was the onboarding flow where users input their data, goals, and mortgage quotes so that they can get personalized quotes or compare offers when purchasing a home or refinancing a mortgage.
Your biggest takeaways or learning: My project was the first step toward a consistent onboarding flow across the site, so I learned a lot by collaborating with other engineers. I engaged in many discussions to ensure my code would drive greater efficiencies to iterate, scale, and persist.
Favorite Nerd memory: My favorite Nerd Memory is the Pride Happy Hour where I got to see the VP of engineering and two other VPs compete in a drag lip-sync.
David Margolin, City University Of New York - Hunter College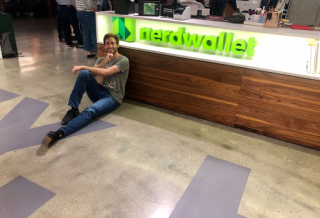 Nerdy fun fact: When I was younger, my dream occupation was a firetruck (yes, the vehicle).
NerdWallet intern experience: This summer I had the pleasure of joining the Frontend Infrastructure team here at NerdWallet, where we build tools and set standards for frontend application development companywide. My project was a Google Docs-based website builder that connects directly to our documentation portal. This removes developers from the lengthy process of updating documentation, encouraging designers to move more quickly and therefore increasing design adoption/iteration for our frontend applications. As a Nerdling, I got to meet many amazing Nerds, attend company events and learn a ton about personal finance. There were workshops, happy hours, tech talks, and weekly intern events. All that plus recurring 1:1s with my manager, mentor, culture buddies, and recruiter meant that my calendar was always full of opportunities to enjoy, learn, and grow from an incredibly fulfilling internship experience.
Your biggest takeaways or learning: I think my greatest takeaway stems from learning how to work with other people/teams in an efficient manner. When a project involves more than just the engineers on my team, there's much more need for better planning and organization. I learned how to size the individual components of a project and arrange them so that I have work to complete while waiting on another component elsewhere. I've gotten better at working more efficiently.
Favorite Nerd memory: My favorite memory was getting to discuss my project at a NerdWallet engineering tech talk. I have never been comfortable with public speaking, and it was a good opportunity to challenge myself without any of the risk. I spoke too quickly and fumbled some of my talking points, but I got through it and learned a lot about how I can improve. It was a necessary evil that will help me give a better presentation next time.
Nerdy fun fact: I have a black belt in Kuk Sool Won.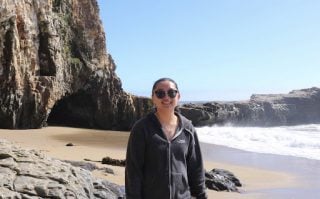 NerdWallet intern experience: I worked on Mobile Core this summer primarily working with Apollo GraphQL. I wrote GraphQL schema for identity profiles and did some client-side work integrating queries and mutations. I also worked on building some internal devtooling to make working with GraphQL easier for developers. GraphQL is useful because the client-side doesn't need to know how data is organized in the backend. If a data source changes, the client doesn't need to change, and the request for that data only needs to change in the GraphQL schema rather than all the places it's fetched client-side.
Being a Nerdling was great, my team was so supportive and willing to answer all of my questions. I liked that I was able to suggest my own projects, like building devtooling. Besides working, there were so many fun activities, and I always felt welcomed!
Your biggest takeaways or learning: Asking a lot of questions early on is the best way to ramp up quickly. Also that you have the power to make your experience a great one and nobody will fault you for asking about something you're interested in doing!
Favorite Nerd memory: Definitely seeing the VP of engineering in drag.
Daniel Mao, University of California, Berkeley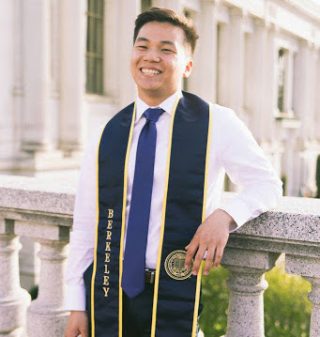 Nerdy fun fact: I browse r/battlestations on reddit to get ideas for nerdy desk setups.
NerdWallet intern experience: For 12 rewarding weeks, I had the opportunity to work with NerdWallet's Content Platform Team using React at scale to help close the gap in our migration from PHP to Structured Content and React. My project involved working with RSS and Structured Content, specifically maintaining NerdWallet's syndication abilities by ensuring RSS feeds rendered properly in our new technology stack. The impact of this project included removing the overhead of NerdWallet's legacy PHP rendered frontend, being critical for future component support, and crucial to maintaining NerdWallet's syndication capabilities via RSS feeds.
Your biggest takeaways or learning: Having a good team that cares about your development is invaluable.
Your Favorite Nerd memory: Themed happy hours!
Ilona Bodnar, University of Southern California
Nerdy fun fact: I attended the White House Tech Jam in 2015 under the Obama administration!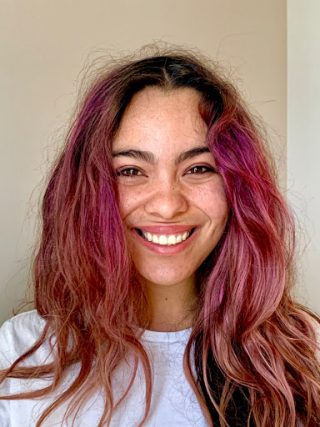 NerdWallet intern experience: I worked on the Product Platform team this summer, using Python and React to create APIs and pages so engineers and product managers can better manage all the products and offers NerdWallet has (and has ever had) for our users. It was great to be able to work on a project that has a strong impact on various stakeholders throughout the company, and I really enjoyed the opportunity to get involved on a fullstack project. I also had the opportunity to pick up fun small tasks along the way, like revamping the way we do our API documentation and fixing random bugs throughout our internal systems, and valued the diversity of things I had to do during my summer here. Being a Nerdling outside of work was also super fun; the other interns were very down to earth, and we got to be involved in events like our annual Pride Happy Hour (where people from our C-suite dressed in drag based on donations to LGBTQ+ orgs!) and worked to help the community around us through a volunteering event at St. Anthony's in the Tenderloin. I strongly value companies and employees that are cognizant of their environment and communities in addition to their technical work, and feel like I found that here at NerdWallet.
Your biggest takeaways or learning: My biggest takeaways are that people are more willing to answer questions than you may think; running and testing your code locally with lots of different types of inputs means less work later on; and naming variables is always a fun time in code review :P. It's also super helpful to take good notes while people are talking to you or explaining very detailed processes, so that you can remember what they said later on and better understand the systems you're interacting with.
Your Favorite Nerd memory: My favorite nerd memory was having the opportunity to volunteer at St. Anthony's. I really appreciated the opportunity to give back to the community and better understand the economics and people of San Francisco.
Top photo: NerdWallet's summer class of interns, 2019.