Americans' Relationship With Credit Cards: It's Complicated, Survey Reveals
Credit card sentiment is divided — while 51% of Americans describe credit cards as helpful, 26% view them as dangerous.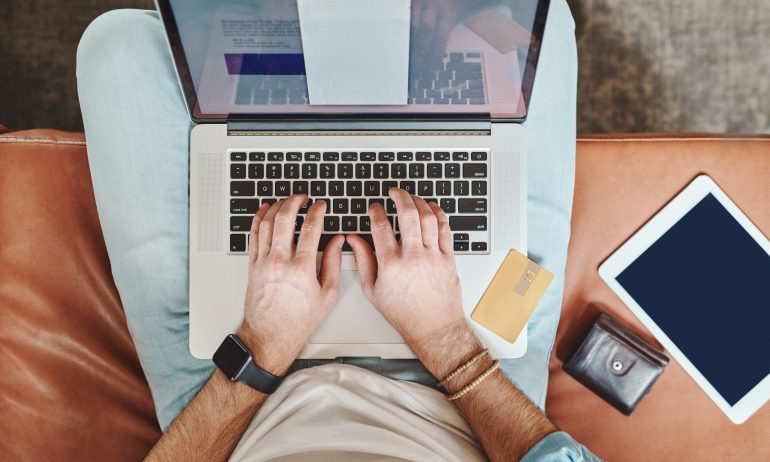 Many or all of the products featured here are from our partners who compensate us. This influences which products we write about and where and how the product appears on a page. However, this does not influence our evaluations. Our opinions are our own. Here is a list of our partners and here's how we make money.
Your credit is like insurance: It's not top of mind until you need it, then it can make all the difference.
Credit matters, whether you're trying to gain access to credit products like loans, rent an apartment or even get approved for a cell phone. And most Americans (69%) report that they have an established credit history — meaning they've been building their credit for a year or more — according to a new NerdWallet survey. But 1 in 10 Americans (10%) are less than a year into building their credit for the first time, and 13% of U.S. adults say they have no credit history.
In the online survey commissioned by NerdWallet and conducted July 30-Aug. 3 by The Harris Poll, we asked 2,033 U.S. adults where they are in their credit-building journey and how they feel about credit cards and credit card debt. We also asked Americans what amount of credit card debt would make them feel overwhelmed, seek out credit counseling or file for bankruptcy.
Living for now or looking ahead: Among Americans who say they don't have any credit history, around a third (34%) say it's because they don't think they need it right now. On the flip side, among those who are building credit for the first time, about half (46%) say they're doing so because they think they'll need it in the future.

Useful tool or risky business: Opinions about credit cards are split. Just over half of Americans (51%) say they think credit cards are helpful — but more than a quarter (26%) think they're dangerous, and close to 1 in 10 (9%) even say they're "evil."

"Bad debt" and bankruptcy: Most Americans (73%) think having credit card debt is inherently bad. But the amount of debt they say would overwhelm them — or cause them to seek out credit counseling or file for bankruptcy — varies. Almost half of Americans (47%) say they wouldn't consider filing for bankruptcy because of credit card debt, no matter how much they had.
Building credit for the first time, or not
Americans who don't yet have a credit history offer different reasons for why they're not working on building one. Around one-third (34%) say they don't feel like they need it right now. Close to a quarter (22%) are reluctant because they fear going into debt. While 1 in 5 (20%) say it's because they aren't sure how to start building credit, an equal share say they haven't really thought about building credit yet.
On the other hand, Americans who are just starting to build credit for the first time — that is, less than one year into the process — are looking further down the line. Close to half of this group (46%) say they're doing so because they think they'll need credit in the future. Many say they're starting to build credit because of advice from a friend or family member (30%), a financial professional (28%) or the media (22%).
What you can do: If you've just started building credit, you're on the right track. Even if you don't need to borrow money right now, good credit (or credit scores of 690 or higher) opens up possibilities for the future.
Your credit scores can affect more than just your ability to get a credit card or a loan — something many Americans may not know. According to the survey, about 1 in 5 (19%) don't know that their credit score can affect their ability to rent an apartment, 27% don't know it might affect car insurance rates and 31% don't know it can affect their options for cell phone service or devices. In short, just about everyone can benefit from having good credit.
"An established credit history doesn't happen the moment you open your first credit card or take out a loan. That's just the beginning," says Sara Rathner, NerdWallet's credit card expert. "It can take around six months for all those positive actions — like making on-time bill payments every month — to have an effect on your credit score. That's why it's important to begin building your credit history now, even if you don't plan on getting a new credit card or applying for a mortgage any time soon."
Consumers' relationship with credit cards is complicated
Americans have a generally positive view of credit cards as financial tools. Given a list of adjectives and asked whether they describe credit cards, more than half (51%) say credit cards are helpful, 42% say they're necessary and 34% say they're valuable. But such sentiment is hardly universal. Just over a quarter of Americans (26%) say credit cards are dangerous and 12% say they're predatory.
Of Americans who say credit cards are complicated, 43% say they're also helpful and 41% say they're also dangerous. These feelings about credit cards may be partially influenced by the experiences of loved ones. Close to half of Americans (46%) say their own views of credit cards have been affected by the experiences of friends and family members — 26% say this effect was positive, while 20% say it was negative.
Americans are also divided on what's most important to them when choosing a credit card. We asked U.S. adults what would be the No. 1 factor they would look for if they were interested in applying for a credit card today. The top answers (23% each) were a low annual interest rate, rewards offered and no or low fees.
What you can do: A credit card can be a useful tool for building credit, earning rewards and financing purchases without interest. But it's reasonable to be wary of credit cards and the potential debt you could rack up with them. The key is to use a card wisely so you reap the benefits and avoid frustrations or stress.
"By their very design, credit cards make it far too easy to get locked in an endless cycle of high-interest debt. But that doesn't make them 'bad.' That depends heavily on how you use them," Rathner says. "If you avoid charging more than you can afford to pay back each month, you'll avoid expensive debt, improve your credit score and possibly earn valuable cash back or travel rewards."
Credit card debt: Bad or just misunderstood?
In the good debt/bad debt binary often used by personal finance experts, credit card debt is often designated as "bad debt" due to high interest costs and an assumption that it results from unnecessary spending. While student loans pay for education and a mortgage gets you a home — and are often referred to as "good debt" — credit cards can be used for just about anything, including so-called frivolous spending. That said, credit cards can also enable a family to eat or keep the lights on during tough times.
According to the survey, nearly three-quarters of Americans (73%) think having credit card debt is inherently bad. This view is less likely to be held by people in lower-income households, who may have more experience using credit cards to cover necessities when money is tight. In the survey, 65% of those with a household income less than $50,000 say having credit card debt is inherently bad, compared with 78% of those with a household income of $50,000 or more.
Regardless of whether it's categorized as "good" or "bad," credit card debt can become overwhelming at a certain point. Our survey asked people to identify what that point would be. On average, Americans say credit card debt of $4,898 would cause them to start feeling overwhelmed. However, close to one-quarter (24%) say they would be overwhelmed with less than $1,000 in credit card debt, and almost 3 in 10 (28%) say no amount of credit card debt would be overwhelming.
Americans say they would seek out credit counseling if they hit $10,903 in credit card debt, on average, and they would consider filing for bankruptcy if they racked up $42,664 in credit card debt, on average. Both of these paths can be options for the right consumer, but many U.S. adults seem unconvinced, or perhaps can't see themselves accumulating that much debt. More than 2 in 5 Americans (42%) say no amount of credit card debt would cause them to seek out credit counseling, and a whopping 47% say the same about filing for bankruptcy.
What you can do: It's important to understand that credit card debt isn't intrinsically bad — and neither are the people who carry it. Yes, credit cards can be used in ways deemed irresponsible, but they may also bridge the gap between a person's income and necessary expenses. And while in a perfect world credit card balances would be paid in full each month, sometimes that's simply not possible.
If you have credit card debt, it's a good idea to have a plan to pay it off to reduce both interest costs and financial stress. We have a guide on how to pay off credit card debt, which includes choosing a plan, knowing consolidation options, working with your creditors and seeking help if you need it.
This help may mean getting credit counseling or filing for bankruptcy. A nonprofit credit counseling agency can work with you to negotiate new terms with your creditors or consolidate your debt. Filing for bankruptcy might seem like a drastic step. However, for those drowning in debt, it might be the best choice to take the temporary credit hit to improve their financial and emotional well-being.
"Many Americans live with debt at some point in their lives, but if your debt keeps you up at night, that's a sign that it's time to take action," Rathner says. "A debt repayment strategy like the debt avalanche can help you stay organized while you pay debt down aggressively. And if you need to seek out extra help, do it. The sense of freedom that comes from getting out of debt is beyond measure."
This survey of 2,033 U.S. adults ages 18 and older was conducted online July 30-Aug. 3, 2020, in the U.S. by The Harris Poll on behalf of NerdWallet. This online survey isn't based on a probability sample and therefore no estimate of theoretical sampling error can be calculated. For complete survey methodology, including weighting variables and subgroup sample sizes, contact Brittany Benson at [email protected].
Find the right credit card for you.
Whether you want to pay less interest or earn more rewards, the right card's out there. Just answer a few questions and we'll narrow the search for you.
Get Started
Get more smart money moves – straight to your inbox
Sign up and we'll send you Nerdy articles about the money topics that matter most to you along with other ways to help you get more from your money.