What I Learned From Changing My Name on My Credit Cards
You have to jump through some tedious preliminary hoops — and then you need to know your issuer's specific policy.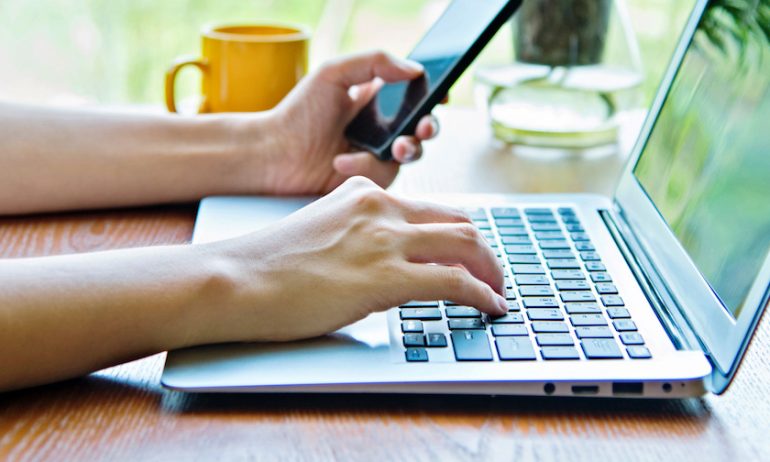 Many or all of the products featured here are from our partners who compensate us. This may influence which products we write about and where and how the product appears on a page. However, this does not influence our evaluations. Our opinions are our own. Here is a list of our partners and here's how we make money.
I thought that changing my name on all my credit cards after marriage would be straightforward. Countless newlyweds did the same thing every year, I figured. And that's to say nothing of the many people who go through a similar process after changing their names for various other reasons — for example, to switch surnames after a divorce. How tedious could it be?
Very tedious, as it turns out. Especially if you have a wallet full of credit cards.
The thing is, there's no "quick and easy" way to change a name, especially one you've been using for over 20 years. And updating that information on several accounts proved more time-consuming than I expected. Here's what I learned from the process.
Before I updated the name on my credit cards, I needed to officially change my name on my Social Security card and driver's license. So after procrastinating for six months , I finally did the paperwork and went from "Claire Marie Davidson" to "Claire Davidson Tsosie" in 2016. (My husband's last name is Tsosie.)
During the name-change process, I searched high and low for shortcuts. I looked into online services with zingy names that claimed they'd do the heavy lifting and minimize the bureaucratic tedium. But ultimately, those services didn't seem worthwhile. While they made it faster to prepare some of the name-change paperwork, I found that I'd still have to complete some forms on my own and visit the California Department of Motor Vehicles myself.
If you're changing your name, I'd recommend being skeptical of pricey services like these. Sure, they might make the process marginally smoother, but it'll likely still require significant effort on your part. Save your money, I say.
After receiving my new Social Security card in the mail, my first job was to go to the DMV and update the name on my driver's license. It was only when I returned home from my lengthy DMV appointment that I made a horrifying realization: The interim driver's license I went home with read "Claire Marie Tsosie" instead of my actual name, "Claire Davidson Tsosie."
I called the DMV and asked if I could change it, but was told that I'd have to wait to receive my incorrect driver's license in the mail, then set up another appointment at the DMV to correct my name.
Another eight months passed, and I finally made another appointment at the DMV to correct the error. It was a total drag. But it also made me realize the importance of double-checking changes, which came in handy later when I was updating my name on all my credit cards.
Of course, it would be nice to trust that everyone is careful and detail-oriented when updating your important personal information. But if someone else messes up your name, it could leave you in the lurch — say, because the name on your credit card is misspelled and doesn't match the name on any of your other IDs, for example.
After this kerfuffle, I made a habit of confirming all the changes made on my accounts so I could catch mistakes before getting new cards.
After mustering enough motivation to jump through the preliminary hoops, I started working on updating the information on all my credit cards.
Inspired to finish the task quickly, I spent most of a Saturday afternoon calling the customer service numbers for each of my issuers and asking what I had to do. I quickly found out that the process varied from bank to bank. A few experiences I encountered:
The following week, I also worked on updating my name on my airline and hotel loyalty program accounts associated with some of my co-branded cards.
In my experience, calling issuers to inquire about changing your name can sometimes take 30 minutes each or longer, especially if you have to stay on hold, navigate through phone trees or get transferred to multiple departments. If you have several accounts to update, I recommend taking care of just one or two accounts a day to make the process less stressful. In some cases, you might not even need to make a phone call; for example, with AmEx, you can complete the entire process online.
Changing your name isn't instantaneous. There's not really a "before" and "after" to this process; there are just various shades of in-between. During that transitional period, some of my documents said I was "Claire Marie Davidson" while others said I was "Claire Davidson Tsosie" — and at least one said I was "Claire Marie Tsosie" (thanks, DMV). I had to explain the differences fairly often to customer service representatives, cashiers and others. That's when I realized it was useful to have some supporting paperwork in tow.
I started carrying my marriage certificate around with me just in case I was asked to show ID when using a credit card that had a name that didn't match the name on my driver's license. When questions inevitably came up, I was prepared: I'd show the person behind the counter my marriage certificate and driver's license, explaining why my name changed.
For me, that paperwork made those interactions a little more efficient. I found that generally, people were really reasonable and understanding. My cards were accepted without a problem.