Which Credit Cards Help Authorized Users Build Credit?
Adding an authorized user can be an effective strategy, but it helps first to know how issuers and credit bureaus handle this information.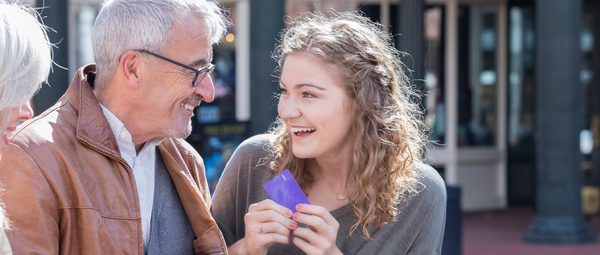 Many or all of the products featured here are from our partners who compensate us. This may influence which products we write about and where and how the product appears on a page. However, this does not influence our evaluations. Our opinions are our own. Here is a list of our partners and here's how we make money.
Adding someone to your credit card as an is a simple way to potentially buoy their credit scores, assuming you've paid the account on time and haven't used too much of your available credit. But to make this strategy actually work, you'll want to be sure that information about that account is included on their credit reports. Otherwise, adding someone to your card — whether it's a child, partner or parent — won't do a thing for their scores.
Getting that same account to appear as a "tradeline" on your authorized user's credit reports will depend on two major factors:
Ultimately, if you want to help someone establish a credit history by adding them to your account, you can save time and energy by knowing beforehand about how issuers and bureaus handle this information. After all, you don't want to add someone to an account in an effort to help their scores, only to find out months later that it had no effect.
All the major issuers NerdWallet surveyed below said they reported authorized user activity to all three major credit bureaus, which generally means this information shows up on the authorized users' credit reports. However, their reporting policies vary. Here's how they stack up, as of February 2019, according to issuer spokespeople.
Here's how the three major credit bureaus handle authorized user information that issuers report, as of February 2019, according to the credit bureau spokespeople.
Issuer and credit bureau policies can give you a good basic understanding about why a tradeline may or may not be included on your authorized user's credit reports. But aside from the exceptions laid out in these policies, here are a few other reasons an account might be MIA:
Your issuer doesn't report any authorized user activity. While it's common for issuers to report authorized user accounts, it's not mandatory. "In some cases, although rare, lenders may choose not to report authorized user accounts," says Rod Griffin, the director of consumer education and awareness at Experian, in an email.
You left out required information when creating the account. Under the National Consumer Assistance Plan, an initiative launched by the three major credit bureaus, lenders reporting to credit bureaus must report certain information about authorized users, including their date of birth. While you might be able to add someone to your account without providing this information initially, it won't be reported to credit bureaus unless you include this information. For example, AmEx notes that you can add an additional cardholder without providing their date of birth or Social Security number, but if that information isn't added within 60 days, the additional card would be closed.
The authorized user account was closed by the issuer. Issuers generally reserve the right to close an authorized user account if they determine any of the information is fraudulent, or the authorized user didn't give consent to be added to the account. In some cases, the account might have been closed in error. If the account isn't showing up on your authorized user's credit reports and you're not sure why, call your issuer's customer service line and ask.