Who Keeps the Credit Card Points If You Get Divorced?
Rewards have value, but dividing them up can be difficult and may depend in part on what your card issuer allows.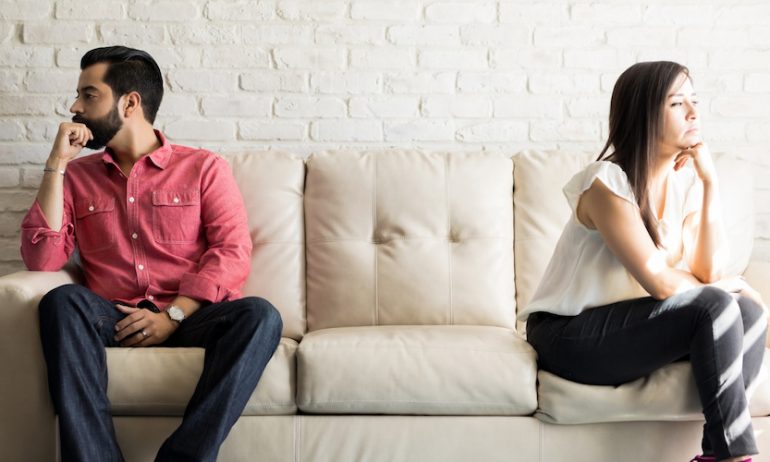 Many or all of the products featured here are from our partners who compensate us. This may influence which products we write about and where and how the product appears on a page. However, this does not influence our evaluations. Our opinions are our own. Here is a list of our partners and here's how we make money.
Couples deciding to end their marriage could face some potentially tough negotiations when dividing up their money and property, and there's one asset that could be easy to overlook: credit card rewards points.
While you may not think of credit card points the way you'd think of other assets like investment accounts and real estate, rewards earned during your marriage have value. But when hashing out the details of who walks away with what in a divorce, you may need to work around the rules of each rewards program, because some don't allow transferring points to other people.
Because state laws affect the division of property, it's helpful to work with a family law attorney in your state if you're considering a divorce.
If you opened a credit card in only your name while single and can show that you earned all rewards points on that card before you got married, you may be able to hold onto those points as your own asset. Otherwise, both halves of a couple have a chance at keeping some or all of the rewards — even if was never a joint account to begin with.
"

"If the rewards were earned during the marriage, regardless of who earned them, they're going to be considered marital property."

"
Mike Miller, CFP and founder of Integra Shield Financial Group
"If the rewards were earned during the marriage, regardless of who earned them, they're going to be considered marital property," says Mike Miller, a certified financial planner and founder of Integra Shield Financial Group in Plymouth, Minnesota. This can hold true even if a spouse earned points on a credit card that was only under their name. "The only exception I can think of would be if a business had a credit card and the business used those rewards to offset expenses as part of the business."
Couples can spell out a plan for credit card rewards in a prenuptial agreement, but that isn't foolproof. "You can try it, so in mediation you can say that something is your separate property," says Hannah Bell, a family law and estate planning attorney at Hembree Bell Law Firm in Austin, Texas. "The way that would practically work out in court remains to be seen. Define it as an asset and hope at mediation that the other side will respect that."
How would points get factored into a couple's total assets?
A first step in dividing a couple's assets, including credit card rewards, is assigning a dollar value to everything.
"Assets are generally valued at the date of filing of a petition for dissolution of marriage, so however many points exist at that time is the amount that may be distributed between the parties," says Jamie Segal Davis, a family law attorney with Orshan, Spann & Fernandez-Mesa in Coral Gables, Florida.
You may choose to value the points based on what you can redeem them for. If a rewards program lets you book $250 worth of travel for 25,000 points, for example, that makes the points worth 1 cent each.
From there, the dollar value of the points is included with the value of the rest of the couple's assets, and all property is divided according to the agreement reached during negotiations.
Can you divide the points into separate accounts?
A divorcing couple may want to split rewards by transferring some of the points from one spouse to another, but the terms and conditions of different rewards programs may get in the way of those intentions. Some programs don't allow you to transfer points to someone else or will charge you a fee to transfer points.
"

Some programs don't allow you to transfer points to someone else or will charge you a fee to transfer points.

"
Chase Ultimate Rewards® points, for example, can be transferred for free to another member of your household who has a Chase card that also earns Ultimate Rewards® points. American Express Membership Rewards, on the other hand, can't be transferred this way, even in the event of a divorce.
Airline rewards programs may charge a fee to transfer points, as is the case with American AAdvantage, Delta SkyMiles, United MileagePlus and Southwest Rapid Rewards.
JetBlue allows groups to pool TrueBlue points, and the terms of that program allow you to leave a group with the remainder of your own unused miles (though others may have been able to use the miles you contributed while you were in the group).
The rules of hotel loyalty programs also vary. Marriott Bonvoy may allow a transfer, but it may also want to review some of the legal documents from your divorce before making a decision. You can transfer Hilton Honors points for free in 1,000-point increments, but there are annual limits on how many points you can send and receive, as well as how many transfers you can initiate. World of Hyatt points can be transferred by submitting a form signed by both parties, and transfers can take two to four weeks. IHG® Rewards Club points can be transferred for $5 per 1,000 points.
Is splitting up the points worth it?
"I would tell my clients to keep the points with whoever is taking the card," Bell says. "I think it'll be more trouble than it's worth to get a court order to split the points."
"

"People ... might fight about rewards points that aren't really worth much, and it costs them more in professional fees than the points are worth."

"
Mike Miller, CFP and founder of Integra Shield Financial Group
You may decide that it's easier for one of you to keep the rewards points, while the other gets an asset of the same value. Bell's advice: "Try to find an attorney who can be creative in helping you develop a division that accomplishes the realities and goals of your family."
In his work with clients going through a divorce, Miller finds that they usually figure out an agreement that works well enough for both spouses, but fighting over every credit card point is, well, pointless.
"People can get really emotional, and they sometimes don't make decisions that make a lot a sense," he says. "They might fight about rewards points that aren't really worth much, and it costs them more in professional fees than the points are worth."