Americans Taking EMV Shift in Stride, NerdWallet Survey Shows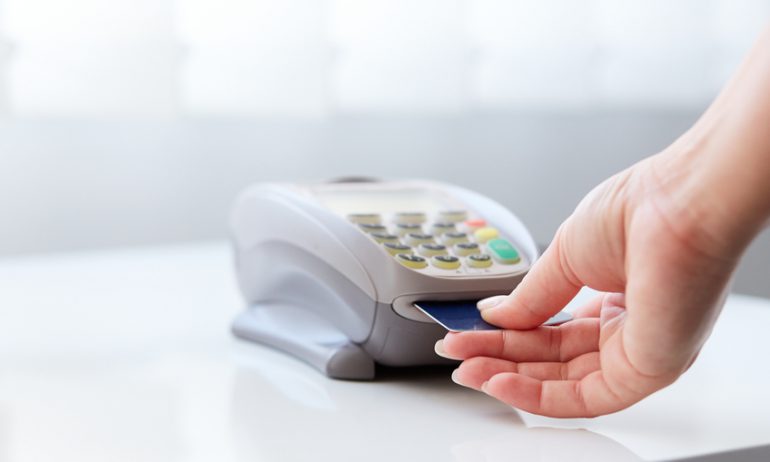 Many or all of the products featured here are from our partners who compensate us. This influences which products we write about and where and how the product appears on a page. However, this does not influence our evaluations. Our opinions are our own. Here is a list of our partners and here's how we make money.
Despite news coverage and social media frustration focusing on perceived shortcomings of credit cards with EMV chip technology, nearly 4 in 5 Americans view chip cards positively, a new NerdWallet survey shows. And more people say they prefer to use chip cards than traditional magnetic-stripe cards when making purchases in stores. Even so, a year after new rules took effect to push issuers and merchants to adopt EMV, the survey confirms that the transition hasn't been entirely smooth.
EMV isn't a new concept. The technology behind it was developed by Europay, MasterCard and Visa (hence the name) in the early 1990s, and it was implemented throughout much of the world before being introduced in the United States. The U.S. is one of the last major nations to begin using EMV; the biggest milestone on the way to EMV adoption came one year ago, on Oct. 1, 2015. That was the day when liability for credit card fraud shifted.
Previously, when a credit card was used fraudulently for an in-store purchase, the card issuer was liable for the cost. Now, that responsibility can be shifted to the merchant in certain cases if it hasn't upgraded to EMV technology. This change was supposed to spur banks to issue cards with EMV chips and merchants to upgrade their card readers to accept them.
More than three-quarters of Americans have used the chip feature in an EMV card, NerdWallet survey data show. But according to Visa, only about 32% of U.S. merchants were EMV-ready as of August 2016. However, Visa also says 84% of non-chip-ready merchants are planning to upgrade.
"

In the countless transactions I've now used my chip card, I've literally NOT ONCE made the correct 50/50 guess whether to swipe or insert it.

"
Marnie Shure (@marnieshure)

,

via Twitter, July 26, 2016
The buzz around EMV suggests that consumers are unhappy with this new-to-them technology because of longer wait times for transactions and uncertainty about whether chip readers even work. NerdWallet decided to go beyond anecdotes. We commissioned a survey of more than 2,000 U.S. adults, asking what they know about EMV chip cards and how they feel about them. We found:
Nearly 4 in 5 Americans (78%) say they have positive feelings about EMV chip credit cards, and 43% say it's the form of payment they prefer to use most when making a purchase in a store.

Almost 3 in 5 Americans (59%) think EMV transactions take 15 seconds or less, while only 19% think they take more than 30 seconds.

About half of Americans (47%) say consumers benefit from EMV chip cards.
Americans prefer chip cards, but may be confused by them
An overwhelming majority of Americans (78%) say they have very positive or somewhat positive feelings about EMV chip cards. It's also the most preferred in-person payment method: In the survey, 43% say they prefer to use chip cards when making purchases at a physical retail location. By contrast, 29% prefer traditional magstripe cards.
Recent coverage critical of EMV, as well as a few tweets that have gone viral, suggests consumers don't like this new payment standard. But most Americans report positive feelings toward EMV, according to our survey, and more people prefer EMV than prefer magstripe cards. This doesn't add up. Our hypothesis? People don't hate EMV — they find it confusing.
"

I need to stop looking at the cashier for praise when I actually do the chip card thing right without swiping first.

"
Sarah Ginsburg (@SarahGinsburg)

,

via Twitter, May 21, 2016
Consumers aren't sure when to use EMV chips
Today, the consumer payment experience looks like this: A shopper takes out a credit card at the payment terminal. If it's a traditional terminal that isn't upgraded for EMV, the shopper swipes the card's magstripe and follows the prompts to pay. If the terminal is equipped for EMV, the idea is that the shopper inserts, or "dips," the chip card and continues the transaction. But this step may be be more complicated than that.
Terminals must be certified before the EMV function is up and running, and that can take months. This means some terminals have a chip reader, but aren't ready to read chips.
As a result, shoppers don't know what to do:
39% of Americans who have an EMV card say they usually dip their card whenever they see a chip reader. But if the chip reader isn't activated yet, these people will be told to try again — this time by swiping.

13% say they usually swipe the magstripe when they get to a terminal, whether they see a chip reader or not. In this case, if the chip reader is active, they're told to dip the card instead.
According to our survey, many Americans have emotional reactions to being told to do the opposite of what they've just done:
This suggests that there's confusion about how to pay and possibly exasperation with having to attempt to pay a second time. Even so, Americans overall are pretty happy with EMV technology a year after the liability shift. At least, most of them are.
Millennials aren't as on board with EMV as others
Millennials — those ages 18 to 34 — are the only generation that had more people preferring magstripe cards (36%) than EMV cards (31%) when making a purchase in a store. Generation X (ages 35-54) and baby boomers (those 55 and over) were more likely to prefer EMV. And although a majority of millennials (69%) have positive feelings about EMV, theirs was the lowest approval percentage of any generation.
"

The #Chipcard has vastly improved my customer experience. It includes my 3 fave hobbies: waiting, staring and then swiping it anyway.

"
Jon Gamble (@JustJonnyG)

,

via Twitter, July 30, 2016
Again, this may be caused by confusion. Instead of assuming the chip reader is working, millennials with a chip card are more likely than baby boomers to swipe first (19% vs. 8%) and more likely than Xers to ask the cashier how to pay (25% vs. 16%). And when asked to do the opposite — to dip after they've swiped, or swipe after they've dipped — millennials were more likely to be annoyed (51%, vs. 39% of Xers and 32% of boomers) or embarrassed (29%, vs. 14% of Xers and 9% of boomers).
According to NerdWallet's credit card expert, Sean McQuay, "For better or worse, millennials have been raised in a world where information travels in an instant: We've used instant messaging since we could type and now send money in clicks as opposed to checks. EMV has run counter to that trend, where new technology is actually slowing something down."
EMV transactions take longer, but not by much
Most consumers know that EMV transactions generally don't take that long. Almost 3 in 5 Americans (59%) think EMV transactions take 15 seconds or less. Only 19% estimate that they take longer than 30 seconds.
"

'Can you put your card in the chip reader please' ya hold on let me cancel my plans for the rest of the day.

"
Christian Delgrosso (@christiand)

,

via Twitter, July 24, 2016
Several recent articles — and some amusing, if not exaggerated, social media posts — have focused on the time "lost" by paying with EMV cards instead of using a traditional magstripe card. In general, EMV transactions take around 13 to 15 seconds — not all day, as some might have you believe. They do take longer than most magstripe transactions, but not significantly so. And when you compare them to the typical time spent in some other everyday activities, it's a tiny sliver of your day:
For those consumers put out by the extra seconds EMV requires, a solution is in the works. "Many merchants are optimizing their back-end systems to get these transactions to run quicker, cutting speeds down to only a few seconds," McQuay says. "Also, if consumers really want to speed up transaction time, you can simply tap your mobile wallet — Apple Pay, Android Pay or Samsung Pay — and the transaction will process virtually instantly."
Consumers benefit from the extra security EMV provides
Almost half of Americans (47%) say consumers benefit from EMV chip cards. By making transactions more secure, EMV can save consumers the time and energy that goes into dealing with fraudulent transactions.
There's a good reason the U.S. finally adopted this technology, whatever its perceived inconveniences: It's more secure. The EMV chip generates a unique code for each in-person transaction. Data from one such transaction can't be reused to commit a fraudulent transaction. By contrast, the magstripe on a card holds static data, meaning it doesn't change from one transaction to the next; data taken off the magstripe can be used to duplicate a card. EMV cards, however, share the same vulnerabilities as magstripe cards when used for purchases online or over the phone.
Consumers generally aren't responsible for fraudulent transactions made with their stolen card data. That was the case before the liability shift, and it holds true today. EMV still benefits consumers by saving the time and energy they'd have to spend dealing with fraud:
First, consumers have to report the fraud and go through their transaction history to determine which charges are fraudulent. Depending on the situation, it could take weeks or even months to get these charges reversed.

Then they have to wait for a new card with a new number, and update any automatic or saved payment information to avoid missing bill payments and getting purchases rejected. Some automatic payments don't effectively update for a month or more, so consumers may have to make manual payments in the meantime.
Credit card fraud may not be costly to the consumer, but it's certainly inconvenient.
The recent jabs at EMV aside, Americans have actually taken to the technology quite well. As more payment terminals are certified and there's less uncertainty about how to pay from store to store, we expect there will be even more consumer acceptance of chip cards. Until then, practice patience. EMV has cut fraud from counterfeit cards around the world, and it's an important step toward more secure payments for American consumers.
"

I'm just a girl, standing in front of a credit card chip reader machine, waiting for the three awkward beeps so I can take my card out.

"
Abby Heugel (@AbbyHasIssues)

,

via Twitter, September 15, 2016
---
This survey was conducted online within the U.S. by Harris Poll on behalf of NerdWallet from Sept. 8-12, 2016, among 2,025 adults ages 18 and older, among whom 1,571 have an EMV card and have used the chip feature. This online survey is not based on a probability sample, and therefore no estimate of theoretical sampling error can be calculated. For complete survey methodology, including weighting variables, please contact [email protected]. We used widely available external sources for the time comparison graphic:
Find the right credit card for you.
Whether you want to pay less interest or earn more rewards, the right card's out there. Just answer a few questions and we'll narrow the search for you.
Get Started
Get more smart money moves – straight to your inbox
Sign up and we'll send you Nerdy articles about the money topics that matter most to you along with other ways to help you get more from your money.