What the First Credit Cards Were Like
Here's what the first credit cards were like and how they evolved over time.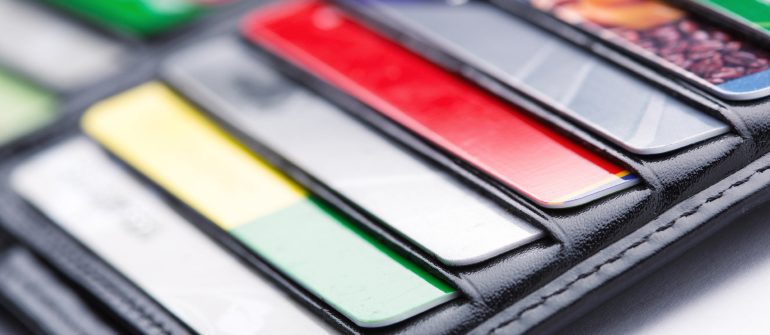 Many or all of the products featured here are from our partners who compensate us. This influences which products we write about and where and how the product appears on a page. However, this does not influence our evaluations. Our opinions are our own. Here is a list of our partners and here's how we make money.
In 1950, Diners Club founder Frank McNamara introduced a novel method of paying for purchases. He called it a "credit card."
But when McNamara pitched the idea, he didn't talk about rewards, perks, interest rates or fees, factors that make or break credit card offers today. Instead, he focused on what set his card apart from previous systems that let you make purchases on credit: You could use it at several different merchants, instead of just one.
"It's perfect for the businessman," McNamara told Matty Simmons, who later became a Diners Club executive, as Simmons recalls in his book "The Credit Card Catastrophe." "You pay all your business entertainment with one monthly check. You don't have to carry a lot of cash with you, and, most importantly, you have receipts for your firm and entertainment receipts for tax deductions."
Credit cards still let cardholders pay in "one monthly check," as the first cards did, but that's about where the similarities end. Once a product only for the wealthy, accepted at only a few places, credit cards now allow millions of people to borrow money, earn rewards and make everyday purchases.
Here's what the first cards were like and how they evolved over time.

The first credit cards required payment in full each month
Credit cards then: McNamara dubbed his product a "credit card," but by today's standards, we'd call it a charge card because it required you to pay in full at the end of each month. You couldn't carry a balance from one month to the next.
In this way, the Diners Club card was similar to many of its forerunners, the metal charge-plates issued by department stores, oil companies and other retailers at the time. Even by the late 1950s, Diners Club still had "no penalty or interest charges for payments made after 30 days," Simmons writes. The company's main source of revenue was the 7% fee — called interchange — charged to merchants on each transaction. When American Express launched its first card in 1958, it also required payment in full at the end of the month.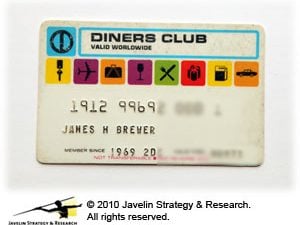 These cards offered a way to consolidate entertainment expenses but weren't meant to enable cardholders to pay down balances over time.
Bank of America challenged this convention with its BankAmericard, the first general revolving credit card. Launched in California just a month before AmEx's first card, the new product let consumers take out short-term loans and repay them on a flexible schedule, with interest.
Credit cards now: Revolving credit cards have become ubiquitous, and the only major issuer still offering charge cards is American Express. Tens of millions of cardholders in the U.S. alone can borrow money for purchases whenever they want, with the option of paying it back over time with interest. Borrowing money is often expensive, though: The average APR on credit cards that were assessed interest was 13.35% last quarter, according to Federal Reserve data.
Carrying debt still isn't something you want to do if you can help it. If you pay in full every month, you won't be charged interest. Still, having the option to borrow when you need to is valuable. If you know you're going to be carrying debt, you can also avoid interest by getting a card with an introductory 0% APR offer.
The first credit cards were used only for travel and dining expenses
Credit cards then: As the name implies, Diners Club credit cards were initially accepted only at restaurants. That was McNamara's original idea. But the card's high merchant fee was an obstacle for acceptance.
"Since restaurants who could afford a 7% interchange tended to be more expensive, it ended up being a product for the wealthy," says Michael Moeser, director of payments practice at banking consulting firm Javelin Strategy and Research. Soon after it launched, Diners Club expanded to include hotels.
Early competitors also went af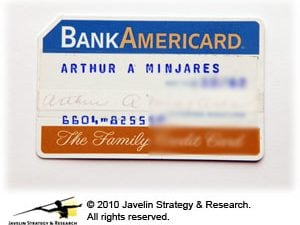 ter travel and entertainment merchants. When American Express released its first paperboard cards in 1958, they were accepted by an impressive 17,500 establishments on the first day, Peter Z. Grossman writes in his book "American Express: The Unofficial History of the People Who Built the Great Financial Empire." AmEx charged a 6% interchange fee and a $6 annual fee at first — $1 more than Diners Club at the time. "Already, the American Express Credit Card, as it was officially called, rivaled the Diners Club card in size and scope," Grossman writes.
When Bank of America launched the BankAmericard, it persuaded several types of retailers to accept it. But there was a catch: It was valid only in California.
Credit cards now: From restaurant dinners to groceries and gas to your utility bills, you can charge almost anything to your credit card these days.
This broad acceptance is partly because most credit card issuers now operate under Visa (which grew out of the original BankAmericard) and MasterCard (born as "MasterCharge"). These massive payment networks work out acceptance agreements with merchants so that issuers don't have to do it individually. They also set interchange rates, which are more affordable for merchants than they used to be. Typical interchange rates now range from 2% to 3% of each transaction, instead of the 6% or 7% of the past. About 9.5 million U.S. merchants now accept Visa and MasterCard credit cards, according to 2014 Nilson Report data.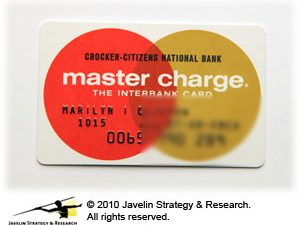 The first credit cards didn't offer rewards
Credit cards then: Loyalty programs existed long before credit cards were invented. In the 1800s, many stores offered rewards to customers in the form of stamps, which could be redeemed for merchandise, Moeser says. But it took credit cards much longer to get in on the rewards game.
"The '80s decade was a watershed era for credit card rewards," Moeser says. "When the Discover card was launched by Sears in 1986, it had a cash-back reward program that refunded part of the interchange to the consumer." It became one of the first rewards credit cards ever offered in the U.S. and spurred competition among issuers.
Soon after that, Citi launched a co-branded card with American Airlines that let cardholders earn frequent flyer miles. In the 1990s and 2000s, more competitors piled into the market, and credit card rewards became more generous.
Credit cards now: These days, sign-up bonuses worth hundreds of dollars are easy to find on travel cards. A handful of rewards cards offer a flat 2% rate on all purchases — twice what many of the early rewards cards offered.
Rewards credit cards tend to come with high interest rates, so they're not a good choice for people who carry balances. Interest charges easily outweigh even the most generous rewards. But if you pay in full every time, it's a simple way to earn a few hundred dollars back each year on everyday purchases.
Today, convenience is just a starting point
Convenience alone — say, paying with "one monthly check" — isn't as big of a selling point for credit cards as it used to be. These days you're better off choosing a card for its rewards rates, fees, interest rates or benefits. But if you wanted to choose a card based on how easy it was to use, you'd still have plenty of options.
Cards with flat-rate rewards are competing as a simpler alternative to cards with tiered rewards. More issuers are letting you redeem rewards seamlessly — say, directly through merchants such as Amazon.com or Uber, or even for cash at the ATM. And pre-qualification utilities can tell you which credit cards and bonuses you qualify for before you even apply.
Credit cards haven't just become more valuable; they're also more effortless to manage. And as issuers continue to outdo one another for better rewards and benefits, consumers are winning.
This article was written by NerdWallet and was originally published by Forbes.
Find the right credit card for you.
Whether you want to pay less interest or earn more rewards, the right card's out there. Just answer a few questions and we'll narrow the search for you.
Get Started
Get more smart money moves – straight to your inbox
Sign up and we'll send you Nerdy articles about the money topics that matter most to you along with other ways to help you get more from your money.