How One Man Ran a Marathon on Each Continent — Using Miles
Tyler Tervooren used planning and frequent flyer miles to finish this ambitious travel challenge.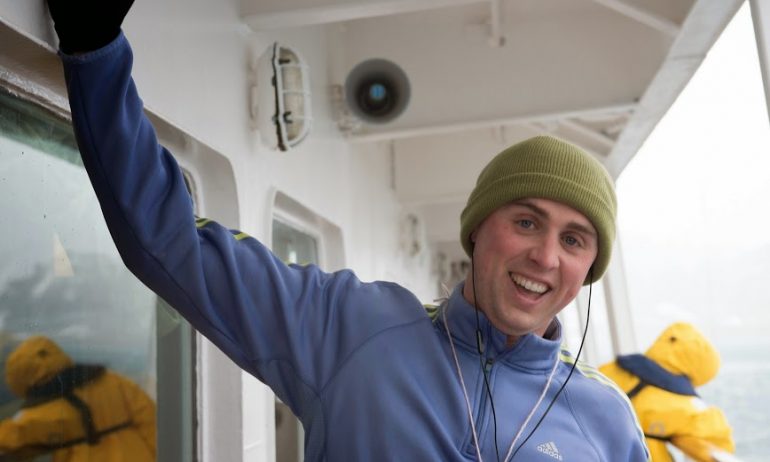 Many or all of the products featured here are from our partners who compensate us. This influences which products we write about and where and how the product appears on a page. However, this does not influence our evaluations. Our opinions are our own. Here is a list of our partners and here's how we make money.
Tyler Tervooren signed up for his first marathon on a whim. It was in 2010, just after he was laid off from his job as a construction manager.
"I was kind of laying around on my couch feeling sorry for myself for a while. And a friend of mine who lived in Eugene [Oregon] called me up one day to kind of give me a pep talk," says Tervooren, now 33, of Portland, Oregon. "He was talking about how he was going to run his first marathon that year — the Eugene Marathon. He joked, 'Hey, you've got nothing better to do. You should run it with me!'"
At the time, the marathon was only seven or eight weeks away, and though Tervooren was a runner, he'd never completed a race that long. "I thought about it for a day or so and said, 'Hell, why not?' So I started training," Tervooren says.
That race was Tervooren's first step toward accomplishing a goal few runners complete: running a marathon on each of the seven continents (and in just four years). What's more, he was able to do it on a modest budget, with strategically redeemed airline miles and creative cost-cutting.
Tervooren wrote about his experience on Riskology, the blog and leadership program he founded and one of several projects he now pursues as an entrepreneur. Here's how he finished this ambitious travel challenge while keeping his costs down.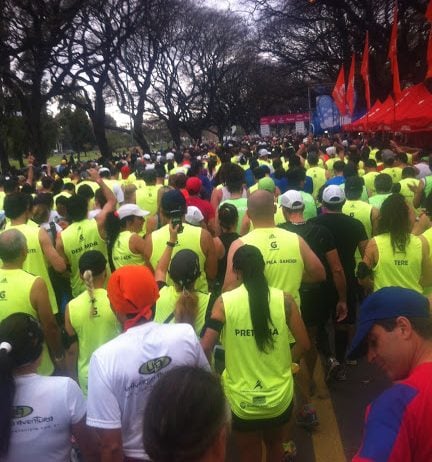 The starting line: Setting a goal
For Tervooren, the idea of running a marathon on each continent was a way to make running and travel a bigger part of his life.
"I didn't have some deep philosophical reason for doing it," Tervooren says. "I just wanted something that would make me feel more alive at the time."
"

"I just wanted something that would make me feel more alive at the time."

"
Tyler Tervooren

,

runner and entrepreneur
At that point, most of his income came from freelancing projects and teaching online courses, he says. That gave him enough flexibility to travel.
"I had a number of frequent flyer miles already. It was like, where can I start planning right now? What marathons are available to me to go run?" He started scoping out races in locations he'd be able to visit using his miles.
The warm-up miles: Choosing memorable marathons
Ultimately, Tervooren ended up running these races:
North America: the Eugene Marathon in the U.S.

Africa: the Big Five Marathon in South Africa

Europe: the Athens Classic Marathon in Greece

Asia: the Great Wall Marathon in China

Australia: the Solar Eclipse Marathon in Australia

South America: the Buenos Aires Marathon in Argentina

Antarctica: a marathon aboard a cruise ship
Each marathon was unforgettable in its own way. The Big Five marathon took place on a game reserve, home to the "big five" African game animals: lions, leopards, rhinoceroses, elephants and Cape buffalo.
"There were points where you kind of had to stop on the trail to wait for 500 wildebeests to run across," he says.
In Australia, Tervooren's marathon coincided with a solar eclipse. In China, he ran along the Great Wall, climbing and descending thousands of steps. That race was the most challenging, he adds.
Perhaps the most unconventional race was his Antarctica marathon. Antarctica has traditional marathons, but they tend to be quite expensive and often sell out. Tervooren placed his name on a waiting list for one, but he soon found a more cost-effective solution: running aboard a cruise ship heading from Ushuaia, Argentina, to Antarctica.
To reach 26.2 miles — the length of a marathon — he did 247 laps around the ship, keeping time with two iPhone apps. Three witnesses took turns counting and verifying the laps.
The halfway mark: Minimizing travel costs
Tervooren's trip expenses mostly fell into these buckets:
Some expenses — such as race fees, some of which were more than $1,000 — were unavoidable. But through careful spending, Tervooren minimized the costs he could.
He spent just $11,230 in total over four years to complete the challenge, according to his records. That's a relative bargain, considering the cost of airfare and lodging. His total travel costs ranged from $260 per marathon (for the Eugene Marathon) to $4,820 (for the Antarctica marathon).
He saved thousands of dollars by paying for almost all his flights with frequent flyer miles.
He also chose inexpensive accommodations, such as cheap stays on Hotels.com and, toward the end of his challenge, Airbnb. "For lodging, the No. 1 thing that saved me money then, and still saves me money today, was that I just don't really care about where I'm sleeping for a couple hours a day," Tervooren says.
On occasion, he slept at airports and on flights in lieu of booking hotel stays. When he reached Beijing Capital International Airport, for instance, he slept on the airport benches. It was relatively peaceful — though around 2 a.m., he says, the cleaning crew started moving the benches to clean underneath them.
Some race fees included the costs of lodging and food.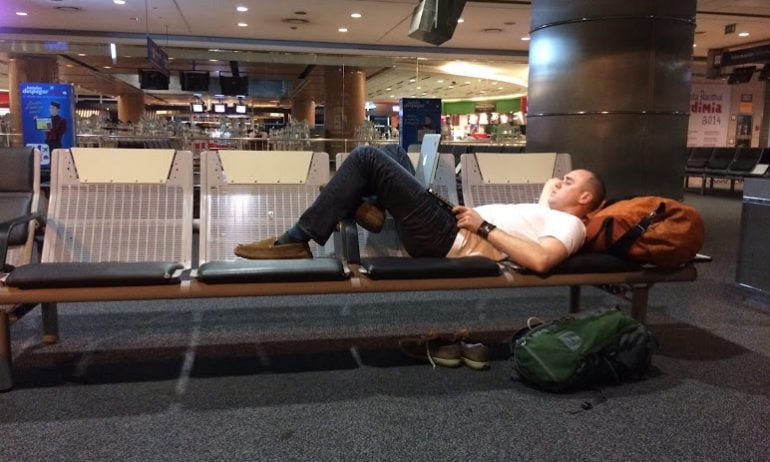 The home stretch: Maximizing frequent flyer miles
Before Tervooren started the challenge, he had already amassed frequent flyer miles on several airlines.
"Typically, what I'd do is get a credit card for whatever promotions they're offering, use it as much as possible, try to figure if it's something [I] can use for the long term," Tervooren says. "If I can't, it's never been a big deal for me. I just cancel it." Sometimes he downgrades cards to the no-fee versions, too, keeping the accounts open to protect his credit.
To be sure, it takes time, money and careful record-keeping to collect frequent flyer miles through multiple credit cards. Credit card bonuses typically require you to meet a certain spending threshold, though frugal cardholders can often reach those requirements with some planning. And you often have to be flexible when booking with rewards because of limited award seat availability.
But frequent flyer miles can be extremely valuable when redeemed strategically. One of Tervooren's best redemptions involved using 40,000 or 50,000 airline miles for his trip to South Africa, which allowed him to visit six countries in all when he tacked on a small award ticket and an inexpensive cash ticket to his itinerary. He says such a deal likely wouldn't be possible now because of program changes, but good offers are still out there.
Tervooren's knack for earning and redeeming rewards has also come in handy in other ways. He is now the co-owner of the Travel Hacking Cartel, a paid online subscription service that teaches members how to earn and redeem rewards.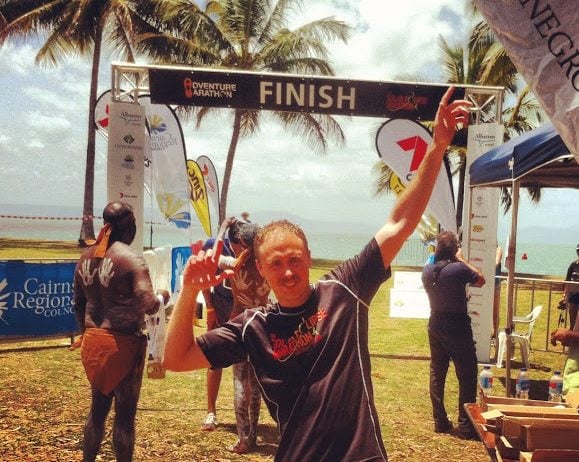 The finish line: Always dreaming big
By 2014, Tervooren had run a marathon on each of the seven continents. He has two pieces of advice for folks embarking on similarly audacious travel goals:
Always think big. Sometimes people keep their goals smaller because they're afraid they won't be able to fulfill them, he says. But in his view, you have the rest of your life to complete them.

Break big goals into smaller parts. "Set your goal and try to figure it out one small piece at a time. If you look at it all at once, it gets overwhelming," he says.
It might seem impossible to tick those big travel goals off your bucket list — especially if you're working with a limited budget or have a job that lacks flexibility. But if traveling is a priority, look for creative ways to work around those obstacles and trim expenses, as Tervooren did. Persistence is key, he adds.
"You've never really failed until you've given up for good," he says.
Photos courtesy of Tyler Tervooren.
Find the right credit card for you.
Whether you want to pay less interest or earn more rewards, the right card's out there. Just answer a few questions and we'll narrow the search for you.
Get Started
Get more smart money moves – straight to your inbox
Sign up and we'll send you Nerdy articles about the money topics that matter most to you along with other ways to help you get more from your money.