The Man Who Sold the World on Credit Cards
Many or all of the products featured here are from our partners who compensate us. This influences which products we write about and where and how the product appears on a page. However, this does not influence our evaluations. Our opinions are our own. Here is a list of our partners and here's how we make money.
When Matty Simmons first heard about multipurpose credit cards in 1950, he wasn't impressed.
At the time, Frank McNamara, who came up with the idea, and Ralph Schneider, his business partner, were trying to persuade Simmons to join their new company, Diners Club. The concept of a credit card didn't seem especially useful to Simmons, who was doing public relations for restaurants and nightclubs at the time.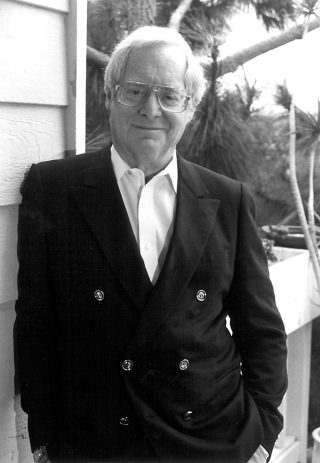 "What concerned me most was that I would be asked to not only publicize this new conception but to persuade restaurants to honor it," Simmons wrote in his 1995 book "The Credit Card Catastrophe," a firsthand account of Diners Club's early days and the evolution of the credit card industry.
But publicize and persuade he did. Simmons eventually joined Diners Club full time as executive vice president. He led sales and marketing, and he edited and published the company's popular magazine. His efforts contributed to the success of Diners Club and paved the way for the credit card industry as we know it today.
Diners Club was just one of Simmons' adventures. Now age 90, he's the author of eight books; a film and television producer of hits such as "Animal House" and the "National Lampoon's Vacation" series; and the founder of the publishing company that produced Weight Watchers Magazine and National Lampoon. He currently splits his time between Los Angeles, New York City and Pompano Beach, Florida, and is working on a new screenplay and a humor book.
NerdWallet talked to Simmons about Diners Club and what he thinks of credit cards today. This interview has been edited for brevity and clarity.
What were your first impressions of diners club?
I was a public relations guy. And among other things, I handled a lot of restaurants and nightclubs. The original idea for the Diners Club was dining. You'd go to restaurants all over the New York area, charge them, and get one bill once a month. Frank's partner, Ralph Schneider, ran into a newspaperman, and he asked him, "Who's the best guy to deal with in PR and the nightclub and restaurant business?" And that guy immediately said, "Matty Simmons." They called me, and I came up to see them.
Their office was at Frank's company in the Empire State Building. It was called Hamilton Credit. … Ralph was a lawyer. Frank was working at making commercial loans. They told me about their idea, and held up a little handwritten card that said "The Diners Club."
Frank said, "Our idea is, you take this card around," and so forth. ... And I said, "I don't think that's a very good idea." I'd never charged anything in my life. I'd always used cash. They wanted me to come in with them, and I said, "Let me think about it." And I forgot about it. A week later, Schneider called me. We had lunch, and we got to be really good friends. He talked me eventually, after about a year, into [going] full time at the Diners Club. I turned the publicity business over to my brother who was my partner. ...
What I first realized is that [McNamara and Schneider] didn't have any marketing guy, and I was doing all the sales and marketing. And I hadn't done anything like that before. But I just used common sense, and it worked. I did mailings. … We kind of created the "take-one box," you know, those little boxes where you'd take a folder out of it, and you could buy something to join. That was a good way of getting memberships.
And of course, the publicity was huge. The first big story was in Business Week. Right off the bat, it got us thousands of members.
[In his book, Simmons recounts that he "had to glamorize the creation of the credit card plan" to publicize the product, so he invented a story: McNamara was short on cash after taking a colleague out to dinner. While his wife was driving over with the money to cover the meal, he came up with the idea of a credit card, which would effectively allow a "responsible businessman" to open a restaurant tab anywhere. That apocryphal story has since been repeated countless times, and it even appears on the Diners Club website today.]
We didn't charge when we started. Then we were losing money. ... And I said, "You gotta charge for the card." [At the time, Diners Club charged merchants a fee for each credit card transaction, but it didn't charge cardholders an annual fee. It also didn't charge interest, as it required payment in full each month.] And Frank said, "Nobody will pay for a credit card." And I said, "Well, nobody's going to be anybody if we don't charge, because we're going to lose money and go out of business." So Ralph agreed with me, and we put in a $3 charge. …
Then I created a newsletter that went in the same envelope as your bill. The guy who handled my printing was a salesman, so I said, "You want to make some more money? Go out and sell some ads, and I'll put them in the newsletter." So he went to restaurants, and they bought ads. And there was such a demand for ads that I turned it into a magazine. First it was the Diners Club Magazine. Eventually, we changed it to Signature: The Diners Club Magazine. It was very successful. ...
We put in a charge for the magazine eventually. You paid $3 extra to get the magazine. ... Almost everybody, like 90% of members, subscribed to it.
What was your biggest challenge in the early years?
We didn't really have a lot of problems. We had some competition, but they didn't stay around. As a matter of fact, Alfred Bloomingdale was part of the group that formed the company Dine and Sign. But they did very badly, and Bloomingdale bought Frank McNamara's interest in the Diners Club, and he became president of the Diners Club. Ralph Schneider was chairman, and I was executive vice president. …
We had no real competition until American Express came along [in 1958]. While I was at the Diners Club, which was until 1967, we were still the No. 1 credit card in the world. …
Our credit losses were about three-quarters of 1%. Today, they're like 3 or 4%. … Now people run up big bills they can't pay, which is what I said in "The Credit Card Catastrophe." We were really more of a charge card. You had to pay your bill in 30 days. You were supposed to, anyway.
Do you still carry credit cards?
I have five of them. I don't have a Diners Club card.
The first number on a Diners Club card was 1000. Frank McNamara had that. Schneider had 1001, and I had 1002. I wish I had kept it. It's probably worth a lot of money now. But I don't have it. I never keep anything.
Did you close that account?
The year after I left, they went to a computer system. It was all by hand when I was there. They lost [millions] in the next couple years. [This was partly because of "computer problems which had swallowed millions of dollars in charges that were never billed," Simmons writes in "The Credit Card Catastrophe."]
And they sent me a card with 19 different numbers on it, like a typical credit card. Then they sent me a bill [for the card's annual fee]! I was so insulted that they'd send me, one of the founders of the company, a bill for a credit card. I just sent it back to them and said, "You can have this." And I never used it after that. …
Now I have a MasterCard, bank cards and American Express. … I don't use them that often. … The card I use most often is a MasterCard from one of our banks. That's only like, when I was in L.A., I dined out a lot.
How did you make the switch from credit cards to Hollywood?
How it happened was, the Diners Club was acquired by a big insurance company [Continental Insurance], and I wasn't very happy with the new ownership.
I resigned in 1967 and formed my own company. At origination, it was called Twenty First Century Communications. My first magazine was Weight Watchers Magazine, which is still around and still very successful. My second magazine was National Lampoon. That became so huge, I changed the name of the company to National Lampoon Incorporated. It was a public company. And the Diners Club, of course, was on the New York Stock Exchange.
[Simmons produced "Animal House" and the "Vacation" movies under the National Lampoon brand.]
In your book, you're critical about how credit cards can tempt people to overspend. Do you still feel that way?
Yes, I do. I think too much credit is being given to people who overspend. And they have to spend half their lives paying it off.
Mostly, the interest rates, to me, are highway robbery. It's ridiculous that they would charge people 17%, 20% or more on interest rates. It's just profiteering. It's ugly to charge people that much interest. I'm very much against it, and I said that in my book "The Credit Card Catastrophe." That's why it's called "The Credit Card Catastrophe"!
Do you foresee something replacing credit cards?
I don't think they'll replace the idea of the credit card or the service of the credit card. But it will all be computerized. Everything will be computerized. So you won't carry cash — you'll carry your computer, a little computer.
You can charge ... anything now. … I remember going to the annual meeting of all baseball teams and the general managers, pitching them on accepting Diners Club cards for tickets at ballparks. And the general manager of the Chicago White Sox, his name was Frank Lane, got up and said, "[Credit cards are] only a passing thing. It'll never last. Baseball is American as apple pie, and this is just a passing fancy."
Did he ever take that back?
I don't think he did. But you can sure as hell buy tickets for ballgames, movie houses, everything now [with credit cards].
What do you predict will happen with credit cards in the next 10 years?
There's no doubt in my mind it'll get bigger, because people will become more and more dependent [on credit cards] as years go by. And population growth. … And the simplicity of the handheld computer.
Sounds like mobile payments. Do you think those will become more popular?
I think everything like that will become more popular. The world is getting so computer-conscious and so automated in every respect that things like cash and billing will be simplified to the greatest degree. Your whole life will be in your computer.
How do you feel about that?
I'm worried about it. I think it makes spending too easy. I think cash, as I've said in the book, cash keeps people a little more cautious. You go, "Do I have enough cash to buy that?" You know? Then checks, of course, eased it. But not as much as credit cards.
Diners Club, then and now
After being acquired by Continental Insurance, Diners Club's U.S. business has changed hands a few more times. Today, it's owned by Discover.
Frank McNamara sold his shares in the Diners Club in 1952, thinking it would level off at 250,000 members. He died in 1957. Two years after his death, Diners Club passed 1 million members.
Ralph Schneider, who ran Diners Club for years after McNamara's departure, died in 1964. Al Bloomingdale later took the helm, but he and Simmons "disagreed constantly" about business plans, according to Simmons' book, and Simmons left the company a few years later. Bloomingdale managed the company for several years, and eventually sold his interest for a profit of $13 million. He died in 1982.
When Simmons left Diners Club for the publishing and entertainment world, he mostly stopped following the credit card industry, he says. But he still marvels at its lasting success.
"I never expected that when it started," he says. "I had no idea whether it would work or not. But that's how life is. … It just happens."
Find the right credit card for you.
Whether you want to pay less interest or earn more rewards, the right card's out there. Just answer a few questions and we'll narrow the search for you.
Get Started
Get more smart money moves – straight to your inbox
Sign up and we'll send you Nerdy articles about the money topics that matter most to you along with other ways to help you get more from your money.