Why Swiping Your Card at the Table Lags in the US
In Europe, diners pay their bills at the table and never hand over their credit cards. Why haven't American restaurants adopted this practice?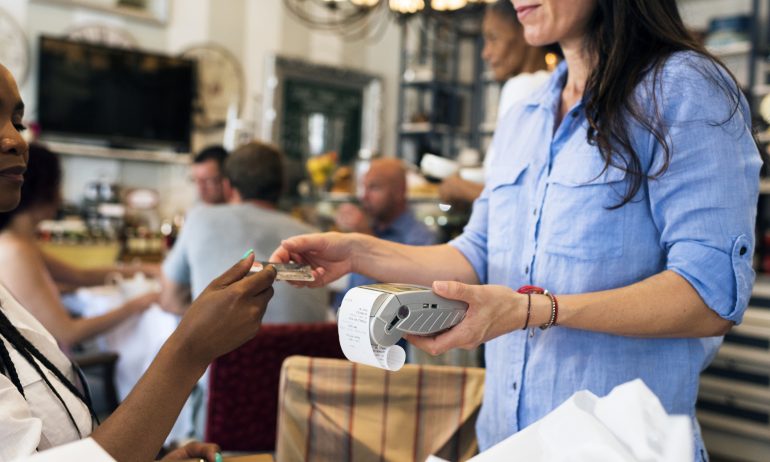 Many or all of the products featured here are from our partners who compensate us. This influences which products we write about and where and how the product appears on a page. However, this does not influence our evaluations. Our opinions are our own. Here is a list of our partners and here's how we make money.
If you've traveled outside the United States, you've probably had this dining experience: When you finish a meal in a restaurant, your server brings a handheld credit card swiping device to the table. You hand her your card, she swipes it and you're good to go.
There are two underlying reasons why U.S. restaurants don't have pay-at-table: chip-and-PIN credit cards and tipping.
"When the U.S. implemented EMV, they went with chip and signature instead of chip and PIN," says Chris Ziegler, senior director of product at TSYS, which provides payment solutions for merchants. The handheld devices aren't set up for signatures. "As America implements chip and PIN, I anticipate a tipping of the scales to pay-at-the-table."
As for the tipping issue, the American custom may be an even greater reason why pay-at-table hasn't caught on.
"In Europe," says Ziegler, "the service charge is already included. You don't see that in the U.S. unless it's for a group over six. In the U.S., if you have pay-at-table, you will have the server standing over you while you're calculating your tip. It's uncomfortable."
Some pay-at-table tablets do prompt the diner to choose what percentage tip to leave, though, so technology may soon relieve that awkward moment.
High costs for restaurants
If pay-at-table gains ground, it will have to start with the restaurants themselves. The restaurant business is known for its high failure rate and low profit margins. According to the National Restaurant Association, the average profit margin is between 2% and 6%. Adding another cost of doing business could make or break a restaurant.
"Devices enabled with Bluetooth or Wi-Fi cost a couple hundred dollars," Ziegler says. "Each restaurant needs a 2-to-1 ratio of servers-to-device. The upfront cost has to be calculated."
On the other hand, pay-at-table can help a restaurant serve more diners. Ziegler says research shows that pay-at-table can increase turnover by eight minutes a table. "That's important for a restaurant to consider. If I waited in front for my table, the wait time averages 15 to 30 minutes. If you take that eight or even 10 minutes you gain by using pay-at-table, that will decrease the wait time for a table. Efficiency drives revenue."
Is pay-at-table more secure?
In addition to streamlining the purchase process, consumers might want to pay at the table for security reasons. When the server takes your card away, you have no assurance that he isn't running it through a skimmer to steal your card number.
"Skimming is prevalent at restaurants, ATMs and gas stations," Ziegler says. But the fraud "doesn't impact restaurants. And with zero fraud liability, the cardholder doesn't pay for the fraud either."
Still, diners will likely feel more secure if their credit cards don't leave their sight.
Some large restaurant chains, such as Applebee's, Red Robin, Chili's and Olive Garden, are trying pay-at-table. For example, at Red Robin, tables have a device that allows you to order, play games (for a fee) and pay. When you finish your meal, you just swipe your card to pay. Ziegler says that when the chain restaurants adopt pay-at-table, mom-and-pop restaurants will consider it, too.
Another driver of pay-at-table may be mobile wallets. Right now, Ziegler says, mobile wallet usage is low in the U.S. However, "consumers drive how payments are made. If consumers want to pay with a mobile wallet, restaurants will change."
But change can be slow and old habits die hard, so it may be a while before American consumers are paying a restaurant bill at their table with a mobile wallet.
Find the right credit card for you.
Whether you want to pay less interest or earn more rewards, the right card's out there. Just answer a few questions and we'll narrow the search for you.
Get Started
Get more smart money moves – straight to your inbox
Sign up and we'll send you Nerdy articles about the money topics that matter most to you along with other ways to help you get more from your money.