Survey: Parents Missing Out on Back-to-School Savings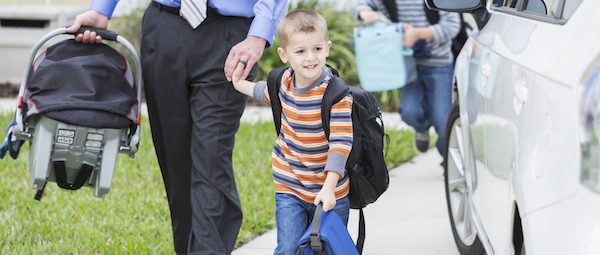 Many or all of the products featured here are from our partners who compensate us. This influences which products we write about and where and how the product appears on a page. However, this does not influence our evaluations. Our opinions are our own. Here is a list of our partners and here's how we make money.
The first day of summer break seems too quickly followed by the first day of the next school year, whether kids (or parents) like it or not. And between those two days, retailers begin courting shoppers with back-to-school sales.
The annual back-to-school haul of clothes, lunchboxes and new notebooks is a big deal for kids and a big expense for parents, but it doesn't have to break the bank.
Nine in 10 parents (90%) with children in kindergarten through college who have done back-to-school shopping say they've "splurged" on these purchases, according to a recent survey commissioned by NerdWallet and conducted online by The Harris Poll. The survey also revealed parents may be missing opportunities to save and might be overspending on some items.
Matching prices: More than 4 in 5 (87%) parents with children under the age of 18 don't always price match when shopping and 10% never do, forgoing a relatively simple way to cut costs.

Using credit cards strategically: Just 36% of parents planning to do back-to-school shopping this year will put their expenses on a credit card. But those who plan on paying with cash (44%) or using a debit card (58%) could be leaving money on the table. If they were instead to use a rewards credit card and pay off the balance in full at the end of the month, they'd reap rewards without paying any interest.

Covering next year's costs: A family putting most of its regular expenses on a credit card offering 2% cash back and no annual fee could earn $630 over the course of a year, almost as much as the average amount spent on school shopping, according to NerdWallet analysis.

Overspending: Nine in 10 parents (90%) with children in kindergarten through college who have done back-to-school shopping say they've "splurged." Two-thirds of parents (66%) say they've splurged on clothing, which typically drops in price after the back-to-school rush.
"It's easy to get wrapped up in the excitement of going back to school and to overspend as a result," says Kimberly Palmer, a personal finance expert at NerdWallet. "But there are some easy ways to stick to your budget while making sure your student is ready for the year."
Of parents with children under 18, 87% say they don't always price match when shopping, including 10% who say they never do, according to the survey. Still, these parents are more likely than nonparents to say they often or always price match (36% vs. 28%, respectively).
Price matching, or asking a retailer to meet a lower advertised price, can save a few dollars here and there, but could pay off big when shopping for things like designer clothes for a picky teenager or a new laptop.
Parents can use an app like ShopSavvy to scan items and compare prices at other stores before they buy. While the specifics of price-matching policies vary, most big retailers like Best Buy, Walmart and Target have them. Some extend beyond the date of purchase. "It takes a little time, but the refunds can add up quickly when you're shopping for big-ticket items." "Big stores like Target also often have a post-purchase matching policy, which means that if you find the same item cheaper at another store or even discounted at the same store, usually within 14 days of purchase, then you will get a refund for the difference," Palmer says. "It takes a little time, but the refunds can add up quickly when you're shopping for big-ticket items."
Make more of what you spend
When it comes to paying for these purchases, 58% of parents who will do back-to-school shopping this year plan to put them on their debit cards and 44% say they'll use cash. But putting expenses on a cash-back credit card and paying off the balance at the end of the billing cycle could actually make back-to-school shopping profitable.
Parents who put all of their day-to-day expenses on a credit card with 2% cash back and no annual fee could reap $630 in rewards each year, based on what the Bureau of Labor Statistics says a married couple with children spends annually. That's just about enough to cover the average back-to-school expenses — $688 in 2017, according to the National Retail Federation. Paying the balance in full avoids interest, so the value of the rewards isn't eroded.
Clothing topped the list of items parents say they have splurged on — two-thirds (66%) admit to overspending on this category when back-to-school shopping. However, they'd be better off waiting for fall apparel to drop in price, after the back-to-school rush has subsided and the weather begins turning cool.
Clothing is an area where parents can stand to save, in general. Adding children to a marriage nearly doubled a household's annual clothing expenditures, from $1,600 to $2,900, in 2016, according to the latest available spending data from the Bureau of Labor Statistics. For single folks, adding a child increased clothing expenditures from $1,200 to $1,900.
It may make sense to spend a little more on electronics, given their potential life span, but only 37% of parents with children in kindergarten through college who have done back-to-school shopping admit to splurging on computers or laptops.
The survey indicates a firm budget may be in order. In addition to the 90% of parents who have done back-to-school shopping and admitted to "splurging," nearly half (48%) say they usually buy more supplies than what's on the list provided by their child's school.
"When you're out shopping with your children, it's easy to get sidetracked with requests for supplies they don't really need, or even to be tempted yourself," Palmer says. "Talk ahead of time about the importance of sticking to the list — after all, the teacher made it for a reason. If the teacher asked for additional items for the classroom and you're able to contribute, then encourage your child to turn their shopping energy toward those donations."
Parents should determine how much to spend on a few main categories — such as clothing and classroom supplies — before shopping. If the budget allows for donating additional classroom supplies for the classroom, have at it. However, if there's less wiggle room:
Consider joining forces with other parents to buy supplies in bulk.

Have a parent-child conversation about the shopping budget, both as a financial educational opportunity and to prevent friction when you can't say "yes" to every purchase.

Research sale and price-matching options before heading out.
Consider refurbished computers
A laptop can be the priciest item on a child's back-to-school list, but 40% of parents with a child in kindergarten through 12th grade, and 49% of parents with a child starting or in college, aren't likely to buy used. Further, 37% say they've "splurged" on a computer or laptop.
"Refurbished laptops from reputable retailers and manufacturers can be as good as new," Palmer says. "Just be sure you are shopping with a trusted company and not buying secondhand from an individual online."
Determine your child's computing needs. If they only need a basic laptop for word processing and online research, a new Chromebook may fit the bill; entry-level units start at around $200. However, if you're after a computer that will deliver more bells and whistles, refurbished versions of higher-end models can deliver for several hundred dollars less than new.
Look for electronics that have gone through a stringent refurbishment process and come with a warranty. Knowing the purchase is covered takes some of the worry out of buying used. For example, refurbished MacBooks direct from Apple come with a standard one-year warranty and optional coverage extensions. Dell, on the other hand, offers a 100-day limited warranty on refurbished computers, with the option to upgrade to a 1-year extended warranty for $49.
Savvy back-to-school shopping is a skill that can pay off throughout the year and for years to come. As with holiday shopping, this recurring expense benefits from planning.
---
This survey was conducted online within the United States by The Harris Poll on behalf of NerdWallet from June 21-25, 2018, among 2,019 U.S. adults ages 18 and older, among whom 593 are parents with kids in K-12 and/or starting/in college. This online survey is not based on a probability sample and therefore no estimate of theoretical sampling error can be calculated. For complete survey methodology, including weighting variables and subgroup sample sizes, please contact Jessica Ayala at [email protected]. Credit card cash-back rewards were based on 2016 expenditure data from the Bureau of Labor Statistics and include average spending on food, housekeeping items, furnishings, clothing, vehicle maintenance and transportation, entertainment, personal care products, and services and education expenses, totaling $31,500. The expenditure category used is defined by the BLS as a "married couple with children."