Here's What's in the Deal to Avert U.S. Default
The last-minute compromise has been approved by both House and Senate and signed by the president.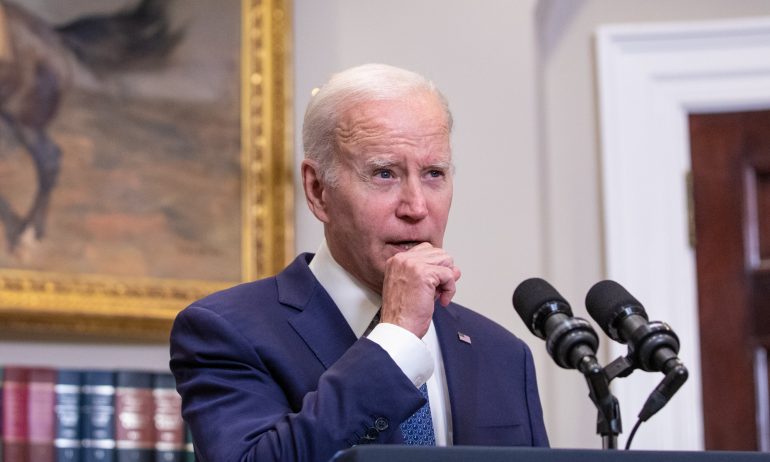 Many or all of the products featured here are from our partners who compensate us. This influences which products we write about and where and how the product appears on a page. However, this does not influence our evaluations. Our opinions are our own. Here is a list of our partners and here's how we make money.
Update: As of Friday, June 2, both the House and Senate have voted to approve the compromise measure. The president signed it on Saturday, June 3.
It's OK, you can (almost) exhale now because the U.S. government is expected to avert a near-default just days before it is expected to run out of money.
After months of tense tug-of-war, President Joe Biden and House Speaker Kevin McCarthy announced on Saturday that they reached an agreement in principle to raise the debt ceiling. The contents of the deal must pass muster with Congress before it's official. And it must happen quickly since, as the Treasury Secretary Janet Yellen wrote in a letter to Congress on Friday, the government will no longer be able to meet its legal financial obligations as of June 5.
Here's what the tentative plan — the "Fiscal Responsibility Act of 2023" — would do, according to the legislative text released Sunday:
Increase the debt limit for two years. You won't have to hear about the debt limit again until January 2025, which brings the next deadline for debt ceiling action past the 2024 presidential election.  
Set a two-year budget. All non-defense spending will stay flat next year at FY 2023 levels at nearly $703 billion. Freezing non-defense spending is, effectively, a cut due to rising inflation. Non-defense spending won't rise until 2025 when it gets a 1% increase to more than $710 billion. After 2025, there will be no growth caps.  
Increase defense spending. The plan would boost defense spending to $886 billion, which is similar to levels Biden outlined in his 2024 budget proposal. In 2025, it would increase to $895 billion. It would also increase veterans affairs spending. 
Tighten work requirements for welfare programs. The plan would move the work requirement for Supplemental Nutrition Assistance Program (SNAP) recipients from age 50 to 54 by 2025. These work requirements only apply to able-bodied adult recipients without dependents and, under the bill, does not include a homeless individual, a veteran or anyone 24 years old or younger who was in foster care. Notably, Medicaid would not be affected. Expanding work requirement changes for welfare programs were a must for House Speaker Kevin McCarthy; he confirmed on May 16 following his meeting with Biden that was his "red line" in debt ceiling negotiations, while the White House was repeatedly and adamantly against it.
Rescind Internal Revenue Service funding and COVID-19 aid. The proposed deal would claw back $1.39 billion of the $80 billion in new IRS funding that was allocated in the Inflation Reduction Act. The plan would also claw back billions in unused COVID aid. 
Streamline the environmental review process.The plan would make it easier to get permits approved for new energy projects. 
Approval of the Mountain Valley Pipeline. The plan would expedite the Mountain Valley pipeline project, a natural gas pipeline system spanning 303 miles from West Virginia to Virginia that's already in progress, but faces legal hurdles to completion. Sen. Joe Manchin of West Virginia said in a tweet on Sunday, "I am proud to have fought for this critical project and to have secured the bipartisan support necessary to get it across the finish line." 
Codify the existing plan to end the student loan payment pause. The federal student loan payment pause has been in effect since March 2020 and is set to expire at the end of August. The deal sets that end date in stone. But what this deal does not do is rescind Biden's student loan cancellation program, which remains in the hands of the Supreme Court.  
The House is expected to vote on the plan on Wednesday.
Biden, when questioned during a Sunday press conference about what he would say to members of the Democratic party who "say you made too many concessions in this deal?" responded, "They'll find I didn't."
The U.S. government hit its $31.4 trillion debt ceiling on Jan. 19, which triggered a countdown to a potential "X-date" — estimated at that point in June — when the government would no longer be able to fund its legal obligations. At the time, the U.S. Treasury implemented "extraordinary measures" and urged Congress to raise the debt ceiling.
But newly elected House Speaker Kevin McCarthy wanted to negotiate, while the White House said the equivalent of "no way." The tension sparked months of will-they-or-won't-they speculation about the future of the debt ceiling. All the while, the default countdown pressed on.
On April 26, House Republicans passed the "Limit, Save, Grow Act," which had no chance in the Democrat-led Senate but served as a starting point for talks that have lasted weeks.
On May 26, in the letter in which Yellen indicated the June 5 was the X-date — the shorthand for the date when the government can no longer meet its legal obligations — she said that the government is expected to make more than $130 billion of scheduled payments to veterans along with Social Security and Medicare recipients on the first days of June, but after that point the Treasury would be left "with an extremely low level of resources."
Previously, on May 1 and May 15, Yellen had pointed to June 1 as the likely X-date. She reiterated both points in another letter to McCarthy on May 15. Meanwhile, the Congressional Budget Office released its own estimates on May 12, which pointed to June 15 as the earliest "X-date." In each of her letters to Congress, Yellen warned of the risk of a credit downgrade. That possibility was on its way to becoming a reality once Fitch Ratings announced on May 24 that it put the U.S. on rating watch negative.
Congress has taken action on the debt ceiling more than 20 times since 2002. The last time Republicans and Democrats had a standoff on the debt ceiling was in 2011. The government avoided default at the last minute, but not before it led to chaos in the stock markets and months of economic repercussions thereafter.
Photo by Anna Rose Layden/Getty Images News via Getty Image