How to Save for a Car
Roll car costs into your budget, set up automatic savings, reduce spending and consider getting a side gig.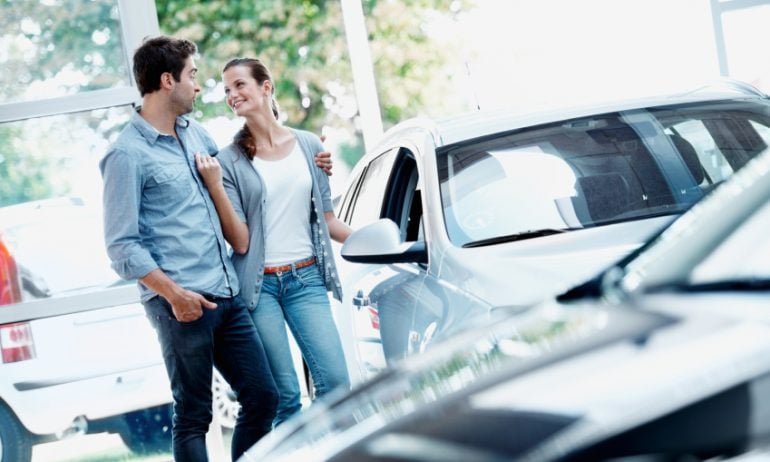 Many or all of the products featured here are from our partners who compensate us. This influences which products we write about and where and how the product appears on a page. However, this does not influence our evaluations. Our opinions are our own. Here is a list of our partners and here's how we make money.
Saving to buy a car minimizes the amount you have to borrow. This puts you in a stronger position at the dealership and could save you thousands in interest. It requires discipline, but if you follow these steps, you could save all — or most — of your down payment within months.
1. Calculate your down payment
Choose a target amount to spend, then compare a few makes and models to find out if it's realistic. Once you zero in on the price range for a car you can afford, calculate your down payment. Aim to put 20% down on a new vehicle and 10% down on a used vehicle.
"

Aim to put 20% down on a new vehicle and 10% down on a used vehicle.

"
"The more money you can come up with on your own, the better the deal you're ultimately going to get," says Brian Moody, executive editor at AutoTrader. Making a higher down payment helps you qualify for a loan, and it can earn you a lower interest rate and more affordable monthly payments.
Moody suggests shopping for financing as you would for a car, because pricing and terms vary among lenders. Apply to an online provider first, then see if the dealer can offer a lower rate. Besides the cost of the car itself, determine how much money you'll need for sales tax and fees so you can save up for those costs, too.
NerdWallet recommends following the 50/30/20 budget, which allocates 50% of your monthly income to needs, 30% to wants and 20% to savings and debt repayment.
Deciding whether to factor vehicle savings into the "needs" or "wants" part of your budget can be tricky, but think of it this way: A used, base-model car and a brand-new one with upgraded features will both get you to work, but the latter is more of a "want."
Keep in mind that your car payment and other ongoing costs, such as insurance and gas, will become a part of your budget. Many experts say that all car-related expenses shouldn't exceed 20% of your take-home pay. Factors such as your driving record, age and credit score will influence your insurance premiums. Compare car insurance rates from multiple insurers and consider bundling your auto policy with a homeowners or renters policy to save money.
3. Limit unnecessary spending
As you save up for a major purchase like an automobile, spend money carefully elsewhere. Consider cutting down on "wants" spending temporarily and find ways to reduce your current expenses, such as cable and groceries. Redirect the money saved toward your new car fund.
4. Set up a savings account
Now that you know how much to save and how to save it, the next step is to find a safe home for your money. It might be worth opening a separate account so you aren't tempted to dip into your car savings for other purposes.
"

Open a separate account so you don't dip into your car savings for other purposes.

"
If you have a few years to save up — say you're a high school student and buying a car is a long-term goal — put your money in a high-interest savings account or certificate of deposit so it can grow. (Make sure to shop around: Some of the best online accounts pay interest rates as much as 150 times higher than large traditional banks.) Leave these reserves untouched until it's time to pull the trigger on a set of wheels.
Once you have a place to store your savings, make regular contributions. You can do this with minimal effort by setting up automatic transfers from your checking account on your bank's website or using a trusted third-party app to make deposits for you.
6. Sell or trade your current car
Replacing an old car? You can sell it or trade it in and put that amount toward the next car.
"Selling it yourself is likely going to get you more money, but will cost you time," Moody says.
Use appraisal tools to estimate your car's value so you'll know how much it might add to your savings fund. If your previous car was totaled, your insurance company might have issued a reimbursement check that will fully or partially cover a new one.
To help close any savings gaps, think about finding ways to earn more money. A side job can accelerate your progress, but make sure it's legitimate — and worth your time — before you commit.
Spot your saving opportunities
See your spending breakdown to show your top spending trends and where you can cut back.