Her Ticket to a Life She Loves: A Hard Hat
Becoming an apprentice electrician has helped Erin Lakenen travel the world and buy a home.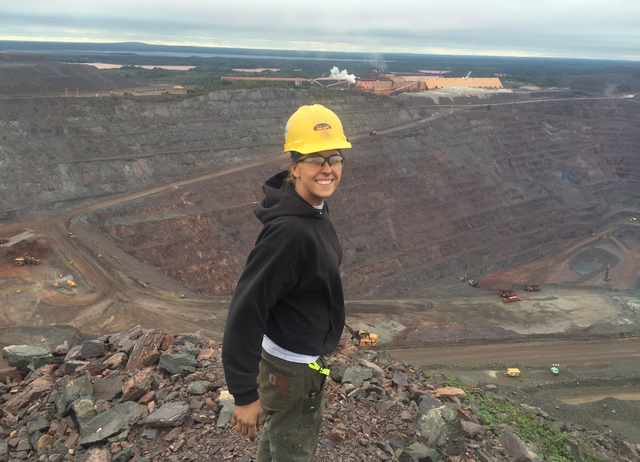 Many or all of the products featured here are from our partners who compensate us. This influences which products we write about and where and how the product appears on a page. However, this does not influence our evaluations. Our opinions are our own. Here is a list of our partners and here's how we make money.
Scrolling through Erin Lakenen's Instagram inspires instant wanderlust. In one photo the 23-year-old is in Vietnam with a burly snake wrapped around her neck. In another, she overlooks a lush mountain in Ecuador. There's a shot of her skydiving with her head thrown back in laughter, and one of her hair streaming in the wind as she soars on a picturesque swing.
In between adventures, she returns home to Michigan's Upper Peninsula to kayak and surf in Lake Superior — even in winter — and renovate the home she recently bought.
"

Lakenen spends eight to 10 hours per day climbing, bending, lifting, hauling and standing in mills, mines and powerhouses.

"
She also returns to the job that makes it all possible.
Lakenen is an apprentice electrician. Day in and day out, she pulls on steel-toed boots and spends eight to 10 hours climbing, bending, lifting, hauling and standing in mills, mines and powerhouses.
Apprentices like Lakenen skip college — and student debt — for a paycheck from day one, hands-on training and a career that allows them to earn a living anywhere in the country.
Apprenticeships are known as paths to skilled trades such as plumbing and carpentry, but there are a slowly growing number of corporate apprenticeships in finance, insurance, technology and human resources.
When Lakenen finishes the five-year program and passes a state licensing exam, she'll be an electrical journeyman. U.S. electricians earn $56,650 annually on average, according to 2016 data from the Bureau of Labor Statistics.
But the demanding work is already paying off for Lakenen. Starting out, she earned around $15 an hour. Now, three years in, she earns more than double that amount, plus health benefits and a pension.
Lakenen is part of a generation raised to believe that success is a bachelor's degree or bust.
"In high school, they tell you to go to college," she says. "That's what everyone does."
But she wanted to guide kayakers down rivers and coach novice skiers down slopes — jobs where she could be outdoors.
Her father, a former ironworker and now president of the local steelworkers union, questioned whether those gigs could amount to a sustainable career. When he texted her asking, "How would you feel about being an electrician?", she laughed.
"

Lakenen is part of a generation raised to believe that success is a bachelor's degree or bust.

"
But the more she thought about it, the more it sounded like a good fit. In high school, she'd become obsessed with understanding auto mechanics. She hauled wood for her family's stove and helped her dad in the garage. Hard, physical work is in her blood.
So Lakenen filled out an application, took the required reading and algebra exam, and interviewed. She got into the program within a few months — faster than many apprentices do, she says.
Three years later, Lakenen is more than halfway through her apprenticeship for the International Brotherhood of Electrical Workers Local Union 906. The union assigns her to jobs ranging from a few weeks to a few months in length.
She works 40-plus hours a week, chipping away at the 8,000 hours she needs to complete the apprenticeship. On top of that, she spends one day every other week learning in a classroom with fellow apprentices.
When a project ends, she's laid off until the union puts her on a new one. But the routine layoffs don't bother her, she says. She feels confident that more work will be available, especially since she's willing to travel for it. Lakenen has also tried to set herself up for financial success by living within her means, investing in a home and contributing to a Roth IRA.
"When you are aware that a layoff could happen at any time, you prepare yourself financially," she says.
Lakenen sees the layoffs as an opportunity for trips, including spontaneous ones. In 2016, for instance, she was laid off unexpectedly and the following day booked a one-way flight to meet up with a cousin who has a sailboat in the Caribbean. Throughout the trip, she kept in touch with her union, saying she'd come back when another job opened up. Five weeks later, she was back to work — with a nice tan.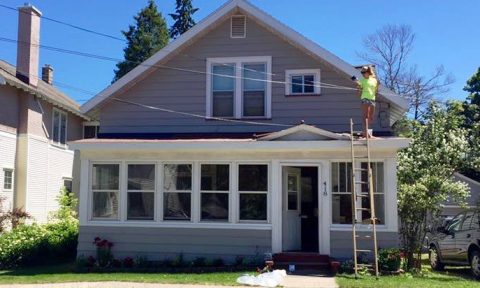 After each trip, she returns to the two-story duplex she purchased in spring 2017 and has been renovating since. There's a tenant in the upper unit to help pay the mortgage, which is especially helpful during layoffs. Eventually, Lakenen dreams of renting out both units and traveling more. As a certified journeyman, she'll be able to pick up electrical work through union halls across the country.
For now, though, she's focused on completing the apprenticeship.
Most workdays, Lakenen rises when it's still dark to pull on pants, a shirt and a Carhartt jacket. Coffee — she takes hers black — is mandatory. Then, she's off.
Common tasks like circuitry, conduit bending and motor control are coming easier. Her co-workers now feel like her brothers, and she's proving herself in this male-dominated industry.
"I'd rather have her on my crew just as much as anybody," says Steve Carlson, one of Lakenen's supervisors. "I can always count on her."
Lakenen comes home from work freezing, sweating, aching or covered in soot, depending on the day.
"You have to be the type that's willing to go to work in your steel-toe boots every day and get dirty and work long hours," she says, but adds: "They're paying you to go to school, to get an education, and you become a journeyman. It's a ticket you can keep and use whenever you want."
All photos courtesy of Erin Lakenen.