When to Repair or Replace Your Appliances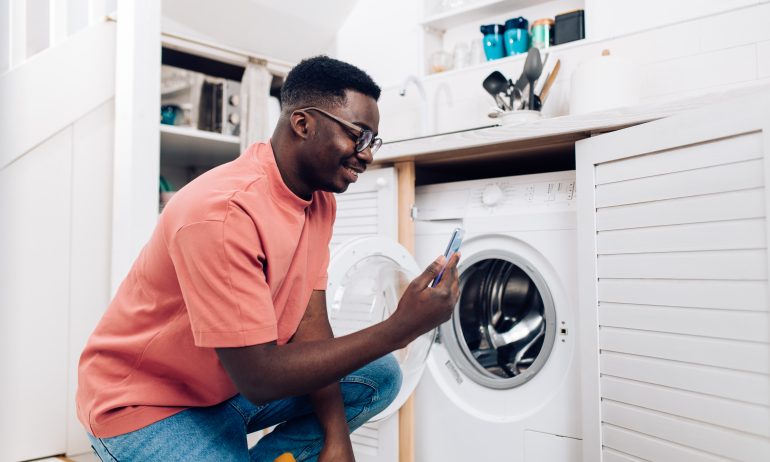 Many or all of the products featured here are from our partners who compensate us. This influences which products we write about and where and how the product appears on a page. However, this does not influence our evaluations. Our opinions are our own. Here is a list of our partners and here's how we make money.
When our 17-year-old refrigerator started wheezing, I fully expected we'd need a new one. I was shocked — and frankly a little disappointed — when a repair technician fixed it for less than $200. I had to postpone my dream of a shiny French-door replacement, but our no-frills Frigidaire is still working fine eight years later.
Our experience illustrates that the decision about whether to repair or replace major appliances can be more complex than general guidelines may imply. Getting more useful years out of your existing appliances can save money and keep potentially dangerous components out of landfills, where they may harm the environment. But on the other hand, a replacement could be much more energy efficient, repairs sometimes can be expensive and prices for new appliances have been falling recently.
All this makes the choice of repairing versus replacing a tricky one, says Dan Wroclawski, home and appliances writer for Consumer Reports, a nonprofit member organization that tests consumer products.
Smarter appliances and shorter life spans
Manufacturers have been incorporating more technology and new features into their products, Wroclawski says. Today's smart refrigerators, for example, might offer an interior camera so you can peek inside while you're at the grocery store, or it might have a screen that allows you to stream movies while you cook. But more features on new appliances mean more things that could break, and the fixes may require more specialized knowledge, which can translate into higher costs to repair.
"All of these appliances have just gotten a lot more complicated," he says.
Meanwhile, consumers' expectations of how much use they'll get out of a typical appliance have declined. Previous generations may have anticipated that their washers, dryers and ranges would last for decades, but consumers today think the typical appliance lifespan is about 10 years and many manufacturers agree, Wroclawski says.
The Association of Home Appliance Manufacturers, a trade group, was a bit more optimistic when it estimated the average useful life span of various appliances in 2019, according to Chris Doscher, director of communications, via email. Those estimates include:
Electric range: 11.6 years.

Top-freezer refrigerator: 14 years.

Side-by-side refrigerator: 11.1 years.

Top-load washer: 11.2 years.

Front-load washer: 9.1 years.
If your appliance is reaching the end of its useful life, here's some good news: Appliance prices have declined recently after soaring in the pandemic. The cost of major appliances rose more than 22% between 2019 and 2022, while the overall inflation rate was just under 18%, according to the consumer price index. The latest index, though, shows major appliances prices in June 2023 were 10.7% lower than the year before.
Even costly repairs make sense sometimes
In the past, Consumer Reports advised replacing products when the repair exceeded 50% of the cost of buying a replacement. More recently, though, the organization refined its "repair or replace" advice based on member feedback about 528,000 products purchased from 2012 through 2022, Consumer Reports senior survey research associate Tian Wang said in an email.
Consumer Reports now offers interactive tools that take into account the appliance's purchase price, age and the cost of repair, Wroclawski says. Baked into the calculator are estimates of the appliance's "depreciation rate" — basically how much useful life, if any, a typical appliance in that category would have left.
In general, the more you spend on an appliance upfront, the more likely the Consumer Reports' tool will recommend repairing over replacing, Wroclawski says. A costly repair on a less expensive appliance also might be worthwhile if you'll get several more years of use in return, he says.
"This appliance is an investment, and sometimes you might need to put a little bit more into that investment to get the full return that you're expecting," Wroclawski says.
Easing the environmental impact
Extending an appliance's life also means it's not disintegrating in a dump, releasing dangerous chemicals and contributing to climate change. Reducing our environmental footprint wasn't my primary reason for calling the repair technician — I mostly hoped an expensive potential repair would justify buying a new fridge — but now I'm glad we squeezed more life out of our icebox for the planet's sake.
When the Frigidaire finally dies, we'll choose another earth-saving option: an appropriate recycling facility. The Environmental Protection Agency sponsors the Responsible Appliance Disposal program for recycling refrigerators and freezers, while the Earth911 Recycling Search database can help you find recycling facilities for all major appliances.
I'll also look for a replacement with a reputation for durability. But I doubt I'll get the same longevity — or the huge return on a relatively small investment — the next time around.
"That $200 gave you another eight years of life and that's almost the life of a new refrigerator," Wroclawski says. "You can't argue with that."
This article was written by NerdWallet and was originally published by The Associated Press.