Cómo hacer que la inteligencia artificial esté al servicio de su pequeña empresa
La inteligencia artificial puede ayudar a que su negocio sea más eficiente. Lo importante es empezar ya.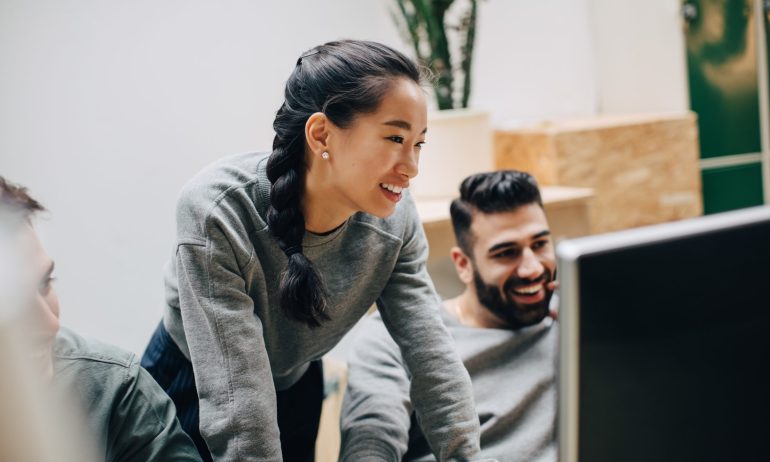 Many or all of the products featured here are from our partners who compensate us. This influences which products we write about and where and how the product appears on a page. However, this does not influence our evaluations. Our opinions are our own. Here is a list of our partners and here's how we make money.
Las herramientas de inteligencia artificial (o IA) lo abarcan todo, desde chatbots hasta generadores de imágenes y videos, y pueden ser utilizadas tanto por particulares como por empresas. Para los dueños de negocios que quieren aprovechar la tecnología de IA (en inglés) uno de los mayores obstáculos es probablemente interiorizarse en el tema. A partir de ahí, la curva de aprendizaje no es tan empinada como parece.
"Le aseguro de que algo de lo que usted hace ahora puede automatizarse fácilmente gracias a la inteligencia artificial si tiene una pequeña empresa, ya sea escribir textos de marketing, crear algo en Excel o escribir un correo electrónico que no sabe cómo redactar", dice Derek Pando, fundador de Beeloo, un negocio online que crea actividades imprimibles para niños.
Lakesha Cole, fundadora de She PR, una agencia de relaciones públicas con sede en Tampa, Florida, afirma que la integración de herramientas de IA en el flujo de trabajo diario de su equipo le ha ayudado a mantener una carga de trabajo adecuada. Cole dice que siente como si hubiera "añadido a tres nuevos miembros al equipo sin los gastos adicionales".
Aquí tiene cuatro consejos para incorporar herramientas de inteligencia artificial a las operaciones de su pequeña empresa, sin necesidad de experiencia previa.
Busque instrucciones de IA para su sector
Las herramientas de IA pueden hacer muchas cosas, pero no pueden leerle la mente. Y si lo que usted le indica no es exacto y directo, es posible que reciba respuestas erróneas.
"La inteligencia llega solo hasta donde usted le indique", dice Cole. "Uno igual debe tener claro qué funciones le va a pedir que haga".
En el caso de los chatbots con inteligencia artificial, Cole insiste en la importancia de aprender las instrucciones (o prompts) específicas que se utilizan en su industria o sector. Si no sabe por dónde empezar, busque online guías de instrucciones, sugiere Joe Karasin, fundador de la empresa de marketing digital Karasin PPC.
"Otro escollo que se puede evitar con un poco de preparación, es tratar de no pasar demasiado tiempo intentando indicarle a la IA lo que tiene que hacer", afirma Karasin.
Cole afirma que su equipo se pasó unos tres meses utilizando constantemente las plataformas de IA antes de lograr familiarizarse con ellas. Llevaron un registro de los prompts que mejor funcionaban para poder consultarlos rápidamente en el futuro.
Utilizar la inteligencia artificial para aumentar la productividad
Piense en las tareas que le consumen más tiempo y si es que la IA podría ayudarle a completarlas de manera más eficiente. Si usted crea contenidos, por ejemplo, sabe muy bien que la investigación a veces lleva más tiempo que la propia redacción. Karasin calcula que se ahorra entre 15 y 20 horas a la semana utilizando ChatGPT para buscar citas y recursos sobre los temas que escribe para sus clientes. Aun así, insiste en la importancia de verificar la exactitud de la información.
"Hago la investigación allí [en ChatGPT], pero mi redacción sigue siendo original", afirma.
Cole utiliza un generador de imágenes de IA para acelerar el proceso de diseño gráfico de su negocio.
"Nos da la libertad de diseñar las imágenes que necesitamos cuando las necesitamos, y no tenemos que trabajar dependiendo de los plazos de otra persona", afirma.
Los chatbots de IA también pueden ayudarle a planificar tareas. Cole indica sus objetivos y plazos para un proyecto concreto, como el lanzamiento de un producto, y pide al chatbot que haga un esquema de un calendario realista.
Piense en la IA como su asistente de marketing
Entre otros casos de uso, Derek Pando utiliza a los chatbots de IA como una herramienta de marketing (en inglés). Pueden tomar los artículos del blog de su empresa, que están escritas por una persona, y ayudar a condensarlos en entradas para redes sociales adaptadas a plataformas específicas, como Instagram y LinkedIn. Los chatbots también sugieren titulares con los que Pando puede trabajar y retocarlos, lo que puede ser útil cuando el escritor se encuentre en pleno bloqueo creativo.
"Doy la instrucción: "Dame cinco posts cortos diferentes que pueda usar para las redes sociales", o "Resume esto en un párrafo", explica. "Y así, todo el trabajo que se realiza a partir de la creación de una pieza central de contenido, por lo general las herramientas de IA se encargan de las tareas más pesadas y nos dan muchas opciones, además de resumirlas".
Pando también da a los chatbots de IA indicaciones para el tono o voz del texto, si quiere que una determinada publicación resulte divertida o emocionante, por ejemplo. De lo contrario, no sabrán necesariamente que tono darle al texto.
Utilizar la IA con criterio y ser transparente
"Soy muy exigente y selectiva en cuanto a cuándo utilizo la IA o cuándo el contenido debe ser de mi propia creación", dice Cole. Tome la decisión según sea el caso, dependiendo del tipo de proyecto o cliente, y considere las herramientas de IA como un "punto de partida" en lugar de una solución única.
Para Pando, también es un tema de transparencia. "Creo que los dueños de pequeños negocios corren el riesgo de perder parte de la magia que hace que su negocio conecte con la gente, que es la conexión personal y la confianza", afirma. Para solucionarlo, el sitio web de Beeloo incluye una política de IA que revela cómo la empresa utiliza y no utiliza la tecnología.
"Esto no quiere decir que no se pueda utilizar y ser mejor, pero creo que vamos a tener que ser más transparentes para mantener esa ventaja de confianza", afirma.
Este artículo fue publicado originalmente en NerdWallet en inglés.