¿Cuál es mi puntaje de crédito?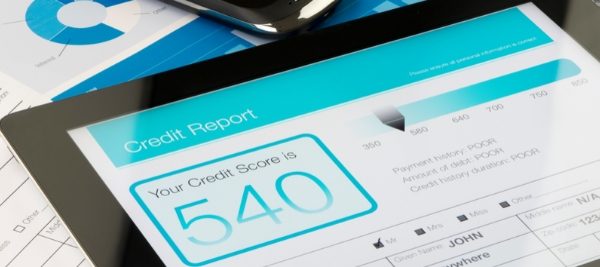 Many or all of the products featured here are from our partners who compensate us. This may influence which products we write about and where and how the product appears on a page. However, this does not influence our evaluations. Our opinions are our own. Here is a list of our partners and here's how we make money.
El puntaje de crédito es un número que se usa para determinar la manera en que se han pagado deudas en el pasado. Mientras más alto el puntaje, mejor les parece a posibles acreedores —y más probabilidad tendrá de conseguir una tarjeta de crédito o una hipoteca con términos favorables.
Los puntajes de crédito se ajustan a una escala —usualmente de 300 a 850— que está diseñada a medir la probabilidad que se tiene de pagar consistentemente un préstamo o una tarjeta de crédito.
El puntaje de un individuo es calculado en base a su informe de crédito, que incluye listas de su historial crediticio, como préstamos, tarjetas de crédito y hasta pagos atrasados de alquiler y servicios públicos. Esta información es compilada por grandes agencias que hacen reportes sobre créditos: Experian, Equifax y TransUnion. Usted tiene derecho de recibir un informe de su crédito gratis cada año de cada una de estas agencias.
Su historial de pago y si se ha pagado o no a tiempo.

Por cuánto tiempo se ha tenido deudas crediticias.

El balance de lo que se debe y el porcentaje de crédito disponible que se está usando.

Si se ha solicitado crédito muchas veces recientemente.

La variedad del crédito que tiene (crédito rotativo, como una tarjeta de crédito, y crédito a plazos, como un préstamo para comprar un carro).
El historial de crédito es solo una colección de datos. El puntaje es una interpretación de esos datos –una calificación de cómo se paga el dinero que se ha pedido prestado.
Lo que no es el puntaje de crédito
El puntaje de crédito no es un juicio moral. La gente puede tener un puntaje de crédito bajo por una variedad de razones, incluyendo una emergencia médica que haya causado grandes cuentas, el robo de identidad o una cuenta de cobros que no haya notado.
Y, por sí solo, el puntaje de crédito no indica que sus finanzas estén en buen estado. Alguien se puede llenar de deudas, pero con tal de que se hagan pagos a tiempo y no se esté usando más de un 30% del crédito disponible, se puede tener una puntuación muy buena.
El puntaje de crédito no toma en consideración el salario, los ahorros o la seguridad de su trabajo.
Tampoco afecta sus propuestas de trabajo. Cuando un posible empleador "chequea su crédito," el empleador solamente ve su informe de crédito, no su puntaje de crédito.
Los puntajes de crédito le afectan aunque no tome préstamos
Se puede tener planes de no tomar dinero prestado, pero hasta los negocios que no prestan dinero pueden chequear su puntaje por otras razones. El puntaje de crédito puede ser usado por propietarios de casas para decidir si lo aceptan como inquilino y por aseguradores de autos, que piden tasas más altas a la gente que tienen un puntaje bajo.
Con un excelente puntaje de crédito puede conseguir tasas de interés más bajas en los préstamos que puede resultar en pagos mensuales más bajos cuando compra algo a crédito. Así como también obtener los mejores términos de tarjeta de crédito. Hasta se pueden evitar los depósitos para los servicios públicos. Por otra parte, un puntaje bajo puede significar menos opciones –y entonces sí va a tener que hacer esos depósitos. También, puede pagar más por seguros y tener dificultad para encontrar una vivienda.
¿Tenemos todos un puntaje de crédito?
Si nunca ha tenido una tarjeta de crédito o un préstamo, probablemente no tiene puntaje de crédito. Por ejemplo, los menores de edad no deben tenerlo, pero algunos lo tienen porque han sufrido un robo de identidad. Algunas personas que no han usado el crédito en mucho tiempo pueden convertirse en "invisibles para el crédito".
Ahora, las fórmulas de puntaje más recientes usan datos alternativos para ayudar a generar puntajes, como el teléfono celular y el récord de pago de servicios públicos.
Si necesita crédito pero no lo consigue porque tiene un archivo muy limitado, una tarjeta de crédito asegurada o un préstamo asegurado lo puede ayudar. Después de unos meses de establecer crédito, podrá obtener una puntuación de crédito.
El puntaje que más comúnmente se usa para decisiones de créditos, producidas por Fair Isaac Corp., se llama puntaje FICO. Su principal competidor es VantageScore, desarrollado conjuntamente por las tres principales agencias informativas de crédito. Los puntajes que se pueden ver gratuitamente online generalmente son de VantageScores. Esos puntajes también tienen una escala de 300 a 850, y si usted tiene un buen VantageScore, es probable que tenga un buen puntaje FICO. Ambos puntajes sugieren que es una persona que tiene buenos hábitos crediticios.
Get more smart money moves – straight to your inbox
Sign up and we'll send you Nerdy articles about the money topics that matter most to you along with other ways to help you get more from your money.