Los Nerds de las finanzas comparten consejos para gestionar los presupuestos para las fiestas y el estrés
Los gastos de fin de año pueden ser estresantes. Hacer un presupuesto y no salirse de él puede ser de gran ayuda.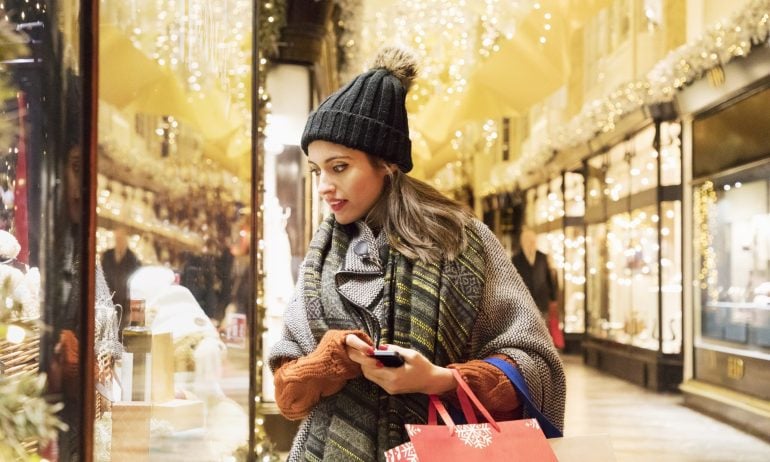 Many or all of the products featured here are from our partners who compensate us. This influences which products we write about and where and how the product appears on a page. However, this does not influence our evaluations. Our opinions are our own. Here is a list of our partners and here's how we make money.
Las vacaciones están pensadas para estar llenas de amor, pero a veces están llenas de estrés y ansiedad. Uno de los culpables puede ser el compromiso económico tácito de las cenas familiares, los viajes y la caótica compra de regalos. A veces el estrés escapa a nuestro control, pero hay algunas cosas que podemos controlar, como la planificación y la elaboración de presupuestos.
Les pedimos a algunos de nuestros Nerds que escribieran sus mejores estrategias para afrontar el estrés y los gastos de la temporada de fiestas. Estas son sus respuestas.
Fije un presupuesto para los regalos
Si tuviéramos todo el dinero del mundo, podríamos comprar a nuestros seres queridos todo lo que quisieran o necesitaran. Pero el dinero es un factor, así que lo ideal es ajustarse a un presupuesto (en inglés), lo que significa tener un límite de gasto en regalos. También puedes ir un paso más allá y acordar un tope de gasto con tus seres queridos, como hace el redactor jefe Jim McNett.
"El pequeño círculo de personas con las que hago intercambio de regalos tenemos un acuerdo discreto para que los regalos no superen los $100", explica.
Puede parecer un tema tabú hacer regalos de segunda mano o usados (en inglés) a los seres queridos, pero son una opción rentable. La jefa de redacción Erica Harrington a veces compra regalos de segunda mano para sus seres queridos.
"Compro en Etsy y eBay. Por ejemplo, a mi madre le gustó uno de los bolsos que compré hace varios años, así que busqué la marca en eBay y le encontré algo parecido de la misma marca", explica Harrington.
Para darle un aire nuevo, busque un bonito envoltorio para el regalo. Si no le convence la idea de los regalos de segunda mano, empiece con artículos pequeños y de poco uso, como libros. También es posible encontrar artículos nuevos por menos dinero en tiendas de caridad y en plataformas online como eBay, aunque puede que tenga que participar en subastas para conseguirlos.
Además de comprar regalos de segunda mano, usted también puede conseguir adornos festivos en tiendas de caridad que vendan productos usados.
Tómese un descanso de los gastos en el nuevo año
Es posible gastar más durante las fiestas que el resto del año. Dejando a un lado los regalos, podría acabar saliendo a cenar con amigos más veces o realizando actividades festivas con la familia. Gastar más durante las fiestas no es algo terrible si uno lo planifica económicamente. Sin embargo, gastar grandes cantidades de dinero puede resultar estresante, sobre todo si usted no tiene un excedente de fondos. Para ayudarle a recuperarse de los grandes gastos navideños, considere la posibilidad de minimizar el gasto unos meses después de las fiestas.
"Si sé que voy a viajar o gastar mucho durante las fiestas, también me preparo para tener mucho tiempo de inactividad en enero y febrero e incluso marzo, cuando sé que no voy a planear grandes compras", dice el redactor Chris Davis. Explicó que tomarse tiempo para recuperarse económicamente después de las vacaciones requiere disciplina, pero puede ayudar a retomar el rumbo para el resto del año.
Pruebe las aplicaciones de listas de deseos
No saber qué comprarle a un ser querido puede ser estresante y llevar a compras de última hora. A veces, estas compras urgentes pueden resultar más caras, sobre todo si los comerciantes suben los precios. Para ahorrar tiempo y evitar preocupaciones sobre si a su ser querido le gustará el regalo, considere la posibilidad de utilizar una plataforma como Giftster para compartir ideas de regalos. Puede crear una lista de deseos, añadir artículos y compartirla con los suyos. Incluso existe la opción de crear una lista de deseos en grupo, lo que puede ser útil para familias o grupos de amigos. Otras aplicaciones que puede utilizar para hacer listas de deseos son Giftbuster y WishSlate.
Si lo suyo no son las aplicaciones, hay otras formas de compartir listas de deseos con sus seres queridos, como crear una hoja de cálculo para intercambiar ideas de regalos. Los usuarios de iPhone también pueden utilizar la aplicación Notas para colaborar en ideas de regalos.
No se sienta presionado para comprar regalos
Si bien es agradable hacer regalos a la gente, no es una necesidad, sobre todo si le resulta abrumador o no cuenta con los medios para hacerlo. La redactora Pamela de la Fuente sufre de ansiedad durante las fiestas, pero "se lo toma con calma". Esta madre de dos hijos tiene una vida muy ajetreada, por lo que no llega a hacer una planificación financiera meticulosa para las fiestas.
"Simplemente trato de limitar la cantidad de juguetes que compro, ya no hago intercambio de regalos con mi marido ni mis suegros, y le pregunto a mi hermana qué quiere e intento mantener bajo control el presupuesto para la compra de regalos", dice de la Fuente. "También me esfuerzo por organizar experiencias. Quizá en vez de un regalo, dinero para hacer un viaje juntos o algo por el estilo".
Utilice aplicaciones para hacer presupuestos
Las fiestas de fin de año son un buen momento para desempolvar sus aplicaciones presupuestarias (en inglés) si han estado inactivas. La productora creativa Amanda Deisler utiliza una aplicación para organizarse y planificar sus gastos.
"Utilizo YNAB y reservo una cantidad específica para todos los gastos de las fiestas", explica Deisler. También hace un seguimiento de sus gastos de la temporada de fiestas en la aplicación.
Considere la posibilidad de utilizar aplicaciones para crear un presupuesto navideño y, a continuación, destinar fondos semanal o mensualmente, utilizando las aplicaciones para hacer un seguimiento de sus ahorros. Por ejemplo, si va a pasar Hanukkah fuera de la ciudad con sus seres queridos, puede crear un presupuesto para comida y viajes.
Haga o reuse sus propios adornos
Comprar adornos nuevos todos los años puede resultar caro, sobre todo si usted tira la casa por la ventana comprando adornos y luces. Piense en reutilizar los adornos que ya tiene. También puede añadir un toque festivo creando algo nuevo con objetos que ya tenga en su casa. Por ejemplo, puede hacer adornos con cobre, papel de aluminio y papel maché.
"A veces me entretengo usando objetos alternativos para ahorrar dinero en el arbolito de Navidad", afirma McNett. Una vez decoró una escalera con luces y eso le sirvió de árbol de Navidad.
Haga un seguimiento de los gastos
Cuando se realizan compras con varias tarjetas de crédito y débito durante las fiestas, es fácil perder la cuenta de las cantidades que se gastan. Considera la posibilidad de seguir el ejemplo del escritor Tommy Tindall.
"Yo utilizo una sola tarjeta de crédito para todas las compras y presto más atención a mi aplicación bancaria durante la temporada de gastos", dice Tindall.
Hacer compras con una tarjeta de crédito o débito que le devuelva recompensas en dinero efectivo (en inglés) o puntos también puede ser una forma inteligente de recuperar dinero durante las fiestas.
Planifique los viajes y los regalos con tiempo
No tiene por qué esperar hasta que las fiestas estén encima para hacer las compras. Considere la posibilidad de comprar regalos a lo largo del año, como lo hace Sabrina Parys, especialista en gestión de contenidos.
"Si sé que voy a gastar dinero en regalos, trato de recordarlo a lo largo del año y comprar cosas para más adelante y así aliviar la presión de comprar algo que probablemente esté más caro durante las fiestas", dice. Las grandes rebajas de días como el 4 de julio y el Black Friday (en inglés) son buenos momentos para comprar regalos con descuento.
Lo mismo puede decirse de los viajes: piense en decidir con quién va a pasar las fiestas y dónde a principios de año para poder comprar los boletos cuando estén baratos (en inglés). Si no está dentro de sus posibilidades, tampoco se preocupe si usted no puede viajar en épocas de precios elevados, como el Día de Acción de Gracias o Año Nuevo.
En resumen, poner el acento en las cosas que puede controlar, como el presupuesto y los gastos, puede hacer que la temporada sea menos estresante.
Este artículo fue publicado originalmente en NerdWallet en inglés.

Find and move all your old 401(k)s — for free.
401(k)s left behind often get lost, forgotten, or depleted by high fees. Capitalize will move them into one IRA you control.