¿Qué es una cuenta de cheques?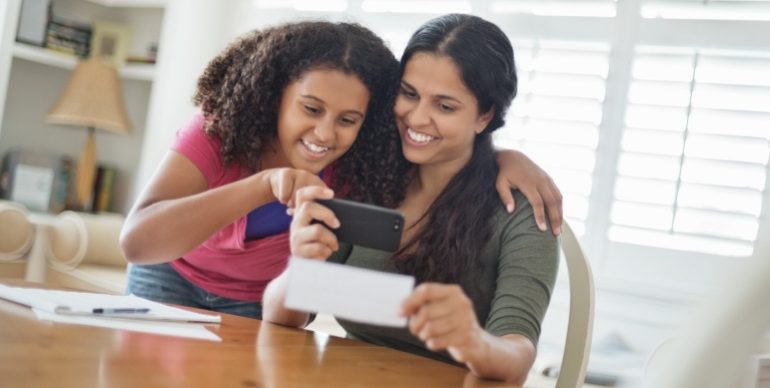 Many or all of the products featured here are from our partners who compensate us. This influences which products we write about and where and how the product appears on a page. However, this does not influence our evaluations. Our opinions are our own. Here is a list of our partners and here's how we make money.
Si usted es un estudiante, trabaja o es dueño de su propio negocio, necesita un lugar para guardar su dinero. Por eso las cuentas corrientes son tan populares. Esta es la cuenta de banco que probablemente se usa más, ya sea para comprar comida, para sacar efectivo de un cajero automático (ATM) o para depositar su cheque de sueldo.
Además, las cuentas de cheques le dan acceso a una variedad de servicios que no puede recibir si esconde su dinero debajo del colchón. A continuación encontrará detalles de algunas de estas funciones, así como ideas para escoger la cuenta de cheques que le conviene.
Fiel a su nombre, la cuenta de cheques incluye cheques que usted puede usar para hacer pagos. Pero hoy en día se usa más a menudo una tarjeta de débito o de cajero automático (ATM) para acceder su dinero.
A diferencia de las cuentas de ahorro y certificados de depósito (CDs), las cuentas de cheques no imponen ninguna restricción a la frecuencia con que se puede acceder su dinero, y esto es ideal para gastos diarios. Dicho esto, su banco puede imponerles límites diarios y mensuales a sus retiros de fondos del cajero automático (ATM). Cuando considere abrir una cuenta nueva, asegúrese de que los límites que ofrecen se adapten a sus hábitos de consumo.
Generalmente, las cuentas de cheques no generan intereses –dinero que el banco le da a los ahorrantes por usar su dinero. Pero ciertos bancos en línea y cooperativas de crédito (y algunos bancos convencionales) ofrecen cuentas de ahorro que pagan intereses con tasas tan altas como un 1%. Vale considerar también los bonos de registro que los bancos a veces ofrecen para atraer nuevos clientes. No debe escoger una cuenta solamente basándose en una promoción pero, puede que por otra parte le ayude a decidirse entre dos opciones comparables.
Así como hay funciones de cuentas de cheques que vale la pena buscar, hay algunas que debe evitar: las cuotas, que son tan comunes como frustrantes.
Algunas cuentas de cheques, especialmente aquellas de los grandes bancos nacionales, cargan cuotas de mantenimiento –tanto como $15 mensuales. Estas ayudan a compensar el alto costo de mantener miles de oficinas sucursales. Pero también, les abren un hueco a los bolsillos de aquellos clientes que no cumplen con los requisitos de exención de cuotas.
Por esto los bancos digitales están atrayendo a un mayor número de clientes. Muchos bancos online, así como algunas cooperativas de crédito y bancos regionales, ofrecen cuentas de cheques gratis, como también cuotas razonables de sobregiros.
Para encontrar la mejor cuenta
Escoger una cuenta de cheques es como comprar zapatos nuevos. Le puede servir cualquier zapato en la talla correcta, pero encontrar uno que le ajuste bien hace una diferencia considerable.
Cuando se trata de una cuenta de cheques, significa buscar un mínimo de cargos, amplias redes de cajeros automáticos (ATM) y otros servicios que se adapten a sus necesidades individuales. Las siguientes son algunas opciones:
Cuentas de cheques gratis: Muchas asociaciones de crédito y bancos online ofrecen cuentas de cheques sin cargos mensuales o requisitos de balance mínimo. Aun así, puede ser que no sea fácil encontrar muchas sucursales en su localidad.

Cuentas de cheques online: Muchos bancos y asociaciones de crédito ofrecen cuentas de cheques que permiten al usuario a hacer todas sus transacciones en la Internet. A menudo estas cuentas ofrecen ventajas, como tasas de interés competitivas, depósito de cheques vía móvil y reembolsos de cargos del cajero automático (ATM).

Cuentas de cheques con programas de recompensas: Si usa su cuenta de cheques frecuentemente, y está buscando algo extra, estas cuentas de cheques con recompensas ofrecen beneficios. Pueden incluir tasas de interés por encima del mercado, puntos para ganar premios y reembolsos de cargos del cajero automático (ATM). Generalmente, hay que cumplir con ciertos requisitos cada mes para recibir las recompensas. Sin embargo, algunos bancos no cobran por el servicio de cheques aunque no se haya cumplido con los requisitos en un mes determinado.

Cuentas de cheques para adolescentes: La cuenta de cheques para adolescentes o jóvenes es la mejor manera para que esos aspirantes a consumidores puedan tantear el terreno de las finanzas personales. Esta cuenta tiende a exigir que un padre o tutor sea cofirmante, y a veces ofrece educación financiera y otras ventajas útiles.
Una vez se escoja una cuenta nueva, abrirla es solamente seguir los pasos y tener a mano algunos documentos importantes.
Después de eso, puede comenzar a tomar plena ventaja de su cuenta. Esto puede incluir inscribirse para depósito directo y asignar transferencias automáticas a su cuenta de ahorros para reforzar su cuenta de jubilación. Estos y otros servicios más le harán feliz de haber encontrado un lugar para guardar su efectivo.
Get more smart money moves – straight to your inbox
Sign up and we'll send you Nerdy articles about the money topics that matter most to you along with other ways to help you get more from your money.