How Much Does Gender-Affirming Surgery Cost?
The cost of gender-affirming surgery varies widely, depending on the precise procedure, where you live and your health insurance.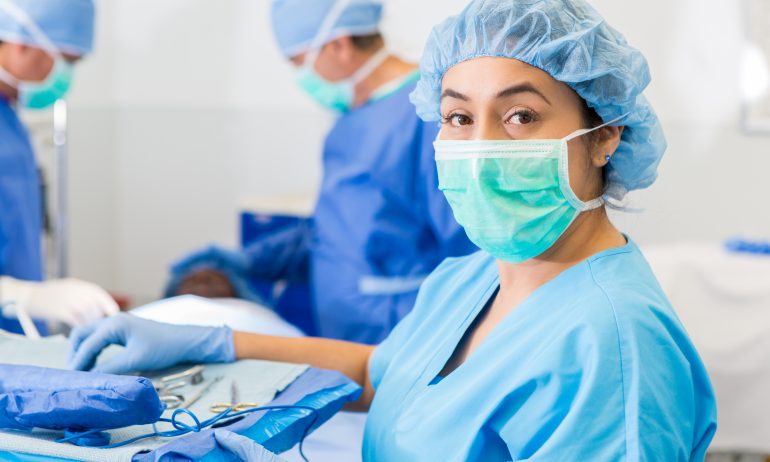 Many or all of the products featured here are from our partners who compensate us. This influences which products we write about and where and how the product appears on a page. However, this does not influence our evaluations. Our opinions are our own. Here is a list of our partners and here's how we make money.
Gender-affirming care encompasses a broad range of psychological, behavioral and medical treatments for transgender, nonbinary and gender-nonconforming people.
The care is designed to "support and affirm an individual's gender identity" when it is at odds with the sex they were assigned at birth, as defined by the World Health Organization.
What is gender-affirming surgery?
Gender-affirming surgery refers to the surgical and cosmetic procedures that give transgender and nonbinary people "the physical appearance and functional abilities of the gender they know themselves to be," according to the American Society of Plastic Surgeons. It is sometimes called gender reassignment surgery.
There are three main types of gender-affirming surgeries, per the Cleveland Clinic:
Top surgery, in which a surgeon either removes a person's breast tissue for a more traditionally masculine appearance or shapes a person's breast tissue for a more traditionally feminine appearance. 

Bottom surgery, or the reconstruction of the genitals to better align with a person's gender identity.

Facial feminization or masculinization surgery, in which the bones and soft tissue of a person's face are transformed for either a more traditionally masculine or feminine appearance.   
Some people who undergo gender-affirming surgeries also use specific hormone therapies. A trans woman or nonbinary person on feminizing hormone therapy, for example, takes estrogen that's paired with a substance that blocks testosterone. And a trans man or nonbinary person on masculinizing hormone therapy takes testosterone.
Gender-affirming surgeries and treatments are the recommended course of treatment for gender dysphoria by the American Medical Association. Gender dysphoria is defined as "clinically significant distress or impairment related to gender incongruence, which may include desire to change primary and/or secondary sex characteristics," according to the American Psychiatric Association.
Some LGBTQ+ advocates and medical professionals feel that gender dysphoria shouldn't be treated as a mental disorder, and worry that gender dysphoria's inclusion in the DSM-5 — the authoritative source on recognized mental health disorders for the psychiatric industry — stigmatizes trans and nonbinary people.
How much does gender-affirming surgery cost?
Gender-affirming surgery can cost between $6,900 and $63,400 depending on the precise procedure, according to a 2022 study published in The Journal of Law, Medicine and Ethics.
Out-of-pocket costs can vary dramatically, though, depending on whether you have insurance and whether your insurance company covers gender-affirming surgeries.
There are also costs associated with the surgery that may not be represented in these estimates. Additional costs may include:
The cost of psychiatric care or therapy, as most insurance companies and surgeons require at least one referral letter prior to the surgery. An hour of therapy can cost between $65 and $250, according to Good Therapy, an online platform for therapists and counselors. 

Time off work. After bottom surgery, you can expect to miss six weeks of work while recovering. Most people miss around two weeks of work after top surgery. 

Miscellaneous goods that'll help you recover. For example, after bottom surgery, you might need to invest in a shower stool, waterproof bed sheets, cheap underwear and sanitary towels. Top surgery patients may need, depending on the procedure, a mastectomy pillow, chest binder and baggy clothes.
Is gender-affirming surgery covered by insurance?
It's illegal for any federally funded health insurance program to deny coverage on the basis of gender identity, sexual orientation or sexual characteristics, per Section 1557, a section of the Affordable Care Act. Section 1557 doesn't apply to private insurance companies, though, and several U.S. states have passed laws banning gender-affirming care.
The following states have banned gender-affirming surgery for people under 18 years old, according to the Human Rights Campaign: Alabama, Arkansas, Florida, Georgia, Idaho, Indiana, Iowa, Kentucky, Louisiana, Mississippi, Missouri, Montana, Nebraska, North Carolina, North Dakota, Oklahoma, South Dakota, Tennessee, Texas, Utah, West Virginia. In four of these states — Alabama, Arkansas, Florida and Indiana — court injunctions are currently ensuring access to care.
And these states have either passed laws — or have governors who issued executive orders — protecting access to gender-affirming surgery, according to the Movement Advancement Project, a public policy nonprofit: California, Colorado, Connecticut, Illinois, Maryland, Massachusetts, Minnesota, New Jersey, New Mexico, New York, Oregon, Vermont and Washington, D.C.
But even if your state has enshrined protections for gender-affirming care, some private insurance companies may consider surgeries "cosmetic" and therefore "not medically necessary," according to the Transgender Legal Defense and Education Fund. If you have private insurance or are insured through your employer, contact your insurance company and see if they cover gender-affirming care. Also, ask about any documentation the insurance company requires for coverage.
The Williams Institute estimates that 14% of trans Americans currently enrolled in Medicaid live in states where such coverage is banned, while another 27% of trans Americans live in states where coverage is "uncertain," because their state laws are "silent or unclear on coverage for gender-affirming care."
Because of Section 1557, Medicaid is federally banned from denying coverage on the basis of sex or gender; among the roughly 1.3 million transgender Americans, around 276,000 have Medicaid coverage, according to a 2022 report from the Williams Institute.
How to pay for gender-affirming surgery
If your private insurance company won't cover gender-affirming care, and you're unable to obtain coverage through the federal marketplace, consider these sources:
There are also several nonprofits that offer financial assistance for gender-affirmation surgeries. Those organizations include: