How to File a Car Insurance Claim After an Accident
As part of the car insurance claim process, you'll need to submit a police report and evidence of the accident to your insurer.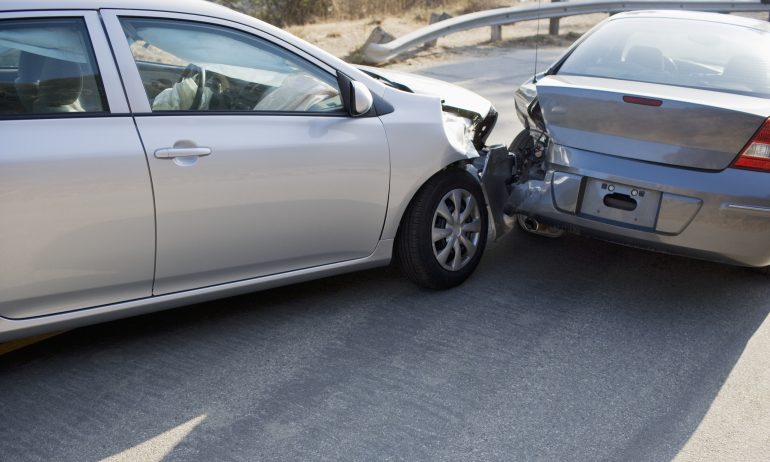 Many or all of the products featured here are from our partners who compensate us. This influences which products we write about and where and how the product appears on a page. However, this does not influence our evaluations. Our opinions are our own. Here is a list of our partners and here's how we make money.
Auto insurance is the kind of thing you buy and hope you never have to use. But if an accident does happen, you'll need to know how to file a car insurance claim. The path between the moment a car accident happens and an insurance payout can seem murky, but it all comes down to five steps:
Collect evidence and documentation of the accident.

Get in touch with your insurer.

Speak with an insurance adjuster.

Receive your insurance payout.
We'll get into the specifics of each of these steps, but first …
What is an auto insurance claim?
An auto insurance claim is a formal request you can submit to an insurer after you've been in a car accident or your car has been damaged. Filing a claim lets your insurer know you were in a wreck and want to take advantage of your benefits.
How do I file a car insurance claim after an accident?
If you're in a car accident, the first thing you must do is call the police. Even if nobody requires urgent medical attention and your state doesn't require you to contact the police after a fender bender, you'll need to file a police report to submit an auto insurance claim, and it's best to get that handled before the details have faded.
Some states allow you to submit a police report on a car accident a few days after it occurs, but calling the police from the scene can speed up your auto insurance claim process. Safety should always be your top priority, so make sure you are out of harm's way before picking up the phone.
2. Collect evidence and documentation of the accident
Get ready to file your car insurance claim by gathering information about the accident so you can answer your insurer's questions.
While you're at the scene, document what happened:
Take photos of your car and any others involved in the accident, making sure to capture all visible damage and the cars' license plates.

Take photos of any damaged property and the wider scene of the accident.

Take down the names, phone numbers, addresses and insurance information of everyone involved in the wreck.

If you can, write a brief summary of the accident.

If the police arrived at the scene, make sure you get a copy of the police report.

If possible, take down the contact information of any witnesses to the accident. Their perspective might help your insurer address your claim.
When documenting a car accident, be as thorough as you can. Even if you have an amazing memory, details can get twisted or lost over time, and your documentation will come in handy once you're speaking with a representative from your insurance company.
3. Get in touch with your insurer
You will want to file an insurance claim if:
Your accident involved anybody else.

You accidentally caused significant damage to your vehicle and you are covered under a collision insurance policy.
With a police report in hand, along with the photos you snapped at the scene and the insurance information of everyone involved in the accident, you're ready to contact your insurer.
Go to your insurer's app or website, and choose how you'd like to report your claim. You can often file a claim online, but you can also call your insurer to have a representative guide you through the process. Your insurance company will probably ask for most of the information you collected in Step 2.
If you were in a car accident in which only your car was damaged, nobody else was involved and you have no collision coverage or the cost of the damage to your car doesn't reach your collision deductible, you're better off skipping the call to your insurer. Why? You won't get a payout from your insurer, and the accident will stay on your record, which means you'll likely see higher rates when you renew your policy.
Once you submit a claim, be prepared for an insurance adjuster to contact you within the next few days to go through the details of the car accident. If the accident was another driver's fault, your insurer will likely contact theirs directly.
4. Speak with an insurance adjuster
An insurance adjuster investigates an insurance claim to figure out how much an insurer should pay for damage and injuries caused in an accident. Think of them as a sort of auto insurance detective.
As part of their investigation, an adjuster will assess the damage reported on the claim, interview those involved in an accident, review your documentation and address personal injury claims. If anything is missing, they'll let you know, but try to avoid extra back-and-forth by including everything you think they might need when you file your claim.
5. Receive your insurance payout
When the insurance adjuster determines the claim payout, if any, they'll go over your options for receiving it.
You may receive a payout and arrange for your car to be repaired on your own or have the adjuster coordinate repairs and pay the repair shop chosen by your insurer directly. You are typically free to choose your own shop, but going with the insurer's choice often has the benefit of a lifetime warranty.
If the insurance adjuster declares your vehicle a total loss under your collision or comprehensive coverage, you'll receive a payment for the market value of the car minus your deductible. The same goes if your car was stolen.
Frequently asked questions
How do car insurance companies pay out claims?
How long can a car insurance claim stay open?
How much time do I have to file an auto insurance claim?
What documents do I need to submit an auto insurance claim?
Get more smart money moves – straight to your inbox
Sign up and we'll send you Nerdy articles about the money topics that matter most to you along with other ways to help you get more from your money.