What to Do After a Car Accident: 6 Steps to Take
Learn what to do in a car accident, including when and how to file an insurance claim.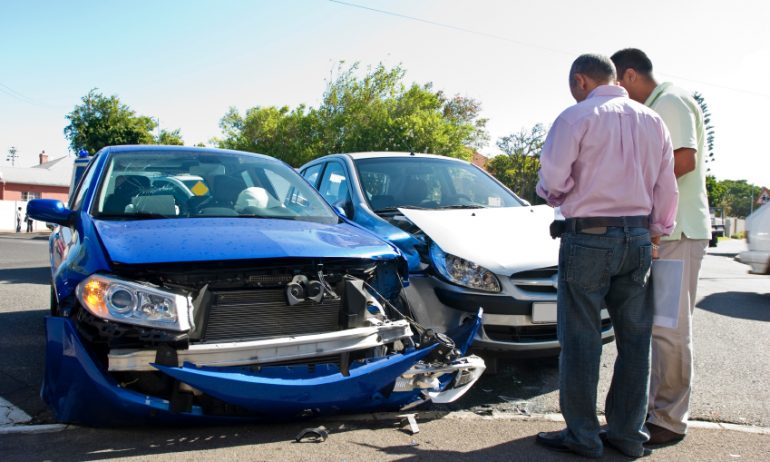 Many or all of the products featured here are from our partners who compensate us. This may influence which products we write about and where and how the product appears on a page. However, this does not influence our evaluations. Our opinions are our own. Here is a list of our partners and here's how we make money.
Accidents happen, even to careful drivers. After a car accident, you might be stunned with shock, dizzy with adrenaline or enraged at the guy who ran a red light.
The first thing to do after you've been in a car accident? Stay calm. The post-accident process is fairly straightforward, but it's not always easy. Keeping a cool head will help you document the wreck more thoroughly and accurately.
Use the tips below to prepare yourself to handle the stressful aftermath of an auto accident and to make the claims process — if there is one — more efficient and effective.
After the car accident, immediately determine whether anyone is injured. If so, call 911 to get an ambulance and police on the scene. Even if the incident was minor and everyone is cooperative, consider calling the police. That way you'll have an official report to give to your insurance company.
If the vehicles involved are still operational, get them to the shoulder or off the main road. Make sure to pull completely off the road to avoid being hit by approaching vehicles. If you have flares or reflective emergency triangles, set them up to warn other cars. If there appears to be a danger of explosion, get everyone out of the way.
State laws vary on how much information you're expected to give at the scene of an accident. Generally, you need to provide only your name and your insurance information to any other drivers involved. While you might want to hash out the details of the crash with the other driver, it's best to limit your interaction so you don't admit guilt or blame the other person.
Still, you'll want to get as much information as you can, including:
The National Association of Insurance Commissioners offers WreckCheck, a free app that records the time of the accident, lets you create written and audio details, and emails everything to you or your agent. In addition, several car insurance companies offer free smartphone apps to help you document the details of the crash.
Don't have a smartphone app, but have a pen and paper handy? Draw a diagram of the scene and make notes about how the accident occurred, including the direction in which each vehicle was traveling.
How the insurance claims process shakes out for you after a car accident depends on who was at fault and on the types of coverage you and the other driver have. Assuming the other driver was at fault, here's how the coverages would work.
Your and your passengers' expenses 
If the other driver didn't have insurance, or didn't have enough coverage to pay your bills, uninsured or underinsured motorist coverages would pay out. Uninsured motorist coverage is required in 21 states and the District of Columbia, and some of those states also require underinsured motorist coverage.
The other driver's expenses 
Optional coverages that can help either driver 
Be aware that you'll probably need collision and comprehensive coverage in order to add rental car reimbursement and emergency roadside service.
If an accident was your fault and the damage looks minor, it's tempting to offer to pay cash for the other driver's repairs. But it might be costlier than you think. According to Consumer Reports, a number of test crashes at just 10 mph produced damage that looked minor but priced out at $3,000 to $6,000.
You might still have to use your own insurance upfront, even if a crash was the other driver's fault. Here's how it works:
Your car insurance rates rates could go up significantly (50% or more, in some cases) depending on the severity of the accident and your insurance company. While some insurance companies offer , which means your at-fault accident may not result in higher premiums, other companies might double your rate for the same accident.
In fact, a Consumer Federation of America report indicated some companies will even raise rates 10% or more for accidents that weren't your fault. Yet other policies only levy a price increase if you're at fault. Even the amount of varies by state and company.
Just surviving an auto accident can feel like a victory. But don't let your post-crash shock distract you from taking care of business, both at the accident scene and in dealing with insurance issues. This is why it's essential to to find the best price (and policy) for you.