How to Choose a Health Care Proxy
The proxy you choose acts as your voice when you cannot communicate in medical settings.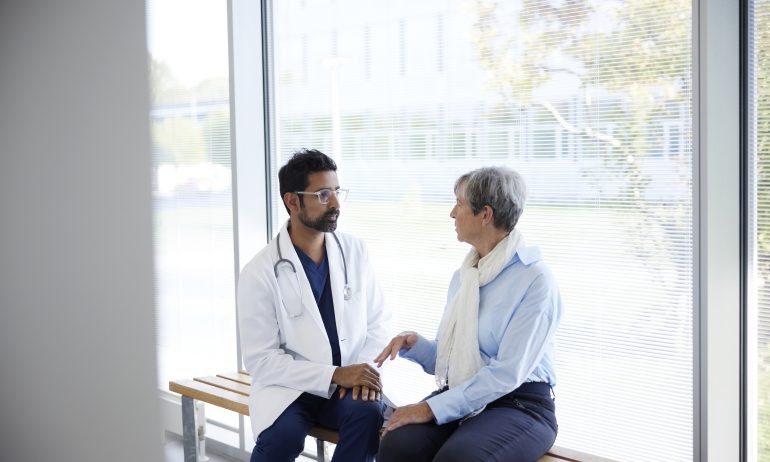 Many or all of the products featured here are from our partners who compensate us. This influences which products we write about and where and how the product appears on a page. However, this does not influence our evaluations. Our opinions are our own. Here is a list of our partners and here's how we make money.
---
The investing information provided on this page is for educational purposes only. NerdWallet does not offer advisory or brokerage services, nor does it recommend or advise investors to buy or sell particular stocks, securities or other investments.
The proxy you choose acts as your voice when you cannot communicate in medical settings.
A health care proxy, also known as a health care agent or medical power of attorney, is a person you choose to make your medical decisions if you can't communicate due to an illness or injury. A proxy doesn't make their own choices about your health; they do their best to express your wishes and advocate for your needs when you can't. 
This person should be someone who can make choices in your best interest. This may not always be a close relative like a parent, child or spouse, who may have a hard time carrying out your wishes without emotional conflict.
Anyone over the age of 18 can name their own proxy by filling out a proxy form or advance directive. If you don't, your state laws may automatically select someone you wouldn't choose to make important health care decisions, like an estranged family member. 
Where to complete a health care proxy form
You can download a health care proxy form online. These generally cost less than $20 and are sometimes free. Once you fill yours out, be sure to keep a copy and give a copy to your health care provider to keep on file. In some states, you'll need two witnesses (who aren't your proxy) to sign the form for it to be official.
CaringInfo.com also has free advance directive forms — which include power of attorney — by state, available for PDF download.

Five Wishes, a nonprofit organization that provides combination documents for end-of-life care, offers an interactive printable version of its directive for $5 and a fully online version for $15. 
How to prepare a health care proxy
Speak honestly with your proxy about your preferences. You can update your proxy and adapt as your situation evolves, but even an outdated conversation is better than leaving your loved ones wondering what you would have wanted.
"Sometimes people appoint a friend or relative, assuming that they'll be OK making these important decisions when they're not," says Joan Smith, director of social work services at Tufts Medical Center. "It's essential to discuss ahead of time."
Your wishes may shift in the event of aging or a terminal diagnosis, but telling your proxy what's most important to you can make life-or-death decisions much easier. The Conversation Project, an initiative of the Institute for Healthcare Improvement, has a free PDF guide to help you tell your proxy what's important to you.
Get your loved ones on the same page
Families can disagree over a person's final wishes. To avoid end-of-life conflict, tell your proxy and close family members in advance who you've chosen and why. A simple email to your loved ones can help them prepare and, when the time comes, grieve in peace without blame or conflict.
Consider your proxy's feelings
Some proxies need to make difficult, life-or-death decisions for their loved ones. Make sure to remind your chosen proxy that they're advocating for choices you've made, not deciding for you. 
These situations can be sad and uncomfortable, so acknowledge the feelings involved.
"Your proxy should know that if their decision results in the end of your life, it's not their fault — it's a result of the illness or injury," says Kate DeBartolo, senior director of The Conversation Project, which focuses on encouraging people to talk about their end-of-life health care wishes.
When do you need a health care proxy? 
About half of all hospitalized people over 65 needed at least some assistance from a proxy to speak to doctors within 48 hours of being admitted, according to a 2014 study
Who can't be your health care proxy?
A proxy usually can't be under 18 or an employee of your health care facility (unless they're a relative). In more than half of U.S. states, your proxy also can't be a potential beneficiary of your estate or have power of attorney over your finances.
Can you change your health care proxy?
You can change your proxy at any time, as long as you are of sound mind to do so. Your relationships may change throughout your life, and the right proxy for you may depend on your health status and needs.
Who should be your health care proxy?
There are several factors to consider when choosing a health care proxy. Here are a few.
Respect for your preferences
A health care proxy is an important role and shouldn't be taken lightly. Your chosen advocate needs to prioritize your wishes over theirs and make choices that align with your values. The proxy you choose should be able to understand your religious and moral beliefs and your attitude toward health care settings, illness and death.
"Your proxy should be someone who you are comfortable sharing your philosophy on future health care and quality of life with," Smith says. "This is someone who you trust to respect your wishes until the end."
You can place limitations on what your proxy can do, but their role generally includes any medical procedure to diagnose or treat your condition, up to and including resuscitation and other lifesaving measures. Your medical practitioners must comply with the decisions your proxy makes to the same extent they would comply with your own.
You may feel more comfortable choosing someone you have a close or familial relationship with, like a spouse, parent or child. In some states, your proxy will be selected automatically from your closest relatives, but there are situations where this isn't ideal. 
For example, if you're estranged from your biological family, selecting a partner or friend can ensure your current wishes are valued. On the other end, if you're separated from a spouse but not legally divorced, you can use a proxy form to return control to your parents or siblings.
"It's especially important to name a proxy if there's someone you do not want to speak on your behalf," DeBartolo says.
Ability to make decisions
Your proxy also needs to be prepared to communicate with doctors if there are any issues. 
"Ask yourself, 'Who's able to speak up on my behalf? Are they comfortable making quick decisions? Asking questions? Pushing back against medical practitioners?'" DeBartolo says.
Note that this role is not the same as a financial power of attorney, and your proxy cannot make financial decisions in your stead.
In some cases, a family member may not be the best choice, as the people closest to you may have a hard time carrying out wishes you may have for life-ending treatment.
Frequently asked questions
Who becomes my proxy if I don't name one?
Does my proxy have to be a family member?
Can you name more than one health care proxy?
Do I have to be terminally ill to name a proxy?
Does my proxy need to be able to attend to me in person?
Is my proxy responsible for medical payments?
Get more smart money moves – straight to your inbox
Sign up and we'll send you Nerdy articles about the money topics that matter most to you along with other ways to help you get more from your money.