Swedish Death Cleaning: Purging Possessions Has Its Benefits
By simplifying your belongings and finances before you die, you can avoid burdening others with the task.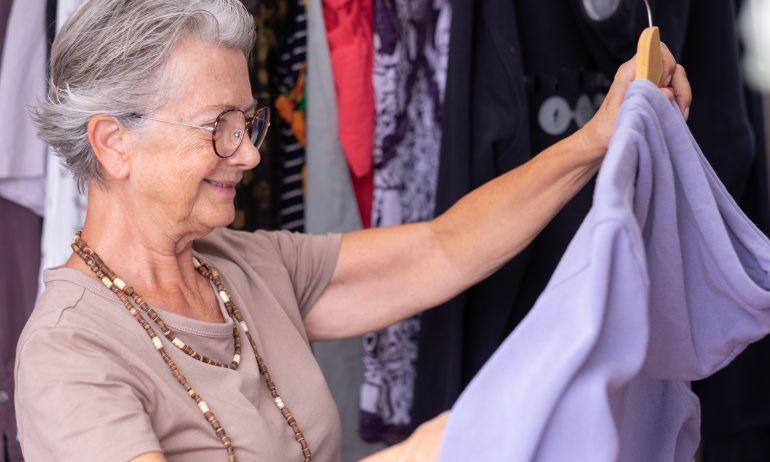 Many or all of the products featured here are from our partners who compensate us. This influences which products we write about and where and how the product appears on a page. However, this does not influence our evaluations. Our opinions are our own. Here is a list of our partners and here's how we make money.
---
The investing information provided on this page is for educational purposes only. NerdWallet, Inc. does not offer advisory or brokerage services, nor does it recommend or advise investors to buy or sell particular stocks, securities or other investments.
Swedish death cleaning is the process of paring down your personal possessions in a thoughtful, intentional manner before your death, so your loved ones don't have to. The term was popularized by the 2018 book "The Gentle Art of Swedish Death Cleaning," written by Margareta Magnusson, and later by a reality TV show based on the book.
As Magnusson writes, "It does not necessarily have to do with your age or death, but often does."
The idea behind Swedish death cleaning
Maybe you spring clean every year. Perhaps you've recently decluttered your basement before a garage sale.
This cleaning is different.
It's a thorough accounting of every possession you own, one by one. Yes, this even means facing that one bin filled to the brim with family photos and the filing cabinet stuffed with paperwork dating back to 1992.
The goal stretches beyond tidying up. It requires challenging yourself to let go of many possessions, including those with strong emotional connections. This doesn't always mean throwing them away or donating them — it could mean finding them new homes with family and friends.
Swedish death cleaning can have a transformative quality and often serves as a transition to a new chapter of life. It might accompany downsizing homes or the death of a spouse. It's also unavoidable. Death cleaning is a fate that awaits everyone's belongings, according to Magnusson.
So, the choice you face is not whether death cleaning makes sense for you — it's whether you'll choose to face this inevitable task when you're in a position of control, under a timeline and conditions of your choosing, or whether the job will be foisted upon your loved ones after you die. Either way, it's coming.
If you delay, you might be forced into rushing through it. You may not have the energy to go through your things in the manner you'd prefer. And, if you delay too long, you risk having others making decisions about your things for you.
Are you looking for an online will app?
BEST FOR: Ease of use. COST: One-time fee of $159 per individual or $259 for couples. $19 annual membership fee thereafter.
Benefits of Swedish death cleaning
Swedish death cleaning is likely to be difficult. It will probably take a lot of time. Encountering a lifetime of memories, good and bad, can be emotionally draining. Saying goodbye to some long-held objects that embody these memories is hard.
So why do it? Magnusson cites many reasons:
It can be liberating. Simplifying your life can bring a feeling of freedom to focus on something new.

You can avoid burdening others with the task. Death cleaning can be even more burdensome if you wait until the end of your life. And if you outright refuse to do it, you are essentially forcing your family and friends into eventually doing the same job for you. If you don't want to organize your own things, why do you think they would want to?

It's an opportunity to reflect. Though difficult, you'll likely rediscover memories you have long forgotten. This can be a positive experience.

It can spark important end-of-life conversations with friends and family. These are conversations that they or you might otherwise avoid.

You can pass along helpful or important items. Giving a beloved object to a friend or family member can be a chance to recognize the importance of a relationship or pass on a family story or tradition. Something practical, like furniture or kitchenware, might have outgrown its use to you, but could be extremely helpful to someone just starting out.
Cleaning and estate planning
In practical terms, letting survivors sort through your belongings after you die can also make it more time-consuming to settle your estate. Even if you trim down your possessions now, you'll still have things that require sorting through after your death. That's where estate planning comes in. While the book doesn't discuss the details of formal estate planning, it's a logical extension of the philosophy behind Swedish death cleaning.
Suppose you have a will and appoint an executor, who is responsible for settling your estate. That person is generally tasked with selling your property, if you have any, which would likely require getting your house cleaned and belongings appraised. That could take months or even years if your home is filled with decades' worth of items, and the cost of doing so would generally come out of your estate. Aside from being emotionally burdensome for survivors, the effort could also be a drain on your estate, and your heirs could be left with fewer assets, which might take them years to access.
Slimming down your possessions now and making your wishes clear for what remains can streamline this process.
Begin with the typical storage areas — basements and attics, for example. There's a good chance you'll find hastily stashed things that will be easy to part with. Culling clothes and furniture are other ways to make quick, visible progress.

Ask friends and family to assist. In addition to helping you go through boxes, they might discover things they'd gladly take off your hands. 

Attach notes to objects or make piles as you go. This way, you can easily remember where it goes — to someone else, to a donation center, to a yard sale, etc.

Save the most emotional things for last. Be patient with yourself.
Cleaning and your finances
Swedish death cleaning is an all-encompassing endeavor, which means at some point you'll need to review your finances. Magnusson says this can include tasks like writing a will or making a plan for usernames and passwords to your important digital accounts.
Organizing finances can be the most challenging part of the cleaning process — but it might be the part that will aid your executor and heirs the most. Here's how to get started.
Simplify your important records
Make a plan for distributing your assets
Get more smart money moves – straight to your inbox
Sign up and we'll send you Nerdy articles about the money topics that matter most to you along with other ways to help you get more from your money.