Private Equity Investing: What It Is & How to Get Started
Private equity is a form of investment that takes place outside of the public stock market through which investors gain an ownership stake in private companies.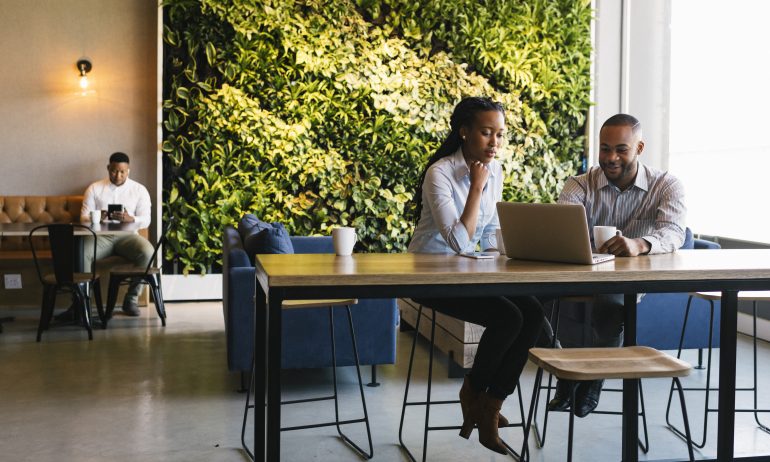 Many or all of the products featured here are from our partners who compensate us. This may influence which products we write about and where and how the product appears on a page. However, this does not influence our evaluations. Our opinions are our own. Here is a list of our partners and here's how we make money.
---
The investing information provided on this page is for educational purposes only. NerdWallet does not offer advisory or brokerage services, nor does it recommend or advise investors to buy or sell particular stocks, securities or other investments.
Known as an alternative asset, private equity lets accredited investors and institutional investment firms diversify their portfolios and take on more risk in exchange for the potential to earn higher returns than they might by investing in public companies.
At a basic level, private equity involves three parties:
The investors who supply the capital.

The private equity firm that manages and invests that money via a private equity fund.

The companies the private equity firm invests in.
Who can invest in private equity?
Traditional private equity funds have very high minimum investment requirements, potentially ranging from a few hundred thousand to several million dollars. As such, most private equity investing is reserved for institutional investors (such as pension funds or private equity firms) or high-net-worth individuals.
In addition to meeting the minimum investment requirements of private equity funds, you'll also need to be an accredited investor, meaning your net worth — alone or combined with a spouse — is over $1 million or your annual income was higher than $200,000 in each of the last two years.
Let's say you invest $1 million through a private equity firm (traditional private equity funds typically have very high minimum investments). The private equity firm would put your money in a private equity fund along with money from other investors and invest the pool of money in various private equity instruments, such as buyouts or venture capital (more on those below).
Why invest in private equity?
Investors turn to private equity to diversify their holdings and aim for higher returns than the public market might provide. One key distinction to consider before investing is that private equity valuations are not influenced by the larger market. Whereas publicly traded companies must adhere to strict accounting practices set in place by the Securities and Exchange Commission, private companies are allowed more flexibility. So, while private equity funds certainly come with higher risk, historically, they have resulted in higher returns.
According to the Bain & Co. report, over the past 30 years, U.S. buyouts (which are considered the largest subset of private equity investments) have generated an average net return of 13.1%, compared with the 8.1% return of the public markets. This comparison is based on the S&P 500 and the Long-Nickels public market equivalent method.
However, the report also notes that since 2009, returns for the public and private markets have been roughly the same, at an annual average of around 15%. Looking ahead, experts believe the coronavirus will negatively impact deal activity and private equity returns in the short-term, and the long-term effects of such an unprecedented event are still unknown.
When you invest in a private equity fund, you can think of yourself as a secondary investor, or in official terms, a limited partner. You supplied the capital that helped make the investment possible, but you won't be responsible for managing the newly purchased company, making any of the necessary improvements or handling the eventual sale or public offering. That's what the firm does.
Limited partners get a return on their investment when the private equity firm sells the company it purchases. Typically, the firm will take about 20% of the profits, and the rest is split among the limited partners based on how much they contributed to the fund. Moreover, limited partners have limited liability, meaning the maximum they can lose is the amount they invested in the fund.
How to get started investing in private equity
Research top private equity firms
To directly invest in private equity, you'll need to work with a private equity firm. These firms will have their own investment minimums, areas of expertise, fundraising schedules and exit strategies, so you'll need to do your research to find one that's right for you. As a starting point, here are the 10 largest private equity firms in the world, based on how much capital they raised in the last five years. This list is compiled annually by Private Equity International, a global provider of private equity data and analysis.
Neuberger Berman Private Markets
Look for private equity exchange-traded funds
You can also take part in private equity investments without going through a traditional firm through private equity exchange-traded funds, or ETFs.
Private equity ETFs offer exposure to publicly listed private equity companies. This is one approach for those who want to take part in private equity but aren't accredited investors or can't meet the minimums required by private equity funds. By investing in ETFs that track these companies, their success is also yours, and you won't have to front a hefty minimum investment to get in on it.
Types of private equity investments
Once you contribute to a private equity fund, the private equity firm can use your contribution in a few different ways to generate profit, depending on the types of deals the firm specializes in. Below are two common private equity investments.
A buyout is when a private equity firm buys a target company with the hope of selling it later at a profit. That company can be public or private, though if it's public, it will be taken private through the purchase. Often, private equity firms use capital from the fund as well as borrowed money to complete the deal, using the assets of the company being purchased to secure the loan. When borrowed money is involved, the deal is known as a leveraged buyout.
In a buyout, the private equity firm might identify a company with room for improvement, buy it, make improvements to its operations or management (or help the company grow), then turn around and sell the company for a profit, known as an "exit." In many ways, it's similar to flipping a house — just replace the house with a company.
Whereas buyouts seek to take control of mature companies, venture capital involves identifying early-stage startups looking to raise cash in exchange for equity in the company. The goal here is to invest in companies with high growth potential that can either be sold at a later date or taken public through an initial public offering, or IPO. After an IPO, the firm's ownership stake could be converted to shares and sold on the public market for a profit.
Advertisement
APY

3.25%

With $0 min. balance for APY

APY

3.25%

With $0 min. balance for APY

APY

3.00%

With $0 min. balance for APY

Bonus

$250

Earn up to $250 with direct deposit. Terms apply.

Bonus

$200

Requirements to qualify
As a limited partner, to see a return on your private equity investment you'll likely need to hold it in a private equity fund for the long term, often as long as 10 years. Private equity funds work differently than more common fund types (such as mutual funds) in that limited partners typically must commit a set amount of money that the firm can use as needed within a specified period. When the firm requests an investment amount from its investors, it's known as a capital call.
For example, a private equity firm may make various investments over a five-year period, calling on its limited partners for capital during that time. Then, once the firm has identified investments in target companies and raised the needed capital, it still needs to make improvements to the companies or spur growth before selling them. In 2019, the median holding period before a target company was sold was 4.3 years, according to a report from management consulting firm Bain & Co.
Compared with other types of investments that can be easily converted into cash, like stocks, the combination of capital call investment periods and the time it takes to sell a target company makes private equity highly illiquid.
Transparency, regulation and data
Private equity funds aren't registered with the Securities and Exchange Commission, so private equity firms aren't required to publicly disclose information about their funds (unlike, say, a mutual fund, which is subject to public disclosure requirements).
Moreover, privately held companies — often the targets of private-equity acquisitions — aren't subject to public scrutiny. It's up to the private equity firm to identify companies with healthy, complete and accurate balance sheets. This leads to varying risk levels within the private equity universe: Mature companies in a buyout may provide transparency on years of earnings and operations data, while an early-stage startup has very little of this information. This makes investing in an unproven startup through venture capital inherently more risky than investing in a growth-stage company with established revenue and market share.
Get more smart money moves – straight to your inbox
Sign up and we'll send you Nerdy articles about the money topics that matter most to you along with other ways to help you get more from your money.