What Causes Inflation and What to Do About It
What causes inflation? A few things, actually.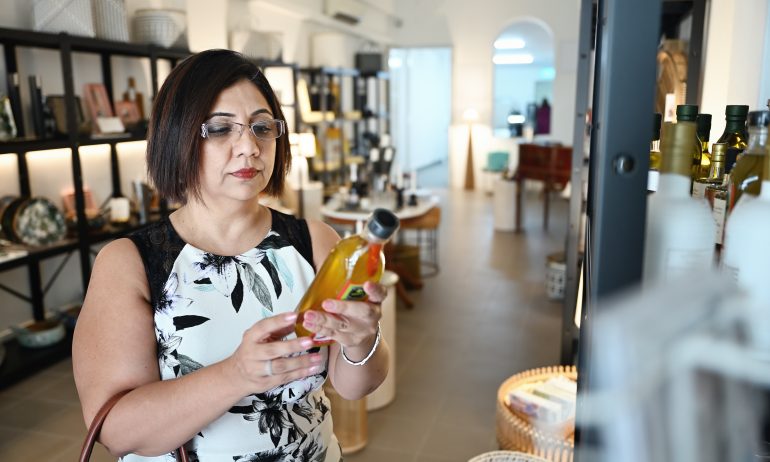 Many or all of the products featured here are from our partners who compensate us. This influences which products we write about and where and how the product appears on a page. However, this does not influence our evaluations. Our opinions are our own. Here is a list of our partners and here's how we make money.
---
The investing information provided on this page is for educational purposes only. NerdWallet, Inc. does not offer advisory or brokerage services, nor does it recommend or advise investors to buy or sell particular stocks, securities or other investments.
There may be several causes of the current high inflation rate, and experts are not all in agreement about them.

Current causes of inflation may include monetary policy, supply chain disruptions and the Russian invasion of Ukraine.

Inflation is high right now, but there are strategies you can use to help lessen the effects.
In 2022, the U.S. hit a 40-year high in inflation, causing everything from gas to groceries to get more expensive. Inflation is the general increase in prices of goods and services in the economy. In the United States, the Federal Reserve states that an acceptable inflation rate is around 2% per year. By contrast, inflation has risen 7.7% over the last 12 months, the U.S. Bureau of Labor Statistics reported in November.
What's causing inflation in 2022?
There may be several causes of the current high inflation rate — and experts are not always in agreement about what's causing it.
Some experts think the main cause behind this high inflation is the Federal Reserve's monetary policy, mainly its low interest rates over the last few years and an increase in money in circulation after U.S. stimulus payments were issued. Increasing the amount of money in supply can disrupt an economic ecosystem.
Others believe it's largely because of pandemic-related supply chain disruptions. Other potential factors include the war in Ukraine, which has significantly impacted energy prices, and a tight labor market.
In reality, it's possible that all of these factors have in some way contributed to high inflation. Think about it like this: In 2020, Covid-19 restrictions shut down just about everything. Because of this, consumers weren't able to spend as much.
Stimulus payments went out, increasing the amount of cash in circulation. When restrictions lifted, people started spending more money, and consumer demand increased. But suppliers had been shut down too, making it difficult for them to then catch up with the sudden increase in demand.
This created a classic supply-and-demand situation: There was a lot of demand, but not a lot of supply. This helped jump-start price increases, because a limited supply always goes to the highest bidder.
Now add in some of the additional causes: Russia invaded Ukraine, and many countries stopped importing Russian oil. This caused gasoline prices to soar. The war has also impacted the price of wheat. Avian bird flu has heavily impacted the poultry market and increased prices on meat and eggs.
Around that time, the labor market was stretched thin. There was a lot of demand for jobs, and not as many people interested in filling those vacancies. As a result, employers needed to offer higher salaries to attract workers.
While economists may argue over what the exact cause of inflation is, all of these events have in some way nudged prices higher.
Advertisement
Promotion 

None

no promotion available at this time

Promotion 

None

no promotion available at this time

Promotion 

Get up to 70 free fractional shares (valued up to $3,000)

when you open and fund an account with Webull.
While inflation in 2022 has been triggered by a few specific factors, inflation in general is often caused by one or more of the following factors.
A phenomenon called demand-pull inflation occurs when demand for products or services exceeds supply, making prices increase. For instance, if two people wanted to buy a car, but the dealership only had one left, the potential buyers would vie to be the highest bidder.
The car may not be worth as much as the result of the bidding war, but because of the demand, the dealership is able to get a higher price.
Raw material price increases
When the cost of producing goods and services increases, it can trigger something called cost-push inflation. An increase in oil prices can create a ripple effect where other industries feel large-scale price increases and inflation.
For example, sanctions on Russian oil have decreased the amount of available Russian oil. This decrease in supply has caused oil prices to increase.
Oil and other petroleum products are used as an ingredient in many other goods and services. If the price for oil increases, so does the cost of plastics, asphalt and plane tickets.
Another example is the housing market. Typically, if homes are in demand, housing prices will rise.
This demand in the housing industry creates demand for related products and services, such as lumber and contracting, which causes those prices to go up too.
It may sound crazy, but peoples' expectations about inflation can actually impact inflation. If you expect inflation to continue rising, you might ask your employer for a raise. You might also buy goods sooner rather than later, because you expect the price to get higher in the future. Higher wages and higher demand force businesses to raise their prices, resulting in higher inflation.
Inflation can also be caused by additional money in the money supply. Central banks can increase the amount of money in circulation by, for example, issuing stimulus payments.
The hope in adding more money to an economic system is that more people will spend and borrow, thus spurring economic growth. But if most people don't spend that extra money, then businesses won't be able to sell their products. If products don't sell, business owners may be forced to raise their prices on the products that do sell in order to stay in business.
And as money loses its value, this creates a cycle where inflation continues to rise.
Many economists think that low and predictable inflation is actually a good thing. It helps keep an economy running smoothly.
And even high inflation has a few silver linings. Inflation can deter new construction, making existing homes more valuable. If you have a fixed-rate mortgage with an interest rate that's lower than the rate of inflation, the value of your debt decreases. Some stock market sectors, such as energy stocks and consumer staples, can also benefit from inflation.
How to protect against inflation
If you're concerned about high inflation, there are several ways to combat it:
Get more smart money moves – straight to your inbox
Sign up and we'll send you Nerdy articles about the money topics that matter most to you along with other ways to help you get more from your money.