How First-Generation College Students Can Navigate Admissions
First-generation college students can get help by connecting with current students, visiting via fly-in programs and contacting colleges.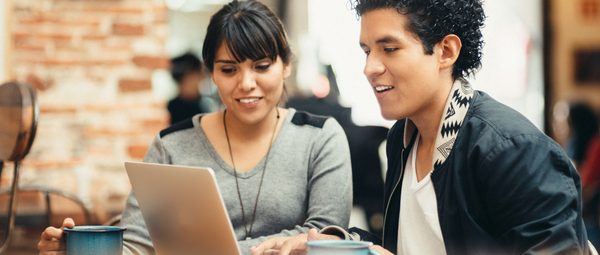 Many or all of the products featured here are from our partners who compensate us. This influences which products we write about and where and how the product appears on a page. However, this does not influence our evaluations. Our opinions are our own. Here is a list of our partners and here's how we make money.
Student loans from our partners

First-generation students — those who are the first in their families to attend college — face more roadblocks on their way to postsecondary education than other students do.
They're less likely to enroll. Among a group of high school students, 93% of those whose parents held a bachelor's degree enrolled in college compared with 72% of students who enrolled when their parents didn't attend college, according to 2018 data by the National Center for Education Statistics.
And when first-generation students do seek to enroll, their parents are less able to answer questions about the admissions process, how student aid is granted or the logistics of a campus visit.
To help demystify the process for first-generation students, college admissions experts offered the following advice.
Seek support from admissions, guidance counselors
Contact admissions and guidance counselors for help with the process of getting into school, experts say.
At The Citadel, the Military College of South Carolina, for example, prospective students can participate in online live-chat sessions with admissions counselors, who are also accessible via email or in person.
"Every college has an admissions representative who is eager to assist you," says Lt. Col. John Powell Jr., director of admissions at The Citadel.
Then, to better understand the application process and where you should apply, ask questions, says Laura Stratton, director of admission at Scripps College in Claremont, California.
"Google terms you aren't familiar with and follow up via phone or email if you don't initially understand a part of the application, admission or financial aid process," she says. "Admission counselors can break things down in easy-to-understand steps and explain the confusing terminology."
As you consider where to attend, Kathryn Baugher, who has served as the interim vice president for enrollment at several colleges, recommends asking your high school's guidance office for help finding colleges that might be a good fit for you.
When it comes to financial aid, former first-generation student Becky Wai-Ling Packard, now a professor of educational psychology at Mount Holyoke College in South Hadley, Massachusetts, says to never make assumptions about a school's support structure for students with diverse socioeconomic backgrounds.
"Many will provide more generous financial aid or advising support than you realize," she says.
Talk to first-generation students
Don't reinvent the wheel when other first-generation students can help you navigate the application process. Find students who are currently enrolled and ask about their experiences during the application process. Ask family and friends if they know anyone who would be willing to talk with you and crowdsource among your social networks — try looking for current first-generation students using hashtags like #firstgenstudent and #firstgenerationstudent.
It's even better if you can find first-gen students who currently attend a school you're interested in. Powell recommends asking your admissions representative for an introduction to a current student.
Visit campuses with fly-in programs
Visiting a campus could give you the firsthand experience you need to make a college choice. If visiting is cost-prohibitive, fly-in programs for students with lower incomes can make that possible. You may have to demonstrate financial need to qualify.
"Many colleges offer fly-in programs where students can see the school for themselves at little to no cost," Stratton says. "These programs usually include transportation, meals and a wide variety of sessions and activities to see if the school is a good match for you."
A 2013 Scripps College graduate and first-generation student, Lyanne Dominguez suggests applying to as many fly-in programs as possible.
"It is drastically different getting to know a school from a computer screen versus stepping on the campus and interacting with students and faculty," Dominguez says.
If attending an on-campus program isn't doable, look for local opportunities to learn more about college offerings.
"Maximize your personal knowledge and network by attending district college fairs," says Lorenzo Gamboa, senior associate director of admission at Santa Clara University in Santa Clara, California. "Talk with the admission representative and never leave without a business card."
Prepare to submit applications
Make an application plan. Apply to five to eight colleges, which are a mix of reach, safety and fit, experts say. Take your time with each application, while keeping deadlines in mind.
Get your documents together. Gather the materials you'll need for applications — including transcripts, copies of awards certificates and teacher recommendations, Powell says.
Expect application fees. Most schools charge applicants about $50, but at some colleges it will cost up to $90. If you meet income requirements, you may qualify for a waiver on application fees.
Make applying for financial aid part of your process, too. Submit the Free Application for Federal Student Aid, or FAFSA, to access federal grants, scholarships, work-study and loans. If your school requires it, submit the CSS Profile for state and institutional aid.
There are also private scholarships exclusively available to first-generation students. To find one you qualify for, start with the U.S. Department of Labor's Scholarships Search Tool. Then, check other scholarship databases such as Cappex.com, Scholly, The College Board, or "The Ultimate Scholarship Book." Scholarships can help fill gaps left over by other financial aid and can limit the number of loans you take on.
If there's a gap to fill after applying for financial aid, you may need to use savings, income or loans to fill it. If you plan to borrow for college, start with federal student loans first before private loans. Federal loans offer more repayment options and loan forgiveness compared with private options.
Get pre-qualified in just 3 minutes with Credible
Check multiple student loan lenders to get accurate, pre-qualified rates with no impact to your credit score.
Spot your saving opportunities
See your spending breakdown to show your top spending trends and where you can cut back.