How Much Vets Make: What's the Average Veterinarian Salary?
The median vet salary is $93,830, but new vet school graduates start out earning $76,633 on average.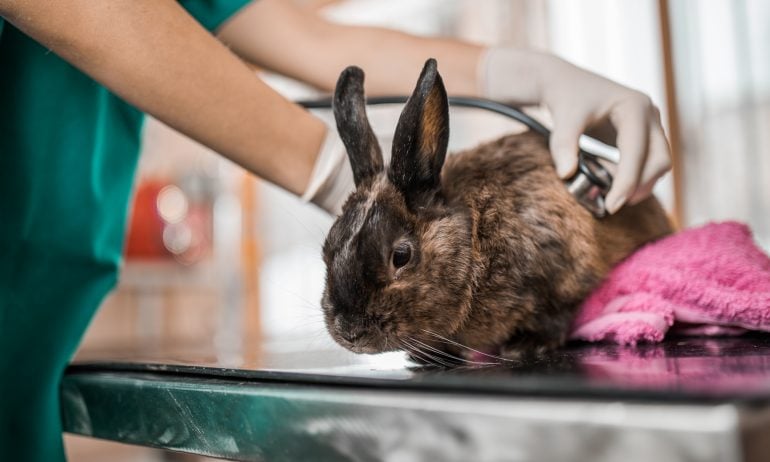 Many or all of the products featured here are from our partners who compensate us. This may influence which products we write about and where and how the product appears on a page. However, this does not influence our evaluations. Our opinions are our own. Here is a list of our partners and here's how we make money.
How much do vets make? As of May 2018, the median vet salary was $93,830 annually or $45.11 an hour, according to the Bureau of Labor Statistics.
Some veterinarians earn much more; the top 10% made $162,450, the BLS says. But those just starting their careers shouldn't expect to hit six figures for a while. The average vet salary for the class of 2018 was $76,633, according to the American Veterinary Medical Association.
Students who have earned a Doctor of Veterinary Medicine, or D.V.M., may enter multiple industries. Veterinary services is the most common — 78% of vets go this route — and most lucrative, according to the BLS. But the median salaries for vets in different industries are comparable:
Private-practice veterinarians may be compensated in different ways. Some are paid a flat salary. Other practices may pay vets an hourly rate, tie wages to the revenue a vet generates, or combine a flat salary with production-based pay.
Many other factors influence how much vets make, including where they work, whether they're board-certified and if they own their practice. The type of practice — for example, working on companion animals vs. food animals — matters as well. The AVMA offers a tool that can help you based on these variables.
Students should keep in mind salary statistics when figuring out . Ideally, you'd want to limit how much you take out in to no more than your projected first year's salary.
But that may be difficult even if you earn more than the average veterinarian starting salary of $76,633. in the class of 2018 was $183,014, according to the AVMA. That means you could easily finish school with debt that more than doubles your earnings.
If you can't minimize borrowing, keep in mind that there are different no matter your eventual salary:
You may also be able to at a lower interest rate if you have good credit and a manageable debt-to-income ratio. You might need to wait to do this until you're a few years into your career and your earnings have increased or you've paid off part of what you owe.
You shouldn't consider refinancing if you'll qualify for a loan forgiveness program or need to make income-driven payments. If you're OK giving up those options, refinancing could lower your monthly payments or the total you'll repay overall.