Where to Buy, Sell and Rent College Textbooks
It's usually cheapest to rent textbooks rather than buy them, but make sure you compare prices from multiple sellers.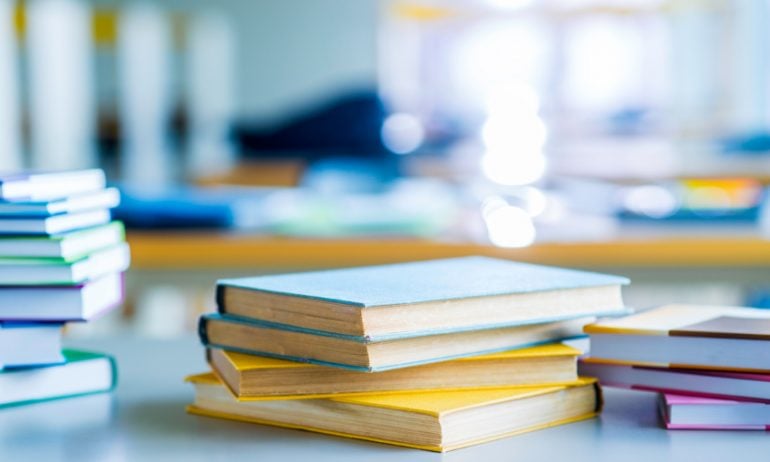 Many or all of the products featured here are from our partners who compensate us. This may influence which products we write about and where and how the product appears on a page. However, this does not influence our evaluations. Our opinions are our own. Here is a list of our partners and here's how we make money.
Whether you need traditional or digital textbooks, you can buy or rent them from multiple sources.
Most students still buy their books from the campus store. According to 2017-18 data from the National Association of College Stores, 4 in 5 students reported purchasing course materials from the campus store; 41% reported buying from Amazon; 8% from another student; 8% from a publisher website; and 6% from the online retailer Chegg.
Textbooks, like supplies and other college expenses, are considered part of your . That means you can use your student loans to pay for them. But before you dip into your loans or , find the cheapest option.
Students at four-year colleges spent an average $1,240 on books and supplies for the 2018-19 school year, according to the College Board. You can keep your costs low by renting a book instead of buying it.
The textbook site CampusBooks.com has a "Buy vs. Rent" tool that compares the cost of renting with owning a textbook. For example, the textbook "Statistics for People Who (Think They) Hate Statistics" has a list price of $82. A used version from the seller BooksRun.com is $33. But it's cheapest to get a $20 rental for 88 days from Amazon.
Buying used books and reselling them when you no longer need them is a way to reduce your upfront costs and get cash back later. If the textbook is common or used every year or every semester, you're more likely to resell it.
Whether you rent or buy a used book, find out from your teacher if an older edition is acceptable. Sometimes old versions might not include everything needed for your course.
You have plenty of options when it comes to places to buy, sell and rent your textbooks, but buying online is the easiest way to compare prices. Search by title, by author or with the codes that identify specific book editions, known as ISBNs.  When buying online, factor in shipping, handling and taxes to the total cost. These sites are good places to start.AbeBooks.com users can save from 50% to 90% on textbooks, many of which have free shipping. The site's Textbook Buyback feature allows students to sell their books for cash.
No matter where you get your books, compare multiple stores and online marketplaces to get the lowest prices.