NerdWallet's Guide to Financial Aid Programs in New Hampshire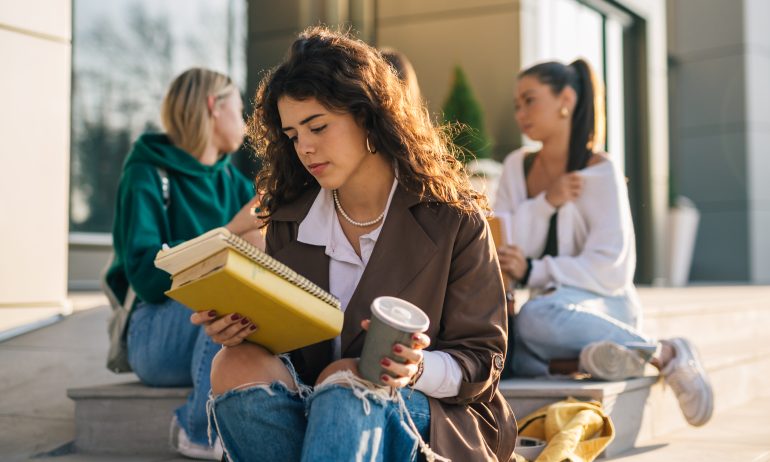 Many or all of the products featured here are from our partners who compensate us. This influences which products we write about and where and how the product appears on a page. However, this does not influence our evaluations. Our opinions are our own. Here is a list of our partners and here's how we make money.
The Granite State is home to several excellent colleges and universities, such as the University of New Hampshire and Dartmouth College, an Ivy League school.
But with a high cost of living, college can be expensive in New Hampshire. The state does offer a few programs that can make the cost more manageable, though, including scholarships and tuition waivers.
The cost of education in New Hampshire
There are more than 20 colleges and universities in New Hampshire that grant two- or four-year degrees, including both public and private schools.
The cost of college in New Hampshire can be above the national average. But to boost enrollment numbers, some private schools in the state have slashed their tuition rates. For example:
Colby-Sawyer College slashed its tuition rate for the 2023-24 academic year, lowering the cost from $46,364 to $17,500 — a 62% reduction. 

Southern New Hampshire University recently cut its tuition rate in half; now, students can attend at a tuition cost of $15,450 per year. 
Attending a private school in New Hampshire costs less than the national average. In fact, it may be cheaper to attend a private school than a public college or university in the state.
Here is roughly how much you can expect to pay to attend college in the state, on average, based on tuition, fees, and room and board in the 2020-21 academic year:
Public four-year school: $29,222 per year, about 37% higher than the national average of $21,337.

Private four-year school: $29,103 per year, about 46% less than the national average of $46,313.

Community college (in-state): $7,123 per year, more than double the national average of $3,501. (These numbers don't include room and board.) 
Financial aid options in New Hampshire
To qualify for in-state tuition at public schools and state financial aid, you must live in New Hampshire for at least 12 consecutive months immediately preceding registration for the term.
In 2012, New Hampshire legislators passed House Bill 1383. This bill requires every student admitted into the university system of New Hampshire and receiving in-state tuition to sign an affidavit stating that they are legal residents of the U.S.
As a result, undocumented individuals — including Deferred Action for Childhood Arrivals (DACA) students — are ineligible for in-state tuition and must pay the out-of-state rate. These students are also ineligible for state financial aid.
Although New Hampshire does have a few state-operated financial aid programs, it doesn't offer as many options as some other states. And due to budget cuts that caused the state to discontinue some financial aid programs, it no longer offers grants.
However, you may still be able to use one or more of the following financial aid programs to reduce your education costs:
Student loan repayment assistance.
Families that want to assist their children with education costs can use 529 plans to save for the future. Unlike some states, New Hampshire doesn't have a prepaid tuition plan, but it does offer two 529 college savings plan options:
Fidelity Advisor 529 Plan: The Fidelity Advisor 529 Plan is only available to non-Fidelity financial advisors, so it's not an account that a parent or grandparent can open on their own. Instead, they have to work with a financial advisor. 

UNIQUE College Investing Plan: The UNIQUE plan is available to all U.S. residents. 
Each plan offers a high contribution limit compared with other states: a combined limit of up to $553,098 per beneficiary.
With a 529 plan, you can open an account on behalf of a child and invest the contributions in a range of funds to grow your savings. The account will grow tax-deferred, and when you use the money for the beneficiary's education expenses, the withdrawals are tax-free.
The University System of New Hampshire comprises six schools: the University of New Hampshire-Durham, the University of New Hampshire Franklin Pierce School of Law, the University of New Hampshire at Manchester, Plymouth State University, Keene State College and Granite State College. At any of these schools, New Hampshire residents will pay less for tuition than out-of-state students.
However, New Hampshire residents who want to go to a school outside of the state — or non-residents who want to enroll in a New Hampshire university — may qualify for a reduced tuition rate through the New England Board of Higher Education's Tuition Break program. This network is made up of six states: Connecticut, Maine, Massachusetts, New Hampshire, Rhode Island and Vermont.
With this program, students who are residents of a participating state can qualify for reduced rates for specific programs at eligible schools. According to the NEBHE Tuition Break program, the average annual savings per student is $8,600.
New Hampshire scholarships
New Hampshire offers a few scholarship opportunities based on academic performance and achievements. However, finding these scholarships can be challenging; rather than having one central resource or department handling scholarships, various state agencies and organizations award them.
There are four state-based awards:
1. New Hampshire Charitable Foundation Scholarship
One application covers all four categories; students are automatically matched with the appropriate award. Award amounts vary, ranging from $250 to $5,000. Students must submit the Free Application for Federal Student Aid (FAFSA), their transcripts and, if they win a scholarship, write a letter of thanks to donors.
2. New Hampshire Higher Education Assistance Foundation (NHHEAF) Network Scholarship
The NHHEAF Network Scholarship is for New Hampshire residents who have GPAs of 2.5 or higher and demonstrate financial need. Only students who are returning to college for their second year or higher are eligible; first-year college students don't qualify.
Award amounts range from $2,500 to $5,000. To apply, students must complete an application and write an essay.
3. New Hampshire Scholars
The New Hampshire Scholars program prepares students for success after high school. Though the program itself doesn't issue scholarships, graduates of the program are eligible for scholarships offered by more than a dozen New Hampshire colleges. Award amounts range from $1,000 to $32,000, but awards and program requirements vary by school.
To graduate as a New Hampshire Scholar, students must complete a core course of study that meets the program's standards; they also have the option of pursuing academic or career pathways related to their career goals.
4. Higher Education Scholarships for Orphans of Veterans
Higher Education Scholarships for Orphans of Veterans provides $2,500 scholarships to orphans of New Hampshire service members who died in active duty or of service-connected disabilities. Students may use these scholarships at public New Hampshire schools to cover a portion of their room and board, books or supplies. Eligible students may also qualify for free tuition at select community colleges.
Tuition waivers in New Hampshire
Some New Hampshire residents may qualify for a full or partial tuition waiver, meaning they wouldn't have to pay the entire cost of tuition. There is one state tuition waiver program:
Tuition Waiver for Foster Children Program
If you were previously in foster care in New Hampshire, you may qualify for a tuition waiver at participating schools, including the University of New Hampshire, Keene State College, Plymouth State University, Granite State College and the Community College System of New Hampshire.
For students who reach the annual or aggregate maximums for federal student loans, private loans can cover the remaining balance. New Hampshire has its own loan program:
EdvestinU is a private student loan program provided by the New Hampshire Higher Education Loan Corporation (NHHELCO). It issues undergraduate and graduate loans to students nationwide — as well as student loan refinancing — but it offers significant annual percentage rate reductions to New Hampshire residents. It also has expanded underwriting guidelines for New Hampshire residents, so residents are more likely to qualify for a loan than applicants from other states.
Student loan repayment programs in New Hampshire
According to the Federal Student Aid office, the average student loan balance per borrower in New Hampshire was $33,120 in 2022. The state offers two loan repayment programs that can help residents pay off their loans, but they are available to health care professionals only.
New Hampshire State Loan Repayment Program (SLRP)
Through the New Hampshire SLRP, eligible health care professionals can receive up to $75,000 in exchange for a minimum service obligation of three years working full time at an eligible site in a designated health professional shortage area.
Participants can extend their service term and receive an additional $40,000 for working for another two years at an eligible site.
Private Practice Dentists State Loan Repayment Program (SLRP)
The Private Practice Dentists SLRP is a new program specifically designed for dentists in private practice located in Medicaid-defined priority areas. To qualify, you must be enrolled as a Medicaid provider, and Medicaid patients must make up at least 15% of your practice. If you commit to a service contract for three years, you can receive up to $75,000 toward your student loan debt.
How to apply for financial aid in New Hampshire
To qualify for financial aid in New Hampshire, follow these steps:
Submit the FAFSA: Most of the state's scholarships are awarded, in part, based on financial need, so you'll have to complete the FAFSA. You can fill out the FAFSA and submit it online at FAFSA.gov. 

Review application requirements: Some of New Hampshire's financial aid programs require separate applications, and you may have to write an essay to apply. Review each award's requirements so you know what you have to do to qualify. 

Take note of deadlines: Application deadlines vary by award program, so check each program's website for specifics. Your school's financial aid office may also be able to help. 
Frequently asked questions
Are DACA students eligible for in-state tuition or state-based aid?
What is the FAFSA deadline in New Hampshire?
How much does it cost to go to college in New Hampshire?
Spot your saving opportunities
See your spending breakdown to show your top spending trends and where you can cut back.