Refinancing a Home Equity Loan: What to Know
If you meet the minimum requirements, refinancing a home equity loan may lower your interest rate and reduce your monthly payments.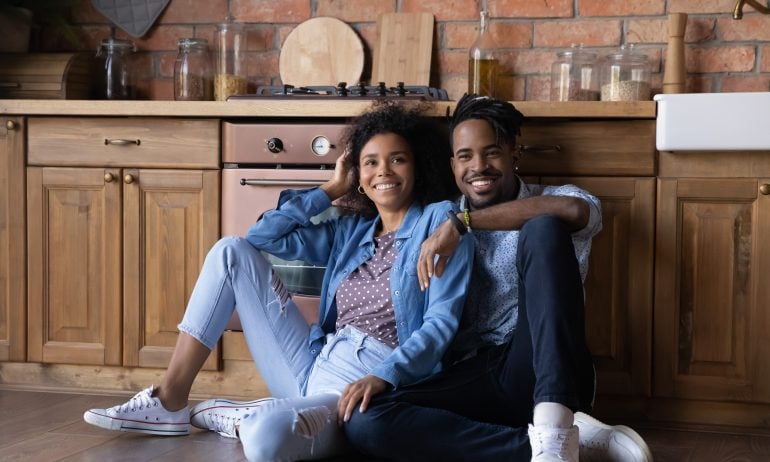 Some or all of the mortgage lenders featured on our site are advertising partners of NerdWallet, but this does not influence our evaluations, lender star ratings or the order in which lenders are listed on the page. Our opinions are our own. Here is a list of our partners.
A home equity loan can be a valuable way to access some of the funds tied up in the value of your home without having to sell it. Some homeowners choose a home equity loan to finance an expense such as completing a renovation or making another upgrade that will enhance their home's worth.
You receive funds from a home equity loan in one lump sum and then pay it back over a set number of years with interest at a fixed rate. If you have an opportunity to get a better deal — for example, if you've elevated your credit score or if rates have dropped — you could refinance your home equity loan.
Can you refinance a home equity loan?
Yes — like a first mortgage, you can refinance a home equity loan. This makes the most sense if you can get a better rate now than when you took out the loan. Refinancing can also be a good idea for borrowers who want to switch from an adjustable rate to a fixed rate or who want to tap more of their equity.
You can use our home equity loan calculator to estimate what your new monthly payments will be.
When will home equity loan rates come down?
You can listen to 15 financial experts talk about this question and get 10 different answers. Ultimately, no one knows exactly when mortgage rates will start to drop. If the rate quotes you're receiving from home equity loan lenders are unsustainable for you, you probably don't want to wade into it with the assumption that you can refinance later. There's no telling when that date may be, and in the meantime, you risk losing your home if you can't make your monthly payments.
Why you may want to refinance
There are several potential benefits to refinancing a home equity loan. For instance, you can lower your monthly payments by pursuing a lower interest rate or changing the loan term to give you more time to pay it off.
You can also choose to reduce your loan term, making higher payments for a shorter amount of time. This means you'll make fewer interest payments in the long run.
If you found that your original home equity loan wasn't enough to finance your goals, refinancing may also allow you to pull more money out of your equity.
As with any refinance, refinancing a home equity loan comes with costs and fees. If you're planning on refinancing to save money, you'll want to budget for these charges and make sure the savings are enough to offset your expenses.
HELOC & Home Equity Loans from our partners

Bethpage Federal Credit Union
Pros and cons of refinancing a home equity loan
You could potentially get a lower interest rate, lowering your monthly payments.

You could lock in a rate and avoid unwanted variability if you have an adjustable rate now.

You can change your payment terms to pay off the loan faster or spread them out over a longer term to lower your minimum monthly payment.

You can refinance to a larger loan if you need more cash than you originally anticipated.
You'll have to pay closing costs — typically 2% to 5% of the total loan amount. This means that for refinancing to be worth it, you'll have to save more than the cost of the fees you'll pay.

If you're switching from an adjustable rate to a fixed rate, you may lose out if rates come down.

Because refinancing pays off your original home equity loan and replaces it with a new one, you might be hit with a prepayment penalty.
What you'll need before refinancing
Before you pursue a new home equity loan, you should consider your needs as a borrower, look at your financial situation and prepare for the application process:
Meet the minimum financial requirements. Homeowners with a credit score of at least 620 will have an easier time getting approved, though a score of 700 or higher will likely result in the best interest rate offers. You can also anticipate a minimum equity requirement (usually 20% or more), and lenders will want your debt-to-income ratio (how much you owe vs. how much you earn) to be 43% or lower.

Know your reasons for wanting to refinance. This can affect how you go about refinancing. For example, if you also want to refinance your primary mortgage, you may decide to go with a cash-out refinance so you can apply the proceeds toward both loans. If you're looking to get a lower interest rate, then it will be even more critical to get your credit score up as much as you can beforehand. If you want to take out more cash, you'll want to crunch the numbers and determine exactly how much you need.

Gather your documentation. You'll want to have your relevant records on hand for the application process. This includes copies of your IDs, pay stubs, W-2s, tax returns, mortgage billing statements and insurance paperwork.
Refinancing your primary mortgage with a home equity loan
If you want to refinance your primary home loan but don't want to pay closing costs, you may be able to pay off the remaining balance with a home equity loan from a lender that charges low or no closing costs.
You could do this only if the value of your equity is greater than the amount left on your mortgage. Additionally, the rate would have to be comparable to what you could get with a straightforward mortgage refinance or the closing cost savings would have to be so significant as to make it worth choosing.
You should shop around for the best rate for a new home equity loan to replace your existing loan. While you can go with the lender that originated your first home equity loan, comparing multiple lenders will give you a fuller picture of what your options are.
Alternatives to home equity loans
If you want to refinance your home equity loan to draw more cash from your equity, you may find that a home equity line of credit (HELOC) is a better option. Because it's an open line of credit, you can make withdrawals as you need to rather than borrowing the full balance upfront. You typically have a 10-year window to borrow from a HELOC.
If you want to also refinance your primary mortgage, you could get a cash-out refinance. This would replace your current mortgage with a larger one, and you can use the difference to pay off your existing home equity loan. Rather than having two mortgages, you'd have only one.
If you find that you can't qualify for a traditional equity loan or would struggle to make monthly payments, you may consider a home equity sharing agreement. These generally have more flexible borrower requirements (such as a minimum credit score of 500), and, in exchange, the lender will take a portion of the value of your home after a set term. Be aware that if your home value rises, you could end up paying much more at the end of a shared appreciation agreement than you would have paid in interest for an equity loan.
How much equity do you have?
Your home equity can help you pay for improvements. NerdWallet can show you how much is available.
NerdWallet's Best-Of Award Winner
Best Mortgage Lender For Home Equity Line of Credit
Bethpage Federal Credit Union: NMLS#449104
at Bethpage Federal Credit Union
Bethpage offers a home equity line of credit with a high borrowing limit, no annual fee and a fixed-rate option. It's easy to see HELOC qualifications, too.
Get more smart money moves – straight to your inbox
Sign up and we'll send you Nerdy articles about the money topics that matter most to you along with other ways to help you get more from your money.