17 3D Printing Business Ideas
Explore 3D printing business ideas for B2B and B2C in the medical, arts, technology and manufacturing industries.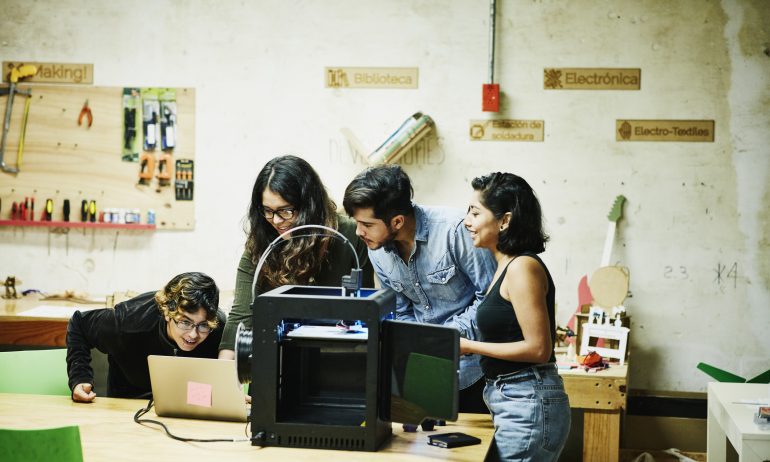 Many or all of the products featured here are from our partners who compensate us. This influences which products we write about and where and how the product appears on a page. However, this does not influence our evaluations. Our opinions are our own. Here is a list of our partners and here's how we make money.
One of the coolest and latest technologies to find popularity in the last few years is the 3D printer. While starting a business in the 3D printing industry would be an interesting endeavor for any entrepreneur, there's also another pro to consider.
Even though the technology for 3D printing has been around for a while, the market is still finding new ways to innovate and apply the technology. If you're looking for 3D printing business ideas, there's no shortage of possibilities.
There are a lot of different 3D printing business ideas, and one exciting subset is B2C (business to consumer) product production. Within this area of 3D printing, you can create products to sell to consumers. 3D-printed products are attractive to customers because of their novelty, but they can also be great for business because they use less material, waste less and generally weigh less (and therefore cost less to ship). Here are some ideas to get you started.
We all know the feeling of finding the perfect set of earbuds. They stay put, have great sound quality and they don't make your ears hurt. Checking all of these boxes isn't easy, which also means customers are often willing to pay for the perfect set of buds.
Consider this: Earbuds customized to fit your ear and your style. With this 3D printing business idea, customers no longer have to sacrifice style for comfort or compromise sound quality for fit.
While this isn't a new idea — most hearing aids are already being 3D printed — it's a business where there's still plenty of space to compete in.
Using a smartphone app, customers take a picture of each ear, submit it, choose their styling options and pay. The earbuds are then printed and sent to the customer for a perfect fit. If you're looking to start a physical location and serve your local community, you can also have customers come into your store to fit them for their perfect pair of earbuds.
2. Customized collectibles
While tastes and trends change, collecting will never go out of style. Fans love to collect figurines and collectible items for their favorite athletes, artists, gamers, singer and celebrities of any type. With this 3D printing business idea, the potential opportunities are endless. While the focus is collectibles, you can focus your business within a wide variety of niches, expanding as your business grows.
One of the benefits of this type of 3D printing business is that the inventory is small and lightweight, therefore easy to store and ship. This is especially important if you're starting your business out of your home.
While not quite as glamorous as some of the other 3D printing business ideas on this list, there's plenty of space within the niche to teach the ins and outs of 3D printing for those looking to start their own 3D printing businesses.
For most people, 3D printing is a total unknown. You can cover the basics, dive deep on certain topics and just generally provide information that people will find interesting and educational. There are a lot of forms that this type of 3D printing business could take, including a blog, vlog or social media-based business.
If you're not sure the B2C 3D printing business ideas work for you, turn your attention to these B2B (business to business) options. The B2B space has a lot more range and options for the kind of business you can operate. Working with other businesses means that you don't have to work directly with consumers, which can alleviate the need for a customer service or large marketing department.
4. Improve upon existing products
There are so many products for sale on the market — seriously, just look at Amazon. But, many of those items are difficult to make, waste materials during production or aren't cost-effective to produce. 3D printing can change that.
While this will require a good amount of creativity, if you have the vision to reimagine how something is made to make it better, more sustainable or more cost-effective, you can turn to 3D printing. You might also take an existing product design and make it better or easier to use for the consumer. Another potential way to improve upon current products is to add customization.
Companies are always looking for new, interesting products to add their logo to and give away to potential customers. A 3D printer can make anything, opening up a lot of options for companies who are looking for innovative promotional products. Get creative and start producing something they've never seen before and you're sure to have tons of business.
In addition to offering your services to companies, consider also working with ad agencies who have a long list of clients who are always in need of creative promotional materials.
While many businesses have moved to creating models in the digital space as much of the time as they can, at some point, they still have to create a working model. A 3D printing business can produce these models for various businesses.
Any industry that needs highly detailed models on a short timeline will want to work with a 3D printing company. A 3D printer is able to achieve a higher level of detail in a shorter period of time than any other methods.
If you're interested in printing 3D models for other businesses, look to museums, architecture firms, interior design agencies and inventors to get started.
A common way to get started in the B2B sector is to work with large e-commerce suppliers. Most e-commerce suppliers work with factories overseas to manufacture products. These e-commerce suppliers work with a lot of different products and a large amount of inventory. If you can produce the supply that they need at a reasonable cost with a 3D printer, they'll be very interested in working with you.
One of the major benefits of production with a 3D printer is the quality and detail of the product. You might even consider producing specific, intricate parts for a larger item. If you can save them money on the production costs for a complicated part that's then added to a larger product, you're in business.
While there are numerous 3D printing business ideas, one of the most interesting areas where business owners are innovating and creating new products with 3D printers is in the medical field. If you're interested in improving technology and making the world a better place, the medical field is a great place to get started with one of these 3D printing business ideas.
In 2015, the FDA approved the first 3D-printed pill. While most 3D printers work with materials such as plastic or aluminum, there's also the option to print with numerous other materials. Certain materials are being used to create more effective medication that dissolves quickly and can be ingested more easily than traditional pills. If you already have a medical background but are looking for a new business venture, this may be the perfect fit.
Medical technology is rapidly changing and one of the many innovations helping to speed along that change is the 3D printer. As has been pointed out in other 3D printer business ideas on this list, one of the biggest benefits of 3D printing is the ability to customize.
Using a 3D printer to create medical implants means that each implant is perfectly created and customized for the patient who is going to use it. Innovators are even looking into 3D-printed tissue and organs. That innovation is still on the horizon, but they're already 3D printing medical implants such as titanium bone implants and orthodontic devices, among many others.
Another place where customization can really improve the medical field is with prosthetics. 3D printing of prosthetics can make them fit better and be more comfortable for the wearer and be more affordable to produce. That's a win-win.
Within the 3D printing of prosthetics, there are a lot of niches to fill. You can produce prosthetic limbs, artificial teeth or support products such as wheelchairs and other mobility tools.
Another really exciting space for 3D printing business ideas is within technology and innovation. There are many things happening within this space, some of which can even be improved by the technology afforded by the 3D printer.
As any startup that's building a new product or inventing something new knows, you have to have a working prototype. Many businesses spend a lot of time and money working up models and testing prototypes before they get it right. A 3D printer can make prototyping faster and more cost-effective. Once a prototype is printed, it's simple to adjust the model and make changes before reprinting a new version. Iterating has never been so easy.
As technological products and motherboards get smaller and smaller, assembly gets more difficult and costly. There's already a market for 3D printing laptop cases to cover the internal technology seamlessly and there's lots of money being funneled into new technological innovations around 3D printing and technology. Robots printed by 3D printers? You bet.
For the savvy researcher and creative entrepreneur, there's tons of space to get into electronic assembly with 3D printing.
The 3D printer is the perfect catalyst for the intersection between technology and art. Many artists are always looking for the next big thing and how they can use that to inform their art and its impact on society. While you don't have to be the next Andy Warhol, you certainly can use one of these 3D printing business ideas to expand your artist expression.
13. Sustainable, customized fashion
One of the many benefits of 3D printing is the sustainability in how materials are used and how little is wasted. Some 3D printers can even use recycled materials, such as plastic bottles, to print from.
If you're looking to get into the fashion industry and want a cutting edge manufacturing style, 3D printing might just be the way to go. You can print accessories, jewelry, shoes or anything else you can think of. Even Adidas is getting into the 3D printing action.
14. Customized glasses frames
Who doesn't love a stylish pair of sunglasses or eyeglasses? With businesses such as Warby Parker and EyeBuyDirect booming, this is a cool niche to get into. While glasses and sunglasses are functional, they can also be stylish.
Where does a 3D printer give you a leg up on the competition? Customization. No one's face is quite the same as the next person nor do most people have symmetrical ears. This all comes together for uncomfortable glasses and sunglasses. You can fix that with customized 3D-printed glasses.
Here's a 3D printing business idea for those who are truly innovative and have their creative juices flowing. Make your own art. Yes, this business idea is nebulous, but that's the fun. Art is all about creating something new, something that no one else has ever thought of before. All you need is an idea and a 3D printer. Plus, you can even sell your art online to keep overhead costs low.
We can't overlook the manufacturing industry in our list of 3D printing business ideas. Here are some options to consider.
Many manufacturing companies use custom-made tools. Those tools have to be painstakingly made just for them. Anything done in limited numbers raises costs. Unless you're making it using a 3D printer. So, if you're handy with tools and understand the tooling business, this just might be the right 3D printing business idea for you.
If you've ever owned a rare or older car, you know that repairs can be expensive and a headache. After a long enough period of time, there just aren't spare parts. So, many restorers are making new parts. Instead of having them manufactured in the traditional way, they're looking to 3D printers, which are much less time-consuming and more cost-effective.