SBA Loan Forgiveness for PPP, EIDL Loans
Borrowers who received a PPP loan prior to the program closing on May 31, 2021 can now apply for forgiveness.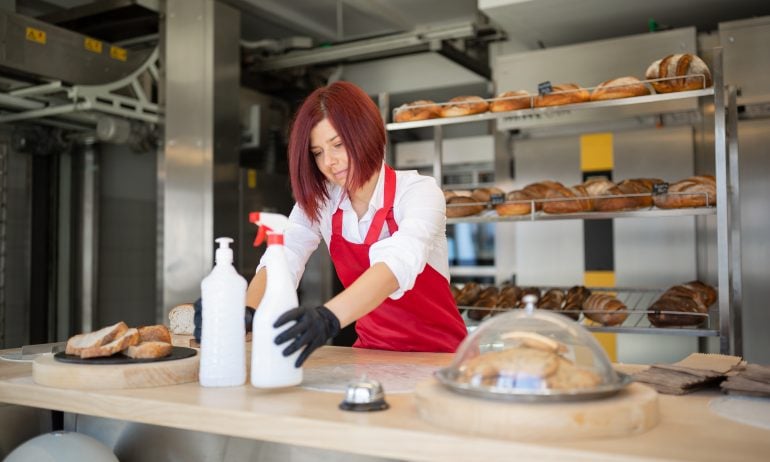 Many or all of the products featured here are from our partners who compensate us. This influences which products we write about and where and how the product appears on a page. However, this does not influence our evaluations. Our opinions are our own. Here is a list of our partners and here's how we make money.
The Small Business Administration's Paycheck Protection Program doled out $790.9 billion in small-business loans to struggling businesses between April 2020 and May 31, 2021, when the program closed. Nearly $661.5 billion of that loaned amount has been forgiven, as of January 2, 2022.
Keep reading to learn more about PPP loan forgiveness through the SBA, including when and how to apply, and what expenses are covered.
with Fundera by NerdWallet
When to apply for PPP loan forgiveness
Borrowers who received a PPP loan prior to the program closing on May 31, 2021 have already reached the end of their covered period and can apply for forgiveness now. Reach out to your lender now if you haven't heard from them regarding forgiveness.
You can apply for PPP loan forgiveness up until the date your loan matures: Two years for loans originated before June 5, 2020, and five years for loans issued after that date. But it's best to act well before that date — ideally, before any payments are due. Payments on PPP loans are deferred for 10 months after the covered period ends.
How to apply for PPP loan forgiveness
If your loan was for $150,000 or less
The vast majority of borrowers (around 92%) fall under this category. Those business owners can apply for PPP loan forgiveness one of two ways.
Through your lender. Your PPP lender will typically contact you with instructions on how to apply when your covered period ends (eight to 24 weeks after you received your funds). Some will even pre-fill your application with the necessary information, making forgiveness a breeze.

Through the SBA. If your PPP lender is one of the more than 1,400 participating in the SBA's direct forgiveness program you can apply using the SBA's PPP Direct Forgiveness Portal. (See a list of participating lenders here.)
However you apply, you'll answer the same set of questions as those on those on SBA Form 3508S. You do not need to detail how the funds were spent and, if it's your first PPP loan, you don't need to submit any receipts, payroll records or additional documentation. For second-draw loans, borrowers need to show the required revenue loss before their loan can be forgiven.
If your loan was for more than $150,000
Business owners with a PPP loan in excess of $150,000 will apply for forgiveness with their PPP lender. Many have their own application process, which should follow SBA Form 3508, so check with your lender before applying.
If you fall under this category, you'll need to submit paperwork showing how you spent your loan. Collecting this paper trail as you go will make it easier to apply for forgiveness. See below for the types of documentation you may need to provide.
Requirements for PPP loan forgiveness
Loan forgiveness requirements are the same for first- and second-draw PPP loans. To receive full loan forgiveness, you need to maintain staffing and compensation levels during the covered period.
Additionally, money from your PPP loan must be spent on eligible expenses (see below) during the covered period. In order for your loan to be fully forgiven, at least 60% must be spent on payroll costs.
The covered period for most loans made in 2020 is 24 weeks after your loan is disbursed, but borrowers with loans issued before June 5, 2020, may opt for the original eight-week period. Business owners receiving a first- or second-draw loan in 2021 can opt for a covered period from eight to 24 weeks.
Expenses eligible for loan forgiveness
Eligible expenses were originally limited to payroll and operating costs, but the coronavirus relief bill passed in December 2020 expanded the list to include supplier costs, expenses related to health and safety enhancements and some property damage.
The following types of expenses now qualify for PPP loan forgiveness:
Payroll costs: This includes all wages paid, including tips, commissions and bonuses as well employer-paid benefits such as insurance, sick leave and retirement contributions. Compensation for employees earning more than $100,000 per year aren't eligible for forgiveness.

Operating costs: This includes mortgage payments and interest, rent, utilities and business software, such as accounting, payroll or inventory management programs.

Supplier costs: The cost of goods essential to operating your business is eligible for forgiveness if the purchase order or contract was in place before the covered period. Purchase orders for perishable goods made during the covered period are also eligible.

Property damage: This is for repairs for damage or loss due to looting, specifically related to public disturbances in 2020. Costs covered by insurance aren't eligible.

Worker protection: This includes personal protective equipment and other costs related to health and safety requirements, such as health screenings, installation of barriers or expansion of outdoor dining.
A few nuances to note: Costs incurred before the covered period, but paid during the covered period, are eligible for forgiveness. As are costs incurred during the covered period but paid after it ends, provided they are paid on or before the next regular payroll or billing date.
PPP has exhausted its funds, but other lenders may be able to assist you. See options with Fundera by NerdWallet.
Documentation needed for PPP loan forgiveness
If your loan was for more than $150,000, you will need to provide proof of how you spent your PPP loan. Only funds spent on allowable expenses will be forgiven and at least 60% of your loan must be spent on payroll costs to qualify for full forgiveness.
Below is a list of documents to submit with your PPP loan forgiveness application. Note: This list isn't exhaustive, and not all documents will be needed for all businesses.
Third-party payroll reports.

State and local quarterly financial reports.

State unemployment insurance filings.

Tax documents: Form 1040 Schedule C or Schedule F, Form 1065 Schedule K-1, Form 941, Form 944, Form W-2, Form W-3.

Payment receipts, canceled checks or account statements showing employer health and retirement contributions.
Utility bills reflecting payments made.

Purchase orders, contracts and receipts for vendor payments.

Canceled checks or receipts for covered expenses, such as business software, protective equipment, safety modifications and repairs for damage sustained during summer protests.
If your PPP loan was less than $150,000, you do not need to provide additional documentation when you apply for forgiveness of your first PPP loan. Instead, you simply sign a form certifying that you complied with the program guidelines.
For second-draw loans under $150,000, you need to submit documentation showing a drop of at least 25% in annual gross receipts or for any quarter of 2020, compared with the same quarter in 2019.
Loans issued through the SBA's COVID-19 Economic Injury Disaster Loan (EIDL) program need to be repaid in full, though payments are deferred for the first two years.
Borrowers who received a Targeted EIDL Advance or Supplemental Targeted Advance do not need to repay a portion of their loan (up to $15,000). These advances are treated as grants, so no forgiveness application is required.