American Express Merchant Financing: Business Loans for Amex Merchants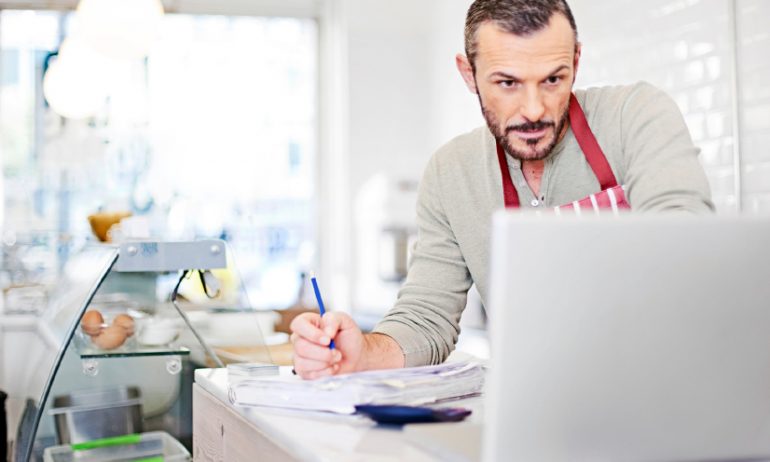 Many or all of the products featured here are from our partners who compensate us. This influences which products we write about and where and how the product appears on a page. However, this does not influence our evaluations. Our opinions are our own. Here is a list of our partners and here's how we make money.
Membership has its privileges, according to a past American Express ad campaign.
It turns out the old slogan doesn't pertain just to American Express cardholders. The financial giant has a merchant financing arm that offers loans of up to $2 million to small businesses that accept Amex plastic.
But a word to the wise: If you get an American Express Merchant Financing loan, be ready to pay out a chunk of your credit card receivables. And rather than write a check every month, you'll make daily payments through automatic transfers from your accounts.
That said, American Express Merchant Financing may be a good fit for your business if:
A significant amount of your revenue comes via credit card transactions. The money you bring in from card transactions has a big effect on the amount you're able to borrow and the daily percentage of those receivables that Amex will siphon off to pay back your loan. In general, the more substantial your credit and debit card receivables, the bigger the loan you're eligible for and the smaller the percentage of your daily receipts that goes to repayment.
You need financing within a matter of days. The approval process can take, on average, five business days, depending on how quickly you submit all necessary information. Once your application is approved, funding can take as little as one business day for loans up to $35,000. For larger loans, funding can take two to five business days.
You run an established business. Amex requires borrowers to have at least two years in business and accept its credit cards as payment. That last part is key to the approval process: The lender uses its own records of your American Express card transactions to evaluate the size of loan you can handle.
with Fundera by NerdWallet
American Express Merchant Financing at a glance
The lender offers four merchant financing products. With the six-month, one-year and two-year loans, funding is disbursed in an upfront lump amount within days of approval. With the monthly settlement advance product, funds are disbursed once a month on an ongoing basis, provided that the borrower fully pays off the previous month's balance.
Monthly settlement advance

$10,000 to $1 million (disbursed monthly)

$36,000 to $2 million (disbursed following approval)

$5,000 to $2 million (disbursed following approval)

$36,000 to $2 million (disbursed following approval)

Loans: Daily repayment based on a fixed percentage of credit card receivables. The repayment rate is based on past credit card receivables, the risk of the borrower and the intended use of the funds, among other factors. It's set by Amex to be at least high enough so that the borrower will stay current on the loan.

Settlement advance: The borrower pays back daily over the course of the month, and the next month's funds are not disbursed until full payment is received.

For loans up to $35,000: As soon as one business day after approval.

All other amounts: Two to five business days
How American Express Merchant Financing works
Launched in 2011, American Express Merchant Financing products provide quick access to financing that is paid back on a daily basis, with payments based on a predetermined percentage of the borrower's credit card receivables.
The most common uses for the products are business expansion, equipment purchases and paying off debt, says Gina Taylor Cotter, general manager and senior vice president for global commercial financing at American Express. The restaurant, retail and lodging industries receive the most Amex Merchant Financing loans.
To be eligible for merchant financing, businesses must accept American Express credit cards; for two-year loans, you must have accepted them for the prior 24 months.
The lender also requires that the business have at least two years in business, at least $50,000 in annual revenue, and at least $12,000 in annual credit and debit card receivables.
Merchants can apply online or by phone. In addition to basic contact information, you'll be asked to provide:
Tax ID or American Express Merchant Account number

Total annual credit and debit card receivables

Credit card processor name and number

Total annual business revenue

Total annual personal income

Ownership percentage breakdown

Business bank name, routing number and account number
For some applications, Amex may ask for more detailed financials. The lender performs personal and business credit checks as part of its underwriting process; whether the personal check is a soft or hard pull varies by applicant, the lender says.
Amex's six-month and two-year loans range in amount from $36,000 to $2 million. Its one-year loans range from $5,000 to $2 million.
With the settlement advance product, in which funds are disbursed once a month on an ongoing basis, loan amounts range from $10,000 to $1 million per month.
The amount you're eligible to borrow depends on your annual credit card receivables. According to an estimation tool on an earlier version of the merchant financing website, the maximum loan amount is generally about 45% of the receivable amount but can vary by applicant.
The lender charges no interest or origination fees; instead, it charges a fixed loan fee ranging from 1.75% to 28% that is paid out over the loan term. The fee depends on the term of the loan — and on the lender's evaluation of the borrower's and business's credit risk, the size of the loan and the business's credit card processing arrangement, Cotter says. (For the settlement advance, the fixed fee ranges from 0.3% to 0.67%.)
Though the company doesn't publish annual percentage rates, it's possible to estimate an APR based on a traditional loan with the same amount, fee and term.
Here is an example: On the low end, for a $100,000, one-year loan with the minimum 3.5% fee, your average daily payment would be at least $284, assuming you operate every day. That translates into an APR of about 7%.
On the high end, for a $100,000 loan with a two-year term and the maximum 28% fee, the average daily payment would be at least $175 and equivalent APR is roughly 26%.
Your loan is repaid automatically on a daily basis. The percentage is decided by Amex beforehand and doesn't change as long as you stay current on the loan. Basically, it's the percentage of your average daily card receivables needed to cover the principle of your loan and the borrowing fee.
Suppose your annual credit and debit receivables total $400,000. Your average daily receivable, assuming operations every day, is $1,096. For the one-year, $100,000 loan, the average daily payment would be around $284, representing about 26% of daily receivables.
Meanwhile, for the two-year example, your average daily payment would be around $175, representing about 16% of your average daily credit card receivables.
There are four ways in which repayments are made:
Payment from American Express receivables only. Because Amex processes payments on the cards it issues, it simply withdraws the daily payments before the money hits your business bank account.

Payment from all credit and debit card receivables via your payment processor. Amex makes an arrangement with your payment processor to have it send a percentage of your total credit and debit card receivables each day.

Payment from all credit and debit card receivables via a transfer account. Amex sets up a temporary transfer account into which your payments processor deposits your total credit and debit receivables. A percentage is withdrawn to pay the loan, and the rest goes into your business bank account.

Payment from a business bank account. A fixed amount is automatically transferred from your business bank account each day your business has receivables.
American Express Merchant Financing: Pros and cons
Fast loan approval: Once you've submitted all information and been approved, it can take a matter of days — not weeks, as with some traditional lenders such as banks — for your loan proceeds to be deposited in your account. The whole process, on average, takes up to five business days. The process is relatively simple, Cotter says, because the lender already has an accounting of your business's American Express card transactions.
Lower or comparable cost to most online lenders: The equivalent APR range of 7% to 26% for American Express Merchant Financing loans is competitive to APRs from other online small-business lenders on the market. The range is more favorable than those typically seen for merchant cash advances, which have APRs from 40% to 350%.
Early repayment discounts: Depending on the term of your loan and how early you pay off your loan balance, Amex offers rebates on the amount paid on your loan fee.
6-month loans: You get 25% back if you pay within 90 days and 10% back if you pay within 135 days.

One-year loans: 25% back if you pay within 180 days and 10% back if you pay within 270 days.

Two-year loans: 25% back if you pay within 360 days and 10% back if you pay within 540 days.
Your repayment could be a big portion of daily credit card receivables, and it'll probably change every day: Amex limits the size of a loan based, in part, on the borrower's annual credit and debit receivables. Why? If the loan is too large, it could prove difficult — or impossible — for the borrower to make daily payments out of the money received in card transactions.
Still, the repayment rate could be substantial, and the amount you actually pay can change with the ups and downs of your business.
For example, if your repayment rate is 25% and your credit card receivable on a given day is $10,000, you'll automatically pay $2,500 to Amex. If your receivables are $12,000 the next day, you'll pay $3,000.
There are consequences if you fall behind on payments: When you're approved for a loan, Amex gives you a repayment schedule. If you start to fall behind, it'll raise your daily repayment rate to catch up. The lender may also transfer the past-due amount from your business bank account and hit you with a late fee — the greater of $39 or 2.99% of the past-due amount.
If at the end of the term you have an outstanding loan balance, Amex will raise your repayment rate to 100% until you have covered your obligation. It may also directly recoup the amount from your bank account.
Loans cannot be used for certain business purposes: The merchant financing products come with certain disallowed uses. You can't use funds to pay dividends to principals or pay off debts to an American Express affiliate. You also can't use them to purchase real estate or fund construction.
Lien on all business assets: As part of the lending process, Amex files a UCC-1 blanket filing, which gives it rights to any business assets (excluding real estate and motor vehicles) necessary to claw back the unpaid loan balance. Meanwhile, for one-year loans under $35,000, the lender may require a personal guarantee, an agreement that the borrower will repay the loan with their personal assets if business assets aren't enough.
American Express Merchant Financing vs. other sources of financing
Amex Merchant Financing offers an alternative that aims to be simpler and faster than the process borrowers might see at a traditional bank and cheaper than online lenders, Cotter says. If you accept American Express cards, it's worth a look.
That's not to say you shouldn't evaluate other options, including business credit cards, lines of credit, invoice factoring and term loans.
Business credit cards offer fast, flexible financing, and they come with the added potential bonus of helping you build up your business credit score. Cards typically have APRs ranging from 12% to 22% (plus other fees like annual fees, late fees and cash advance fees), though if you don't carry a balance month to month, you won't get hit with interest charges. Many cards come with rewards for spending on business purposes.
Lines of credit act a lot like credit cards in that you can draw the funds you need when you need them and pay interest on only the portion borrowed. Both offer a degree of flexibility that Amex Merchant Financing doesn't because its products are similar to loans. Business lines of credit through banks typically have APRs ranging from 5% to 12%, while online lenders offer 8% to 99%.
Amex merchant financing bears some similarities to merchant cash advances, or MCAs. Repayment in either case involves paying out a percentage of future receivables. There are two key distinctions, however. First, while Amex products have finite term lengths, MCAs usually don't — you pay for as long as it takes to pay off your balance, inclusive of any borrowing fees. Also, with MCAs there are no benefits to repaying early. You'll still owe the principal, plus borrowing fees. Amex offers rebates on your fee if you repay the loan early.
With invoice factoring, you sell your business's accounts receivables — customer invoices that have been charged but you haven't yet received payment for — in exchange for a lump sum of cash. Advances on invoices generally fund within a few business days and have less stringent borrower eligibility requirements than banks, but APRs can reach into the high double digits. » Interested in invoice factoring? Look at NerdWallet's invoice factoring explainer.
Term loans provide a lump sum of cash upfront that is repaid over a fixed time period. They have longer terms and higher borrowing amounts than other forms of financing, which make them ideal for making long-term investments in your business, such as real estate or equipment.
Depending on your intended use of the proceeds and how quickly you need the cash, term loans may be a better option than Amex Merchant Financing.
Loans through banks typically have the lowest rates, but the tradeoff is that you'll need good credit and strong business finances to qualify, and they may take longer before you receive the funding. Loans through online lenders typically have higher rates, but they are faster to fund and have looser business and personal credit requirements.
Find and compare small-business loans
NerdWallet has created a roundup of the best small-business loans to meet your needs and goals. We gauged factors including lender trustworthiness, market scope and user experience, and arranged them by categories that include your revenue and how long you've been in business.