Opening a Baskin-Robbins Franchise: Information and Costs
Learn what you need to know about opening a Baskin-Robbins franchise: candidate requirements, training, and costs.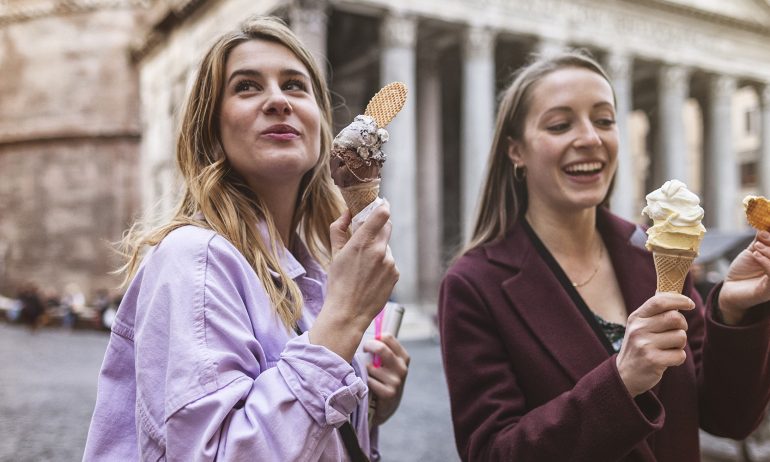 Many or all of the products featured here are from our partners who compensate us. This may influence which products we write about and where and how the product appears on a page. However, this does not influence our evaluations. Our opinions are our own. Here is a list of our partners and here's how we make money.
Few desserts are as widely beloved as ice cream. Opening a Baskin-Robbins franchise, therefore, can not only satisfy your inner child, but also can potentially be a great business opportunity if you're looking to launch and start a successful franchise.
Before you dive into franchising, though, you'll need to get a full picture of the Baskin-Robbins franchise opportunity—which includes detailed information about their requirements, pros and cons, and the Baskin-Robbins franchise cost.
In this guide, we'll cover these details and more, which will help you make a decision about whether a Baskin-Robbins franchise is right for you.
Baskin-Robbins is named after its founder, Irv Robbins. He managed an ice cream shop in Tacoma, Washington, in the 1930s, which gave him the inspiration to start a shop of his own. Robbins partnered with his brother-in-law, Burt Baskin, and the business name Baskin-Robbins was born.
The first Baskin-Robbins opened in Glendale, California, in 1945 as a standalone ice cream parlor—naturally, the shop had all 31 of those recognizable flavors. Then, in the 1950s, Baskin-Robbins began offering franchising. Along with big names like McDonalds, Dairy Queen, and others, Baskin-Robbins was one of the first food franchises in the United States.
By the 1960s, there were more than 400 shops in the U.S. and the company went overseas in the 1970s—now there are more than 7,800 worldwide locations and over 1,000 flavors in their library.
The most popular flavors? Mint chocolate chip, pralines n' cream, and the beloved vanilla and chocolate.
Today, Baskin-Robbins is part of the Dunkin' family of brands, whose headquarters are based outside of Boston.
Types of Baskin-Robbins franchises
You have two main options for Baskin-Robbins franchises: You can either buy an existing shop or open a new location. Each approach has its own set of costs and fees.
If you're interested in buying an existing location, your process will be a little bit different than opening a new location. There are some similarities, such as the royalty fee, marketing and advertising fees, etc.
On the other hand, you'll submit a completely separate application, need to meet a unique set of requirements, and your Baskin-Robbins franchise costs will vary.
Overall, there are benefits and drawbacks to both developing a new shop and purchasing an existing one—so it will be up to you to decide which, if either, of these options is right for you.
With all of this in mind, Baskin-Robbins also offers what they call "non-traditional shops," which are smaller locations in spaces such as airports, mass transit stations, stadiums, colleges, and more.
These opportunities have different terms and agreements, so if you're interested, you'll want to reach out to Dunkin' Brands specifically to find out the details.
Finally, it's also worth mentioning that Baskin-Robbins offers "turnkey development opportunities" in select markets. Compared to traditional opportunities, these stores often have a lower cash requirement and real estate, development, and construction managed by Baskin-Robbins.
Baskin-Robbins franchise pros and cons
As with any franchise, there are advantages and disadvantages to selecting Baskin-Robbins as your franchise of choice. That said, it's important to review both sides of the coin.
Name recognition: Baskin-Robbins has strong name recognition both across the U.S. and the world. Customers will know what to expect from the products before they even walk through the door, which can be good for a franchisee looking to capture customers.

Development incentives: Baskin-Robbins does offer some development incentives, including ones for military veterans and new store owners, that could help reduce the cost of getting a franchise off the ground.

Marketing support: Although the fee is high for marketing and advertising, this is partly because some franchisees say that the corporate support for getting the word out there is a strong pro to opening a Baskin-Robbins franchise.
Royalty fees: The royalty fees for opening up a Baskin-Robbins franchise are not cheap. The advertising and marketing ongoing fee is high compared to other franchises as well.

Rivals: There are several rivals in the space, including Carvel, Cold Stone Creamery, Dairy Queen, and more, as well as other local, independently owned businesses. As you're deciding whether or not a Baskin-Robbins franchise is right for you, it's important to see how close rivals would be in any location you're scouting.
How much does it cost to open a Baskin-Robbins franchise?
If you're considering opening a Baskin-Robbins franchise, cost is obviously going to be a major factor in your decision. As you might expect, franchise fees will vary depending on the type of franchise you're going to open and the location where you open your store.
Here are some of the most important Baskin-Robbins franchise fees to help you understand the investment.
Upfront costs for a new location
Initial investment: $94,350 to $402,200

Initial investments will vary depending on where you open as well as some additional site details. According to Baskin-Robbins, you can expect to pay upfront costs ranging from $94,350 to $402,200. These costs should include everything you need to open, from uniforms to fixtures and equipment.

The initial franchise fee for opening a Baskin-Robbins is $25,000 per location. It is good for a 20-year term.

The current net worth requirement to open a Baskin-Robbins franchise is $200,000.

You'll need access to liquid cash of $100,000.
It's important to note that for business owners who choose to develop a new Baskin-Robbins location, there is a development financial incentive. Baskin-Robbins offers 50% off the 20-year initial franchise fee, plus a 10-year payment plan—bringing the franchise fee down to $12,500.
In addition, they offer reduced royalty rates for five years. Instead of the standard 5.9% of sales, you'll have reduces rates that look like this:
Upfront costs for buying an existing location
Down payment: You'll need a minimum down payment of 10% of the full purchase price of the existing location.

Cash liquidity: You'll need to have 30% of the total selling price, plus cost of remodels, available in liquid assets.
The exact price will vary—and will come down to an agreement between you and the seller of the shop. Baskin-Robbins, however, must approve the agreement of sale.
The upfront costs are the first piece of the Baskin-Robbins franchise cost puzzle. As a franchisee, you'll incur additional fees, many of which are ongoing as you continue to operate your location. Among these fees are:
Royalty fee: 5.9% of gross sales

As with most franchises, Baskin-Robbins will require you to pay an ongoing franchise royalty fee, which is a percentage of your store's sales. The fee is 5.9% of gross sales, which you'll pay out to your corporate partner at predetermined time increments (generally monthly or quarterly).

Advertising and marketing fee: 5.0% of gross sales

One of the most common fees for owning a franchise is the marketing and advertising fee. Baskin-Robbins will assess a minimum of $5,000 per new location opening (and if you remodel and reopen, a $3,500 fee). Additionally, for advertising, you'll be required to pay an ongoing fee of 5.0% of gross sales. It's important to note that you'll have to follow the franchisor's guidelines for marketing and advertising implementation as well as its brand guidelines.

Online access fees: $300 each year

To get onto Baskin-Robbins's online system, you'll pay an initial $300. You'll have to pay $300 each year for an annual access fee, which is required per location that you own and operate.

Late fees: Baskin-Robbins may assess additional late fees if you're unable to pay your fees on time. Late fees will vary depending on the delinquent payment and the time for which it's overdue.
How to open a Baskin-Robbins franchise
Now that we've reviewed the costs and fees associated with starting and running a Baskin-Robbins franchise, let's walk through the steps you can follow to actually open one.
1. Review the requirements and submit your application.
In addition to the financial criteria we mentioned above, the ideal candidates for a Baskin-Robbins franchise should have:
An understanding of brand-building and local marketing

A demonstrated ability to build a successful team focused on customer service

The desire and resources to develop/purchase one or more locations
If you think you meet the requirements, you can submit your Baskin-Robbins franchise application online. After you've submitted your application, you can expect that the candidate approval process will take anywhere from 60 to 90 days.
Then, it'll take six to nine months after you've signed your store development agreement to actually open your store. This timeline may be faster if you choose to buy an existing location, as the construction has already been completed.
2. Complete your franchise training.
Baskin-Robbins requires franchise owners to attend a three-week training session at the Dunkin' Brands headquarters in Braintree, Massachusetts, just outside of Boston. Your training will include technical training onsite at store locations, learning their online systems, and skill building.
Each individual that attends the training will need to pay a $1,500 fee. There are 40 to 50 hours of onsite training required, and an additional 80 to 100 classroom hours required.
3. Get your store set up.
You're able to pursue your own real estate arrangements to find the right location and build your store. However, you also have the option to sublease from Baskin-Robbins. This will require a security deposit (refundable at the end of the sublease term) as well as a $100 administrative fee for all subleases.
In general, as you're calculating real estate, expect to spend between $15,000 to $200,000, much of which depends on the location of your store, the footprint, and more. If you're planning to buy land, you'll incur a separate cost.
That said, even if you decide to find your own real estate arrangements, Baskin-Robbins real estate and construction experts are available to help you identify and find your shop space, as well as ensure you meet their trade area and site criteria guidelines.
If you need financing to open up a Baskin-Robbins franchise, you're not alone—a good number of those looking to open up any type of franchise pursue financing to help them get up and running, especially when initial investment costs are high.
Although some companies directly offer financing, Baskin-Robbins doesn't have a financing option for franchisees. However, they do have some third-party relationships with financing companies that can help you with startup costs including the franchise fee, equipment and inventory, accounts receivable, payroll, and construction and real estate loans.
Baskin-Robbins states that there are quick turnarounds with their third-party financing partners, and a variety of flexible financing options. You can find more detailed information on financing in their franchise disclosure document (FDD) after you've submitted your application.
Beyond Baskin-Robbins's own financing partners, you also have the option to look into alternative sources of capital. Among these are alternative lenders that provide flexible and competitive business loans for both cash flow purposes as well as to finance specific assets, such as equipment and inventory.
Veteran financial incentive
It's common for franchisors to offer qualified military veterans incentives to open up locations, and Baskin-Robbins is no different. Baskin-Robbins waives the 20-year initial franchise fee for veterans on the first shop that they open.
Additionally, veterans receive reduced royalty fees for the first five years, including a 0% royalty fee in the first two years, 1.9% in the third year, and 2.9% for the fourth and fifth years (after six years, the royalty fee will be the same as other franchisors at 5.9%).
In order to qualify for these benefits, you'll have to prove your veteran status and meet some terms and conditions.
After you've accessed financing, chosen a location, and completed construction, you'll be on the right track to opening your Baskin-Robbins franchise.
As a reminder, it typically takes six to nine months from the time you sign your store development agreement to the time you open your doors for business.
As with any franchise, it's important to understand the whole picture involved with opening up a Baskin-Robbins franchise—you'll need all this information to find out not only if you can afford it, but also to make sure the pros of the opportunity outweigh the cons.
That said, you also might want to consider asking other Baskin-Robbins franchise owners how their experiences have been. Of course, you'll have a unique experience, but having a little bit of extra information can make a big difference when making the right choice for your potential franchise business.
This article originally appeared on JustBusiness, a subsidiary of NerdWallet.