Best Banks for Small Business in Colorado
Each of the best small business banks in Colorado has a competitive edge. Find one that fits your banking needs.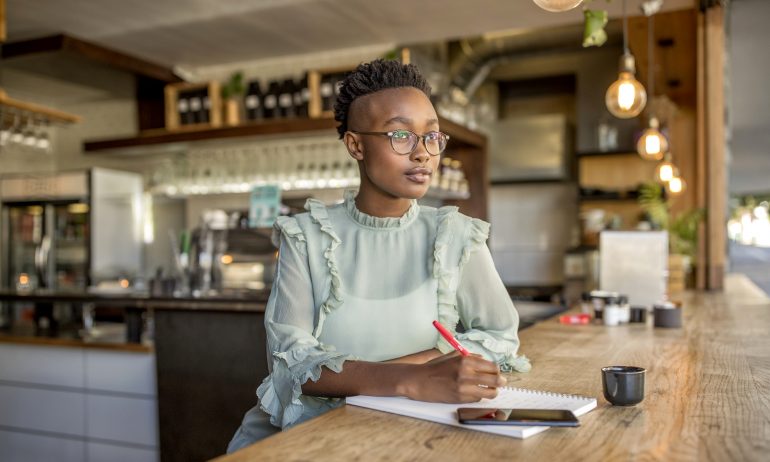 Many or all of the products featured here are from our partners who compensate us. This influences which products we write about and where and how the product appears on a page. However, this does not influence our evaluations. Our opinions are our own. Here is a list of our partners and here's how we make money.
Finding the right banking partner is crucial for entrepreneurs, as this relationship forms the backbone of how you process and manage your company's finances. And if you call the Centennial State home, you probably want to learn more about the best banks for small business in Colorado.
The good news is that the best bank for small business needs in Colorado depends on what you're looking for out of your banking relationship. The best banks for small business in Colorado each offer something unique and help them stand apart from their competitors: Whether that means getting a hassle-free SBA loan, finding a local business banking partner or tapping into the resources of a national banking partner.
Here are a few of the best banks for small business in Colorado, defined by what gives each of them an edge against their competitors.
with Fundera by NerdWallet
How to find the best banks for small business in Colorado
Before we dive straight into the banks for small business in Colorado, let's first examine some of the key differentiators between business bank accounts. This can help you decide which is the best fit for your business, as you'll be able to forecast your needs and desires from your account.
A local bakery that operates in all cash is vastly different than a small law practice that mostly accepts checks. Whereas the bakery needs the flexibility to make deposits and withdrawals frequently, a law practice might be better suited to open a business checking account that provides it with a path to grow into more feature-filled accounts as time goes on.
Before you consider the best banks for small business in Colorado (or any state, really), be sure you understand how your company's financials work. If you don't conduct a ton of transactions, you may not want to consider banks that give you this kind of flexibility at the expense of lower monthly balance minimums to waive fees. Alternatively, you might prioritize quick ATM access if you need to make cash deposits on the fly but would benefit from a bank's online profile more greatly if ATM access isn't as much of an issue for you.
Knowing how, when and why you use your banking provider can help you whittle down choices, and give you a better chance of finding the right bank account.
Pick a bank that will grow with you
The best banks for small business offer tiered checking accounts. The entry-level tier is perfect for new businesses with less cash in hand and fewer banking needs. Mid- and high-level checking accounts offer an increasing array of features, free items and other options that help you run your business's financials more efficiently.
Make sure you pick a bank that has several account options if you anticipate your company will grow, or if its financials might outgrow the bread-and-butter options provided with most basic tier checking accounts. Switching banks once your business is humming can be a frustrating experience, so choose wisely at the onset and spare yourself the hassle of opting for a new bank later on when you're busier.
Find a bank that rewards loyalty
Larger banks may reward their business checking customers for staying loyal to the firm. If you have a credit card or personal bank account with a bank, they may offer incentives like monthly fee waivers, additional items (like deposits and wire transfers), or make balance transfer a smooth and pain-free process.
If you haven't already opened a business credit card, think about applying for one at the bank where you do your daily business checking. You may receive a few perks just for keeping your financials under one roof.
Determining the best banks for small business in Colorado
The truth is that most business checking accounts are more alike than they are dissimilar. Each offers a debit card, a set number of free withdrawals and deposits, and just about every one of them provides some level of online banking for their customers' convenience.
Since most banks for small business in Colorado share similar features, the best way to rank each of them is by looking at one specific area in which they shine. That's why we've paired one positive attribute with each of the banks below, helping you decide which one might be right for you based on your specific business needs.
For free checking: Bank of Colorado
The Bank of Colorado offers a one-two punch for small business owners. The bank's Business Free Checking is free from fees and offers 500 free transactions per month, including debits, deposits and checks. Plus, they're only found within Colorado, making them an attractive option for small business owners in Colorado who would prefer to bank with a local company than a nationwide chain.
Bank of Colorado isn't just one of the best banks for small businesses in Colorado because of its free business checking and local presence. The bank also offers two other account tiers—Corporate Business Checking, which is designed as the Bank of Colorado's middle option, offers credit on its account holders' balances, which offsets service charges. This account's $8 monthly fee and lack of a minimum balance requirement make it a great option for companies that need a little extra support. On the higher end of the spectrum, Bank of Colorado's Commercial + Interest Checking helps you earn interest on your account balance and only costs $12 a month.
For branch access: U.S. Bank
Banking locally isn't perfect for every business, of course. That's where U.S. Bank can be a perfect fit as a small business bank in Colorado. U.S. Bank can be found in 40 states with 3,013 branches spread across them. There are at least 20 U.S. Bank ATMs in Colorado alone, which makes banking on the go an easy process.
U.S. Bank offers four business account levels—Silver, Gold, Platinum and Premium. U.S. Bank Silver business checking provides account holders with the everyday staples they need to run their business. You'll get 150 free transactions per month, with additional charges costing $0.50 each. You'll also get 25 free cash deposits and won't have to pay a monthly fee to keep the account open. U.S. Bank Gold and Platinum options cost $20 and $25 each, but come with 300 and 500 free transactions per month, as well as 100 and 200 monthly free cash deposits, respectively. Premium accounts come with terms that are determined on a case-by-case basis since they're designed for larger companies that need additional support.
For banking local: Community Banks of Colorado
Community Banks of Colorado offers local banking solutions for Colorado's small business owners. The bank is part of a network of regional banks in other states, which means that it has a slightly different outlook than some of the larger, national banking providers. At the heart of Community Banks of Colorado's mission is simplifying the banking process for its clients, which is an additional perk for small business owners who may not have the kind of time or resources to actively monitor their banking relationship.
Community Banks of Colorado offers five levels of checking support for small business owners. Its entry-level tier, Small Business Checking, only requires an initial $100 deposit to open an account. The $10 monthly service charge gets waived with a $1,000 minimum daily balance, an average daily balance of $2,000, or by spending $1,000 per month through debit card purchases. In return, you'll get mobile deposit support, bill pay help and 150 free transactions per month. Small Business Interest Checking, Business Checking and Business Performance Checking come with different levels of free transactions, listed fees and monthly cash deposit and withdrawal limits.
For account options: Colorado Business Bank
The Colorado Business Bank aims to give its clients the personalized attention that comes with banking locally, all while having the same product range of a larger banking institution. Their strategy helps back up this claim too: the Colorado Business Bank offers a ton of variety within each of its business banking options. Colorado Business Bank Basic Checking offers the run-of-the-mill features you'd expect from most entry-level bank accounts, while Business Banking Essential Checking and Business Complete Checking each provide tailored products to help medium- and large-scale companies reach their goals.
There are plenty of other options out there as well, specifically for non-profits and high-balance business accounts. If you want to sign up with a bank that can grow alongside your business, Colorado Business Bank might be the right option for you.
For growing companies: Chase
Chase is a great option for companies that plan to expand. This bank offers accounts with plenty of great features and a local branch or ATM can be found almost anywhere across the United States. With Chase business checking, you'll be able to count on the support of a nationwide bank, as well as enjoy the flexibility of withdrawing or depositing money when you're on the go.
Chase also offers three business checking accounts to fit your need depending on where your business is at the moment—as well as where it'll go in the future. Chase Business Complete Banking is the bank's entry-level checking product that provides access to free, unlimited non-wire electronic deposits which can be great for people who do most of their transactions electronically.
Chase Performance Business Checking takes the perks of the Business Complete Checking a step further, offering 50 fee-free transactions per month. Any additional transactions cost the same $.40 cents. You'll also get unlimited electronic deposits and incoming wire transfers. You can also make $20,000 in cash deposits every month with no fee. Chase Platinum Business Checking is the top-tier option, providing 500 free transactions every month. You can deposit $25,000 in cash every month without a fee and accept four incoming domestic wire transfers without encountering a fee.
Finding the best bank in Colorado for your small business
If you're looking for the best banks for small business in Colorado, the good news is that you're awash in a ton of great options. Most account offerings are similar in their own right, but each bank offers a competitive edge that sets it apart from its competitors. The best way to decide which Colorado bank is best for your small business comes down to what you and your business need the most—if that's personalized attention, national scope, or a wide variety of options, there's a bank out there to help you focus on what matters.
This article originally appeared on Fundera, a subsidiary of NerdWallet.