Best Property Management Accounting Software
Compare the best property management accounting software options and determine which solution is right for you.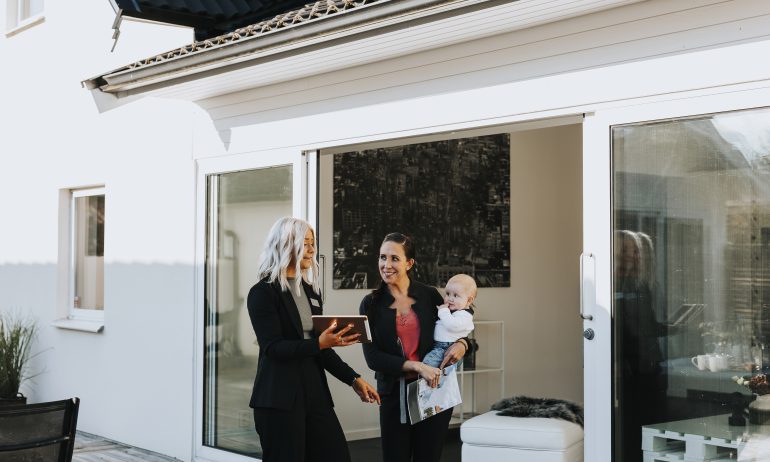 Many or all of the products featured here are from our partners who compensate us. This influences which products we write about and where and how the product appears on a page. However, this does not influence our evaluations. Our opinions are our own. Here is a list of our partners and here's how we make money.
Even the smallest property management companies have a lot to manage — collecting rent, managing lease agreements, fielding maintenance requests and more. Therefore, busy property managers need accounting software that goes beyond accounting.
The best software solutions are easy to implement and use, cloud-based and grow with your business. If you don't want — or don't yet need — an all-in-one solution, then your property management accounting software must also integrate with an off-the-shelf accounting package.
Additionally, if you have multiple LLCs within your property management business, you'll want to keep in mind that many property management accounting software options (including those listed below) require separate subscriptions for individual LLCs.
Here are recommendations based on the size and needs of your property management company.
Best for very small or new property management companies.
If you're asking — Can I use QuickBooks for property management? — the answer is yes.
Although it's not strictly a property management accounting software, you can use QuickBooks Online for your very small or new property management company.
QuickBooks Online offers a number of helpful features:
Automatic recurring invoicing and sales receipts, which make rent collections simple.

Integrated merchant services options, which let you put payment links right on your invoices.

Class tracking, so you can easily produce profit and loss statements for each property in your portfolio.

An extensive suite of add-on applications, which you can use to streamline your vendor payments, payroll and any other accounting functions you need.
What QuickBooks Online lacks, though, is a comprehensive administrative module for your property management company. Unlike software created specifically for property managers, QuickBooks Online does not have lease management, maintenance or marketing functions.
Another consideration is price — QuickBooks Online has subscription plans ranging from $25 to $150 per month. Most property management companies will need the QuickBooks Online Plus plan, which is currently $70 per month, and larger companies will require QuickBooks Online Advanced, which costs $150 per month.
Keep in mind you will need a separate subscription for each LLC you manage, so this low-cost solution might not be very low-cost for long.
Therefore, when you take into consideration the lack of administrative functionality in QuickBooks, you might find another option better suited to your needs.
2. QuickBooks Desktop Pro
Best for growing businesses that want to use QuickBooks.
Another option for businesses that are partial to QuickBooks products is to use QuickBooks Pro (also known as QuickBooks Desktop). Unless you choose a remote hosting option, however, you will lose the cloud-based access QuickBooks Online users enjoy.
However, what you gain with QuickBooks Pro is more advanced reporting and the ability to manage multiple LLCs with one purchase. Unlike QuickBooks Online, QuickBooks Desktop lets you set up separate companies without purchasing multiple software licenses.
In terms of pricing, QuickBooks Pro costs $299.95. This one-time payment allows for up to three users and multiple LLC management. You will need to upgrade your software every three years, but your overall investment will still be considerably lower with QuickBooks Desktop vs. QuickBooks Online.
Additionally, a new option available is QuickBooks Pro Plus.
This is also a desktop solution, but it's subscription-based and includes additional features like unlimited support and automatic data backup. Your first year's subscription will cost $199.95, going up to $299.95 in year two and beyond. Plus, additional users are $250 per year.
Best standalone tool with QuickBooks Online integration.
If you want all the features of a property management system while maintaining your accounting in QuickBooks Online, then consider Properbooks.
Although you can use it as a standalone property management tool, Properbooks works best when integrated with QuickBooks Online to streamline your property management and your accounting tasks.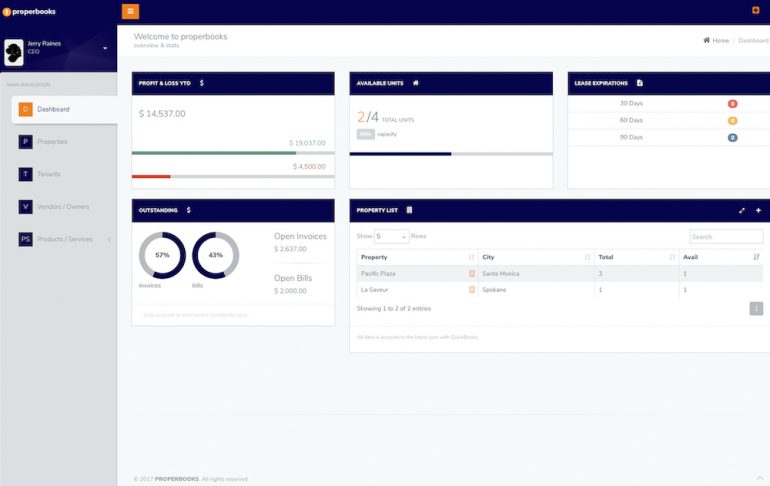 Properbooks doesn't have all the features of some of the other property management solutions on our list, but it covers most of the bases, including:
Tenant contact information.
Properbooks' affordable $25 monthly subscription cost allows five users to access the system, allowing your team to do their work without having full access to your accounting information.
Best all-in-one software for smaller property management companies.
Buildium is a popular property management accounting software option among bookkeepers who specialize in the property management niche. Not only is it a complete accounting solution, but Buildium also offers a robust property management platform, including:
Online portals for your residents and owners.

Free marketing websites for your business.

eLeases (an additional charge applies at the Essential subscription level).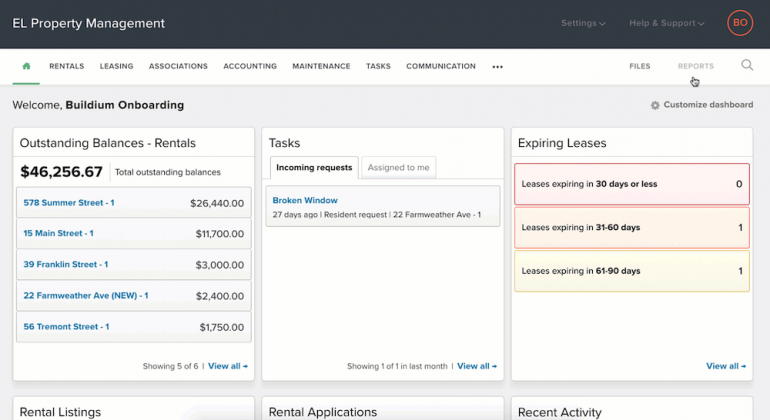 In addition, Buildium is one of the most affordable all-in-one solutions available. Pricing starts at $50 per month for its Essential plan — which allows you to manage up to 150 units. For its Growth plan, pricing starts at $160 per month and allows you to manage up to 5,000 units.
Finally, the Premium plan starts at $460 per month and can also manage up to $5,000 units. The ultimate price you'll pay with any plan will depend on how many units you manage.
Best for midsize property management companies.
Starting at $100 per month for up to 100 residential units, Yardi Breeze is a great property management accounting software choice for midsize property management companies.
A complete accounting platform.

Task and activity calendars.

Different access levels for the various members on your team.

Online applications, screening and leases.

Powerful owner tools for multi-owner enterprises.
And much more, including a website add-on and the ability to showcase your listings on popular rental websites.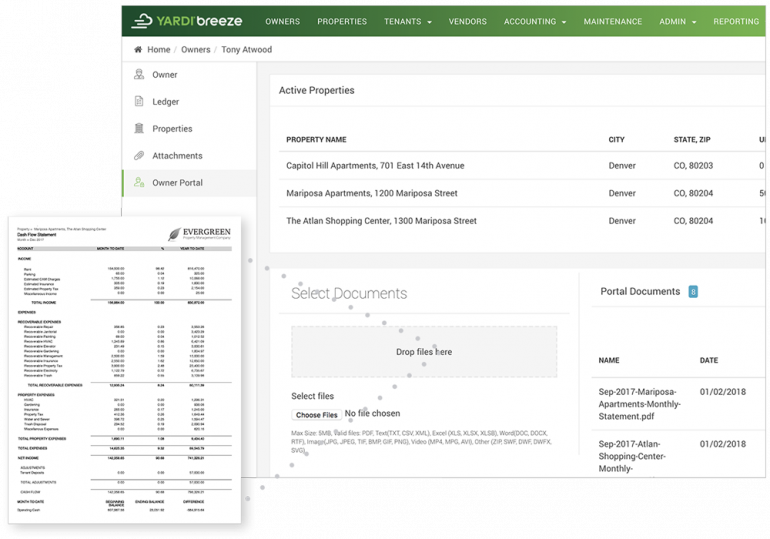 Yardi Breeze doesn't stop with residential rentals, though. You can also manage commercial, self-storage, manufactured home and rental associations through this platform — making it a great real estate accounting software option as well.
Best for large property management enterprises.
Appfolio could be the perfect fit for your large property management enterprise. Starting at $1.25 per residential unit per month with a $250 per month minimum, you won't compromise affordability for power with this property management accounting software.
Appfolio does charge an implementation fee based on your total portfolio size, however, and you must have at least 50 units in your portfolio to onboard with this platform.
Full accounting and real-time reporting features.

Online maintenance requests and work orders.

Professional websites and marketing campaigns.

Vacancy dashboard and posting.

Rental applications and tenant screenings.

Online leases and portal.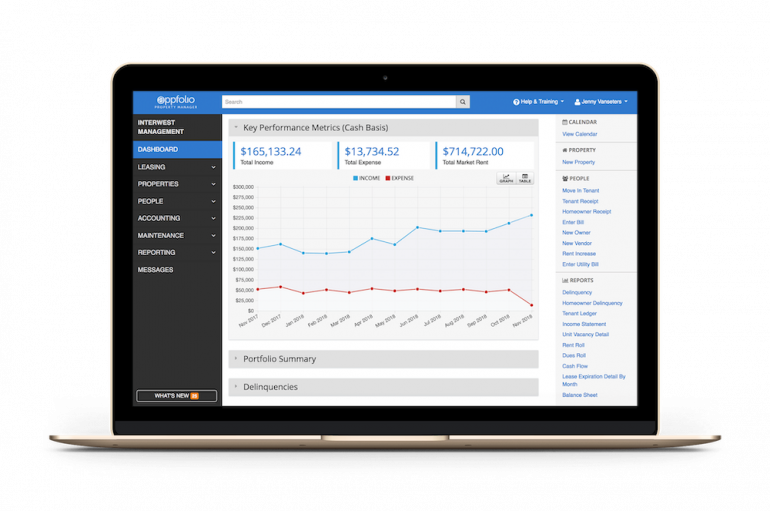 Although there isn't a significant difference in features between Yardi Breeze and Appfolio, if you manage student housing properties, Appfolio is the clear winner.
Appfolio allows you to manage rents and vacancies by the bed without changing the lease for all the residents in a unit — something our other software recommendations don't do.
A version of this article was first published on Fundera, a subsidiary of NerdWallet.