The Best Accounting Software for Small Retail Businesses
Here's a comparison of retail accounting software so you can decide which is best for your small retail business.
Many or all of the products featured here are from our partners who compensate us. This may influence which products we write about and where and how the product appears on a page. However, this does not influence our evaluations. Our opinions are our own. Here is a list of our partners and here's how we make money.
Opening a retail store is a big accomplishment. To enjoy any possible profits of your retail store, however, you have to remain organized and properly manage your finances — making the right retail accounting software essential.
How do you determine which business accounting software is right for you? It's all about understanding what each option has to offer.
Bench: America's Largest Bookkeeping Service for Small Businesses.
Get 30% off Your First 3 Months!
Ultimately, the best accounting software for your retail business will be the one that's easy to use, affordable and meets your unique financial needs.
With this in mind, you might start your search with these options — some of the top retail accounting software solutions on the market:
Best for brick-and-mortar retail shops
As you search for the right retail shop accounting software, there's no doubt you'll come across the QuickBooks suite of products. QuickBooks is one of the most popular accounting solutions for small businesses out there — and for good reason.
In particular, the more traditional QuickBooks Desktop is a great option for brick-and-mortar retailers.
With QuickBooks Desktop, you can:
Track income and expenses

Manage bills and accounts payable

Track inventory with up to 14,500 items
Additionally, QuickBooks Desktop can integrate seamlessly with QuickBooks Payroll, as well as QuickBooks POS, Payments and TSheets.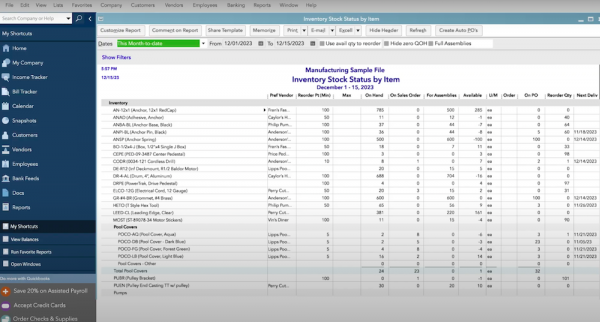 Inventory management in QuickBooks Enterprise. Image source: QuickBooks
With this in mind, there are three versions of QuickBooks Desktop — Pro Plus, Premier Plus and Enterprise — which each offer an increasing level of functionality (with associated costs).
For retail shops just starting out, QuickBooks Pro Plus will likely be the most affordable and suitable option, with an annual subscription of $349.99 per year. On the other hand, businesses with more complex needs will find that Enterprise is one of the most powerful retail accounting software solutions out there.
All of this being said, it's important to remember that QuickBooks Desktop is a locally hosted product — meaning you download it and run it on a specific computer. Therefore, if you operate multiple stores or an online business and want to be able to manage your finances wherever you go, you might instead choose to explore cloud-based retail accounting software.
Best for brick-and-mortar businesses with multiple locations
When it comes to cloud-based retail accounting software, QuickBooks Online is going to be one of the best solutions out there. Similar to QuickBooks Desktop, QuickBooks Online is known for its reliability, range of features and powerful accounting tools.
Unlike QuickBooks Desktop, however, QuickBooks Online is web-based — meaning you can use your account anywhere you have internet access. In this way, QuickBooks Online is a much more flexible solution, making it a great choice for multi-store retail businesses, as well as online retailers.
This being said, although QuickBooks Online may not have a plan quite as powerful as QuickBooks Enterprise, it does offer four plan levels, allowing you to scale your retail accounting software as your business grows.
Overall, regardless of which of the four plans you choose, QuickBooks Online will allow you to:
Track income and expenses

Capture and organize receipts

Send estimates, invoices and accept payments

Track sales and sales tax

Utilize the QuickBooks mobile accounting app

Integrate with QuickBooks solutions (like QuickBooks POS, Payroll and Tsheets) as well as hundreds of third-party tools.
Along these lines, it's important to note that the first two plan options Simple Start and Essentials, do not include inventory tools automatically within the platform. Therefore, you'll likely either want to opt for the Plus plan or find an affordable inventory management software that integrates with QuickBooks Online.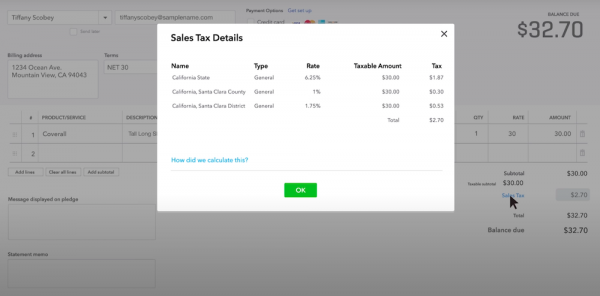 Sales tax settings in QuickBooks Online. Image source: QuickBooks
Pricing for QuickBooks Online ranges from $30 per month to $200 per month, depending on the plan, making it an affordable solution for retail shops of all different sizes.
Additionally, the accessibility of QuickBooks Online makes it a worthwhile accounting software for ecommerce businesses as well — especially since you can easily integrate with platforms like Shopify, Square, WooCommerce and more.
Best for online retail businesses
With unlimited users, inventory management included in all plans and over 700 third-party integration options, Xero accounting is one of the best accounting software solutions for online retail businesses. A top alternative to QuickBooks Online, Xero offers many of the same features, with a few slight differences.
First and foremost, Xero includes unlimited users with all three of their plan options, as well as inventory management tools, among a full range of standard bookkeeping and accounting features.
Additionally, Xero's three plans fall at a generally lower price point in comparison to QuickBooks Online, with the Early plan starting at $12 per month — although this plan limits the number of invoices, quotes, bills and transactions you can make on a monthly basis.
For $34 per month, however, you can opt for the Growing plan, which eliminates these restrictions (and is a similar monthly cost compared to QuickBooks Online).
Overall, Xero is a robust retail accounting software option, offering:
Purchase order management

Sales tax calculations and management

Payment acceptance and more.
Plus, like QuickBooks Online, Xero is a cloud-based software — meaning you can access your account anywhere with an internet connection. Moreover, Xero has a dedicated mobile app, a partnership with Gusto for payroll services and can connect to popular POS systems and ecommerce platforms, such as Square, Shopify, Lightspeed, BigCommerce, Magento, etc.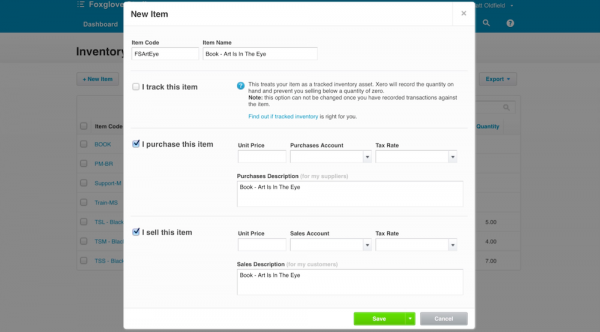 Item inventory tracking in Xero. Image source: Xero
All of this being said, with integrated inventory tools, a vast network of integrations and general affordability, Xero is a great accounting software choice for online retail businesses and is certainly worth considering for brick-and-mortar stores as well.
Best for bundling retail accounting software with other business tools from the same provider
If you're looking to bundle your retail accounting software with additional business tools from the same provider, you'll want to look into Zoho Books.
On top of the Zoho Books accounting software, Zoho offers a range of products that can integrate seamlessly together — including Zoho Inventory, Expenses, Analytics, CRM and more.
In addition, Zoho Books is one of the most affordable business accounting solutions out there, with their highest level plan, Professional, priced at $29 per month. This being said, the Professional plan includes a vast feature set, such as:
Invoices, bills and estimates

Time and expense tracking

Reporting, budgeting and banking

Vendor credits, purchase orders and sales orders

Sales and purchase approval

Sales tax and 1099 tracking, and more.
It's worth noting that although Zoho Books has two lower-level plans, many of the retail-specific features — inventory, sales orders, purchase orders, etc. — are only available with the Professional plan.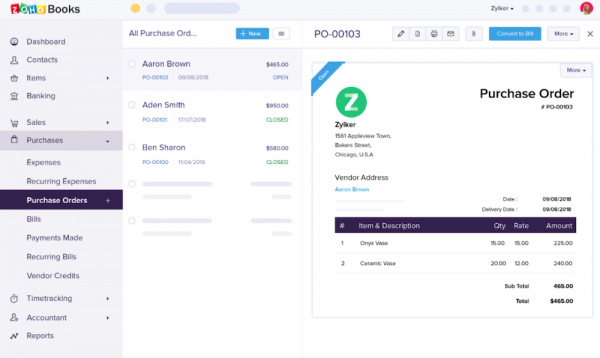 Purchase order management in Zoho Books. Image source: Zoho
With this in mind, Zoho Books also offers a mobile accounting app, multicurrency and multi-lingual accounting, as well as project management tools.
Compared to solutions like Xero and QuickBooks, on the other hand, Zoho Books is relatively light on their integration options — but makes up for some of this with their own vast suite of business products.
Therefore, if you're looking for affordable accounting software that you can bundle with other tools for your small retail business (whether brick-and-mortar or online), Zoho Books may be the right solution for you.
Best free accounting software for small retail businesses
If you're just starting your retail business, whether online or with a brick-and-mortar store, you may not have the budget to invest in accounting software. In this case, Wave accounting may be the best accounting software for your small retail business.
With Wave, you can sign up for an account and use their web-based software with no subscription fees. You'll only pay associated fees if you choose to utilize their online payment processing services or integrated payroll. All of your bookkeeping and accounting tasks, however, you'll be able to manage for free.
This being said, on the whole, Wave includes features like:
Bank and credit card connections

Income and expense tracking

Customizable invoicing and receipt scanning

Unlimited guest collaborators

Bill and invoice reminders, and more.
In addition, Wave offers a mobile app for their invoicing software.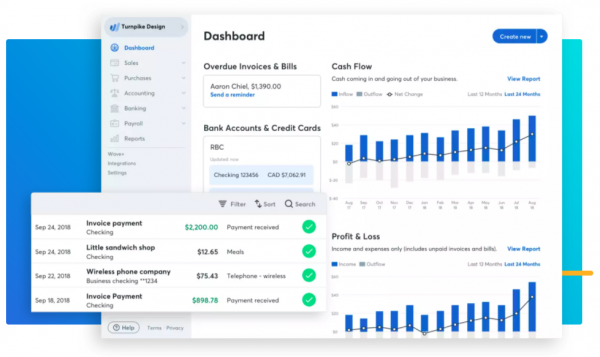 Wave accounting dashboard. Image source: Wave
Compared to other retail accounting software options on this list, Wave is lacking in some advanced features, as well as integration options, however, it's hard to find free accounting software that's as user-friendly and fully-functional as Wave.
Therefore, if you're a new retail shop looking for accounting software on a budget, Wave will definitely be worth considering.
What is retail accounting software?
One of the first questions you might be asking is: What qualifies as retail accounting software?
In reality, any business accounting software can qualify as retail accounting software if you use it for your retail business. This being said, however, there are certain accounting software solutions that will be better suited for small retail businesses than others.
In addition to the standard bookkeeping and accounting tools you might look for in your retail accounting software, here are a few features, in particular, that will be important for retail businesses:
Inventory is the lifeblood of a retail business, so it's extremely helpful to have inventory management tools integrated within your accounting software.
This being said, however, inventory management should expand beyond monitoring the merchandise you have in stock. Along these lines, you'll want to look for accounting software that can determine your cost of goods sold, the profitability of each product you sell, how long your inventory sits on the shelves or in the warehouse before it's sold, the rate at which your entire inventory turns in a given period and shrinkage due to theft or damage.
Although your point of sale system might be able to take care of some of these functions, it will nevertheless be beneficial to your business to have inventory tools within your retail accounting software.
Most states charge a sales tax, though certain items like medication, food and clothing may be exempt in your state. With the increased impact of online business on sales tax revenues, many states are passing laws requiring out-of-state retailers to collect and remit sales taxes.
Therefore, you'll want to look for retail accounting software that can track sales taxes due and customize your sales tax settings based on your business. Additionally, if you're an online retail business, you may search for accounting software that caters specifically to the ecommerce industry in this way — a solution that can integrate with your ecommerce platform will be particularly helpful.
Payroll capabilities or integrations
If you have employees operating your retail store, payroll will be an important consideration to take with regard to your accounting software. Although payroll isn't unique to retailers, it's often one of the biggest expenses these businesses incur.
Therefore, you'll want to make sure that your accounting software can handle your payroll correctly and efficiently. In this way, you might choose an all-in-one accounting solution that includes payroll functionality, or simply a platform that can integrate with separate payroll software.
A version of this article was first published on Fundera, a subsidiary of NerdWallet.
Bookkeeping and accounting software

Sage 50cloud $48.17 per month (when paid annually) and up.

Wave Financial Free (add-ons available).

Xero $13 per month and up.

Zoho Books $0 per month and up.