Bindo POS Review: Features, Cost, Alternatives
This review examines Bindo's major features and pricing to see how it stacks up against other POS systems.
Many or all of the products featured here are from our partners who compensate us. This may influence which products we write about and where and how the product appears on a page. However, this does not influence our evaluations. Our opinions are our own. Here is a list of our partners and here's how we make money.
Bindo is an iPad-based POS system that's designed especially for retailers and restaurant owners. With this POS system and its compatible card-reading hardware, you can accept payments from your iPad at brick-and-mortar locations; and with Bindo Storefront, digital retailers can integrate their existing e-commerce websites with the Bindo POS system. This detailed guide can help you decide if Bindo is the right choice for your business.
Find the right payment provider to meet your unique business needs.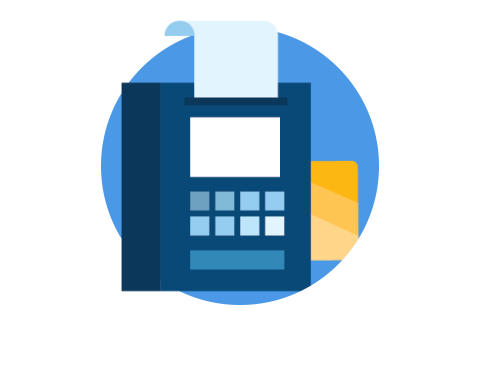 Bindo provides tailored iPad/iPhone-based POS systems for several types of retail and restaurant businesses, whether they're managing single or multiple locations. Bindo POS is compatible with in-store, online or mobile payment processing, too.
Bindo's cloud-based POS systems are loaded with 300+ features. Keep in mind that you can manage all of these features on your Bindo Dashboard, which is optimized for your computer, tablet and phone; and if you have a developer on your team, you can request access to Bindo API so you can further customize your POS system.
As a retail and restaurant-focused POS system, Bindo carries a range of hardware that can turn your iPad into a full-service countertop register, including receipt and label printers, cash drawers, barcode scanners, scales and iPad stands.
Bindo offers two PCI-compliant credit card readers: a mobile card reader that plugs into your iPhone or iPad's headphone jack; and the Ingencio iPP350, a plug-and-play terminal that accepts EMV, magstripe and contactless credit card payments at the register (Bindo's software is equipped to support both chip cards and EMV cards).
It's up to you to choose which merchant services provider you'd like to work with, and once you make your choice, Bindo guarantees integration with its credit card readers in 24 hours.
If you're currently working with a payment processor and looking to switch to Bindo POS, you can also reach out to Bindo's customer support to find out whether your processor is compatible with its software.
If you have an existing e-commerce store, you can easily integrate your Bindo POS system with your website by adding a single line of HTML code, which you or your developer can do in a matter of minutes. With Bindo Storefront as your payment gateway, Bindo will take care of all the back-end tasks involved in online credit card processing, and you can customize its layout to suit your brand's online aesthetic.
One of Bindo's major offerings is its robust inventory-management capabilities — rightfully so, as this is crucial for retailers and restaurant owners who need to take careful stock of their goods.
When you scan an item, Bindo will fetch the item's information from its database of over 10 million products and automatically update your POS system accordingly, so you never need to manually input inventory data. You can also track your stock and sales with detailed, real-time updates and create custom reports. Bindo also features a product matrix that allows you to easily search your inventory.
If you work with suppliers, Bindo POS is equipped with purchase order management capabilities, in which you can safely store your invoices and receipts and check on your order statuses. Your Bindo POS will also automatically suggest reorders on stock that's running low.
Bindo can provide detailed analytics and data insights about your sales even beyond its inventory reports, including income statement analyses, comparisons of your best- and worst-selling products, sales reports over time and detailed breakdowns of every transaction. Also, Bindo integrates with QuickBooks so you can easily transmit reports to and from your accounting software.
Bindo comes pre-loaded with a PIN-based time clock so your employees can clock in and out digitally, and you can then view real-time reports about your staff's weekly and monthly shifts. During their shifts, employees can use Bindo's cash management tool to track all transactions and then automatically calculate the expected cash in the drawer when they clock out.
Customer relationship management
With Bindo's CRM summaries, you can track your customers' buying history and see exactly how much they've spent this month, this year and since the beginning of their patronage. You can also create customer profiles to capture their personal information and order history. Through Bindo, you can also create customized, branded gift cards and you can offer your customers a loyalty program.
Bindo doesn't provide pricing information on its website, but you can request a quote by filling out some basic business information online, or you can call for more information. Also note that Bindo offers a 14-day free trial period for its services.
Although Bindo POS has online selling and limited mobile capabilities, at its heart this POS system is designed for brick-and-mortar retail businesses — don't forget, too, that you need an iPad if you want to use Bindo as your point-of-sale system.
So if you want a POS system with more flexibility in where and how you accept payments, or if you simply want to explore other trusted POS systems, consider one of the following alternatives:
So many small-business owners turn to Square as their POS system of choice, especially because this product was designed for small-business owners to be able to accept payments and manage their businesses digitally (it was also one of the first cloud-based, all-in-one POS systems on the market).
This tech-focused POS system, which includes a free version, allows you to accept payments and automate other aspects of your business from a centralized dashboard, like inventory tracking, reporting and CRM tools. You can also integrate other aspects of Square's myriad services, like Square Appointments, its appointment-scheduling software and Square Payroll.
Square offers a full range of physical hardware, including a full-service countertop register and a smaller tablet stand that includes a card reader. It also has mobile readers that you can plug into your phone or tablet so you can accept chip, contactless and swipe cards on the go. And if you'd like to sell your goods online, you can build your store directly through Square Online Store and take advantage of Square's dedicated e-commerce solutions.
Square is equipped to process payments itself, so you won't need to sign up for a third-party payment processor. It charges payment processing fees on a per-transaction basis.
Clover is yet another highly customizable, all-in-one POS system that allows small-business owners to accept payments at point-of-sale while also managing other crucial aspects of their business, like inventory, customer relationships and staff.
Clover has a flexible lineup of hardware:
Clover Go: A mobile POS reader that connects to your phone or tablet and can accept swipe, chip and contactless payments.
Clover Flex: A handheld, Wifi-connected POS terminal that can accept all types of credit card payments, capture signatures, scan barcodes and print receipts.
Clover Mini: A small countertop register that has similar capabilities to Clover Flex.
Clover Station: A full-service countertop register with a card reader and cash drawer.
On top of its physical POS terminals, Clover offers a virtual terminal that allows you to accept payments on your computer. Do note that Clover's hardware is a little pricey, but you'll be getting one of the most advanced cloud-based POS systems available. Clover also offers POS systems designed especially for retail and restaurant businesses.
In addition to Clover's robust built-in business management features, you can also access the Clover App Market where you can search and download tons of compatible apps for even greater customization. You can also integrate your Clover POS system with other software you're using to run your business, like QuickBooks, MailChimp and Shopify.
If you plan on selling your products online through a dedicated online store, consider Shopify, which is arguably the most powerful e-commerce platform available. Through Shopify, you can build your e-commerce store from the ground up and then leverage the platform's robust, cloud-based tools to help you manage and market your store and your customers. And if you can't find the tool you need within Shopify itself, you can probably find what you're looking for in the Shopify App Store, on which you can search for hundreds of apps you can integrate into your Shopify POS system.
Once you've set up and customized your store however you see fit, you can accept your customers' payments through Shopify Payments, the platform's native payment processing system that's powered by Stripe. And if you're still selling items in your physical location, you can use Shopify POS, its range of physical POS hardware that syncs with your digital store.
A version of this article was first published on Fundera, a subsidiary of NerdWallet.