Helcim Review for 2021: Features, Pricing, Alternatives
We'll break down the offerings of Helcim — including features, pricing, reviews and top alternatives.
Many or all of the products featured here are from our partners who compensate us. This may influence which products we write about and where and how the product appears on a page. However, this does not influence our evaluations. Our opinions are our own. Here is a list of our partners and here's how we make money.
If you're looking for an all-inclusive merchant service provider, consider Helcim. Its transparent pricing, Helcim Commerce platform and additional capabilities make it a valid choice for a variety of small-business owners. Here's what you need to know to decide if Helcim might be a good fit for your business.
As a full-service merchant services provider, Helcim gives you access to a number of different capabilities — all of which enable you to process customer payments and manage your business.
To work with Helcim merchant services, you first submit a merchant account application, and once you're approved, you receive a merchant account for your business. This merchant account allows you to accept credit card payments (and debit too) — including Visa, MasterCard, Discover, American Express, JCB and China UnionPay — from customers. Using Helcim means you don't have to open a separate merchant account with a bank, but you do have to apply for a merchant account and Helcim reserves the right to reject your application. Helcim's Acceptable Use Policy details a list of prohibited businesses that it won't provide services. This list includes "high-risk merchants," like telemarketing companies, internet gambling providers, telemedicine services and more.
Find the right payment provider to meet your unique business needs.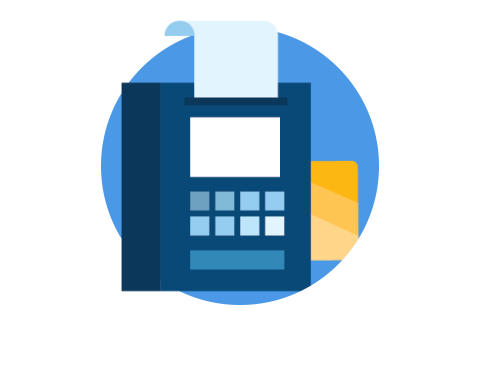 Credit and debit terminals
If you run a brick-and-mortar store and need to accept credit card payments in person, Helcim offers a variety of different terminals for you to choose from. Helcim offers these physical terminals at a one-time cost and doesn't lock you into a long-term equipment lease. Terminal options from Helcim include:
Helcim Mobile Card Reader: Compatible with Apple and Android devices, connects via audio jack.

Wired Countertop, Ingenico DESK3500: Chip card reader (chip and PIN/EMV).

Short-Range Wireless, Ingenico iWL220: Bluetooth terminal for pay-at-table capability.

Long-Range Wireless, Ingenico iWL250: Built-in SIM card, accept payments from almost anywhere (requires additional data plan).
With all of its hardware products, Helcim includes a one-year cost-free replacement. If you have already have a terminal, Helcim offers a terminal exchange program. For $75 per exchange, you can send in your current hardware in exchange for a refurbished terminal from Helcim — programmed and ready-to-go when it arrives. Only certain terminals are eligible for this program, so you'll want to work with Helcim directly if you're looking to utilize its terminal exchange.
As part of the Helcim Commerce platform, you get access to the Helcim mobile app for iPhone, iPad or Android devices. With this app, you can use the mobile card reader hardware to process payments directly on your mobile device. Although you can use the physical mobile card reader, you can also manually enter customer credit card information into your device. Helcim allows you to download the app to an unlimited number of devices, and your data will automatically sync across them.
In addition to the physical terminal options Helcim offers, its merchant services also includes a virtual terminal so you can accept payments on your computer. Using its web interface, you can log in from any device that has internet access and authorize credit card transactions in real time. With the virtual terminal, you manually enter the customer's credit card information as well as additional information (billing and shipping addresses, invoicing, etc.) if you choose to do so. You can send customer receipts via email or print them. The virtual terminal also allows you to perform refunds and voids, set up recurring payments, view transaction history and accept other kinds of payment (cash, checks, bank deposits, ACH payments).
Point-of-sale functionality is included as part of the Helcim Commerce merchant platform. Using the web-based version of Helcim Commerce or the mobile app, you have the ability to check out your customers and track inventory, payments, sales trends and customers. You can download the mobile app on as many devices as you need, and your data will automatically sync — plus, it will connect to all of the information stored in the Helcim Commerce platform. You can also create unlimited user accounts for staff.
Helcim's POS inclusion gives you the ability to customize your own checkout, providing templates that you can adjust and that will sync across all of your devices. Your Helcim point-of-sale can integrate with all of your different hardware options: the mobile card reader and other physical terminals, as well as compatible printers, cash drawers and barcode readers.
Accept payments on your own website using Helcim's hosted payment pages. These pages allow you to accept payments, register customers, save credit cards and subscribe users to recurring payment plans. These payment pages are fully customizable: You can change the data fields as well as the design. The hosted payment pages can even be used as a full shopping cart system. You can use these pages to add "buy buttons" to your website without having to enable the full Online Store. Customers will be able to add and remove items from their cart, taxes and totals will be calculated and shipping integration is supported.
If you need to add credit card processing to additional applications you can do so with Helcim's payment gateway API. The payment gateway API allows you to authorize payments, void transactions and manage your batches from the Helcim Commerce platform. You can integrate this gateway with a shopping cart, billing system or other compatible third-party software.
Helcim Commerce is the software platform that connects all of these parts of Helcim merchant services. You can access Helcim Commerce on the web or on your mobile device using the Helcim Commerce app. Through this platform, you have access to your merchant account, all of your payment processing capabilities and your point-of-sale system. Depending on your specific plan, Helcim Commerce also gives you access to additional capabilities like online invoicing, a product catalog and inventory management system, a customer management system and credit-card vault, a subscription management and recurring processing tool, third-party integrations and a fully hosted online store.
Helcim Commerce allows for an unlimited number of users, and you can dictate user roles and provide enhanced user security. You can use your Helcim Commerce account across multiple business locations, accessing all of your information regardless of where you are or what device you're using. You can fully customize your platform, from email templates to your CMS. Helcim Commerce also supports multiple merchant accounts on the platform.
Here's what's included in each of the plan offerings:
This plan is for business owners who operate a brick-and-mortar store, like a retail shop or restaurant. The Helcim Retail Plan includes the following:
Unlimited users and access controls.

Advanced reporting tools.

Visa, MasterCard and Amex merchant account.

In-person credit card processing (EMV/Swipe).

Mobile apps and point-of-sale.

Product catalog and inventory management.

Invoicing, PDF and custom emails.

Customer relationship manager.

Card vault and tokenization.

Security and fraud prevention.

PCI Level-1 hosted environment.

Data backups and redundancy.
This plan, on the other hand, is for business owners who operate an e-commerce business. The Helcim Online Plan includes:
Unlimited users and access controls.

Advanced reporting tools.

Visa, MasterCard and Amex merchant account.

Online and e-commerce credit card processing.

Helcim.js (developer tool for adding payments to your website).

Mobile apps and point-of-sale.

Product catalog and inventory management.

Invoicing, PDF and custom emails.

Online invoicing payments.

Customer relationship manager

Card vault and tokenization

Self-service customer portal

Domain hosting and SSL certificate.

Third-party shipping services integration.

Recurring plans and subscriptions.

Prorated and metered billing.

Security and fraud prevention.

PCI Level-1 hosted environment.

Data backups and redundancy.
If you need both retail and online capabilities, you can purchase both plans together. Then you'll have access to all of the features that Helcim merchant services has to offer. Additionally, with any Helcim account, Helcim provides 24/7 customer service, as well as access to support resources and tutorials.
There are a few individual pieces to add up when looking at the total cost of Helcim merchant services. The ultimate price of Helcim for your business will be made up of the cost of your plan, your payment processing costs, any hardware you require and any additional merchant services you desire. Helcim is known for its transparent pricing, and all of its pricing information can be found on its website. It doesn't charge hidden fees, unlike many merchant service providers.
Helcim plans run on a month-to-month payment system, meaning you pay a set fee every month and are not stuck in an extended contract. You can cancel your Helcim account at any time without incurring a cancellation fee.
The Retail Plan costs $15 per month and the Online Plan costs $35 per month. If you need retail and online capabilities, you can get both plans for $50 per month. For each plan, this monthly fee covers everything included in the lists above.
In addition to the cost of your Helcim plan, you'll also have to pay the actual credit card processing fees. Helcim operates on an interchange-plus pricing structure, which it calls Cost+. The term Interchange-plus means you pay a specific rate plus cents per transaction above interchange (0.25% plus eight cents per transaction, for example). The interchange rate varies depending on the card issuer and can change year to year. With the Cost+ model, Helcim has a rate guarantee, meaning it guarantees that its margin will not increase for the life of your account with them.
The exact Cost+ margin that you'll pay depends both on your business (retail vs. e-commerce) and your sales volume. E-commerce businesses will generally pay a higher rate than retail merchants, due to the riskier nature of accepting payments online. Additionally, as your sales volume increases, your Cost+ margin decreases — meaning that Helcim offers volume-based processing discounts. That being said, for retail businesses, the highest Cost+ margin you'll pay is 0.25% plus eight cents per transaction. For online businesses, the highest you'll pay is 0.45% plus 25 cents per transaction. These "highest rates" will apply to businesses processing up to $25,000 in credit card sales per month. The chart below shows how the Cost+ margin decreases as sales volume increases for retail and online businesses. As you'll see at the bottom of the chart, Helcim also offers a discounted Cost+ rate for registered charities.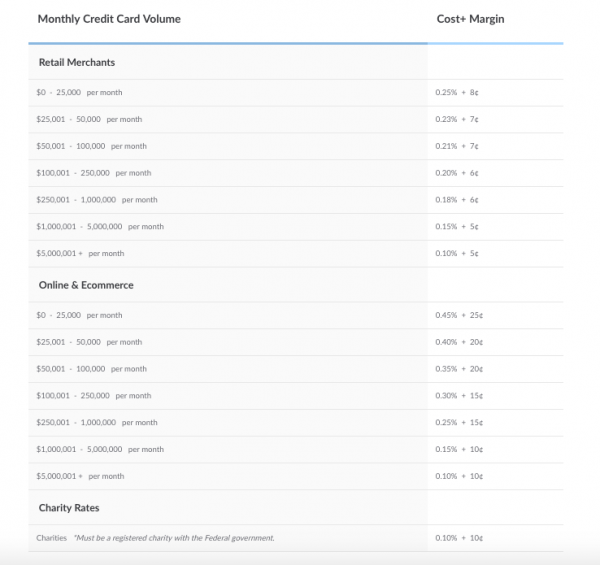 If your business requires hardware to process payments in-store, you can purchase this equipment directly from Helcim. The price will depend on which terminal you choose — but prices range from $30 (mobile card reader) to $549 (long-range wireless terminal). Remember, you can participate in Helcim's terminal replacement program, if you have a terminal that qualifies. If you need additional POS hardware, like a cash drawer or barcode scanner, you can purchase these from third-party sellers. Helcim lists all compatible hardware on its website. If you have hardware and want to see if it's compatible with Helcim, you can use its support pages or reach out to its customer service team.
Additional merchant services
Helcim offers a few supplemental merchant services, as well. You can add a merchant ID, multi-currency processing, level 3 data processing and ACH processing, for associated costs.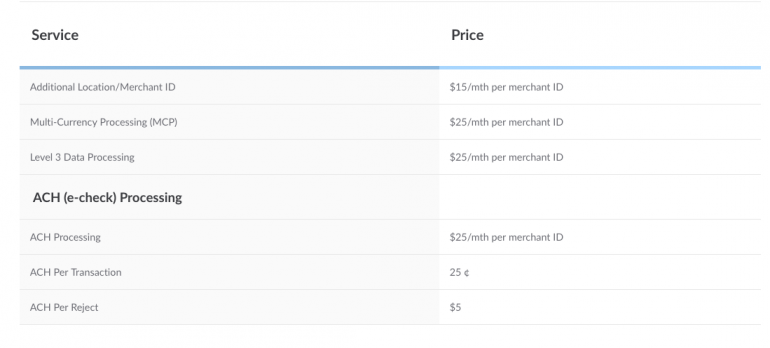 Although Helcim does not charge many of the typical fees associated with merchant service providers, it is transparent about the four instances in which you will incur a fee. Dial authorization will incur a two cents fee per occurrence. Anytime you need to change your business bank account or business name, it will cost $25. Additionally, if you have a transaction with non-sufficient funds, the fee will also be $25. If you are PCI-non compliant after the 90-day grace period, you will face a $60 fee. Finally, if you have a chargeback, you'll have to pay a $15 fee each time.
Transparency is probably the biggest stand-out element of Helcim, especially compared to other merchant service providers. Helcim lists all its pricing information on its website and breaks down individual costs for credit card processing and its different plans, even offering resources on specific interchange rates. Although the interchange-plus rates may not be the most affordable for all businesses, this transparent model is one of the best options you'll receive from a merchant service provider.
Helcim is also transparent about its fees. In fact, it doesn't charge fees where many other services do, like for monthly minimums, setup or account cancellation. Additionally, PCI compliance is included as part of all Helcim plans, which is another common monthly cost required by other providers.
Helcim gives prospective and current users access to all of its pricing, creating a basis of trust with customers. Most Helcim reviews on the internet talk about the company's honesty, transparent pricing and genuinely helpful customer service.
It's hard to say you'll find a merchant services provider that includes as many capabilities as Helcim. Unlike many other payment processing companies, Helcim provides you with a merchant account, credit card processing, a point-of-sale system, hosted payment pages, invoicing and business management tools (the specifics, of course, depending on your plan). Helcim merchant services truly is all-inclusive, giving you one-key access to the resources you need to run your business.
Pricing is also a potential con. Ultimately, what makes a good or bad price for a merchant service provider depends on your specific business. If you process a higher amount in monthly sales, the pricing might actually be a positive for you. However, Helcim's pricing is probably not the most cost-effective for smaller businesses that process lower volumes each month. There are definitely lower interchange-plus rates available from other providers. At the end of the day, you'll have to weigh the cost of the specific processing rates of a merchant service provider with the features it offers. Again, smaller businesses might not need all of the features Helcim offers and could benefit more from working with a point-of-sale processor like Square.
This may not be an issue for e-commerce businesses, but if you're processing in-person payments and want to use your mobile device, the Helcim mobile card reader may give you some pause. Just as Helcim reviews point out the incredible transparency of this provider, you'll see this point as a frequent negative. Helcim's mobile card reader is not EMV compliant, which means it only has swipe reading capabilities and does not accommodate EMV chips. Without this compliance, you are open to a greater fraud risk when accepting credit cards in person.
Additionally, to use the mobile card reader, you have to use the headphone jack — which is problematic if you have a newer iPhone or iPad model, which no longer have the traditional headphone jack functionality without an adapter. Although Helcim offers other hardware terminals, its mobile card reader option can be problematic if you're specifically looking for mobile device capabilities.
Before making your final decision, it's wise to explore some other options. In addition to all-inclusive merchant service providers, you also can look at point-of-sale processors, payment gateways and payment processing companies depending on your specific needs.
Square is a big name when it comes to credit card processing and POS systems for small businesses. Square has a number of different software options — Square Point-of-Sale, Square for Retail, Square for Restaurants and general Square Payments — depending on your business's specific needs. The most basic version of the Square Payments software, Square Point-of-Sale, is free and includes additional inventory and employee management capabilities. Regardless of which Square software you use, you receive a free magstripe credit card reader to process in-person payments. You also have the ability to purchase other hardware options directly from Square.
All of Square's credit card processing fees are set, but what you're actually charged depends on your individual software, hardware and transaction amount. Although Square fees can be complicated, you have the useful ability to plug and play with the different Square offerings to find a solution and general cost that fits your needs. The whole of Square's software and hardware options are on par with Helcim, however, Square also has industry-specific offerings, which can be particularly beneficial for retail stores and restaurants. Furthermore, Square has more affordable options. If you're looking for a well-known, user-friendly solution for payment processing and want to choose the specifics of what you're getting, Square is a great option.
For an alternative that more directly parallels Helcim, you might want to consider Payment Depot. Payment Depot is a merchant account provider that offers a variety of payment processing options for your business, including a merchant account, payment gateway, virtual terminal, POS system and more. Unlike Helcim's one-stop-shop platform, however, many of Payment Depot's services are provided in conjunction with external companies. The biggest difference between Helcim and Payment Depot is Payment Depot's unique pricing structure.
Payment Depot offers four different membership plans. With each of these plans you pay a monthly subscription fee, and Payment Depot offers a no-percentage markup model. This means you'll pay, for example, interchange plus 0% plus 15 cents per transaction — instead of paying a percentage plus a cent fee for each transaction, you're only paying that cent fee. The exact rate you'll pay will depend on your subscription (each of which has a maximum monthly processing volume), but it ranges from 15 cents per transaction to five cents per transaction.
Payment Depot does not charge for PCI compliance, early cancellation, setup and has no hidden fees. Payment Depot, though, is lacking the business operations and management tools that are part of the Helcim Commerce platform. If you feel that Helcim's rates are too steep and don't need its additional business tools, then Payment Depot might be a more affordable option.
Accept payments without worry
See our payment provider recommendations that fit your business.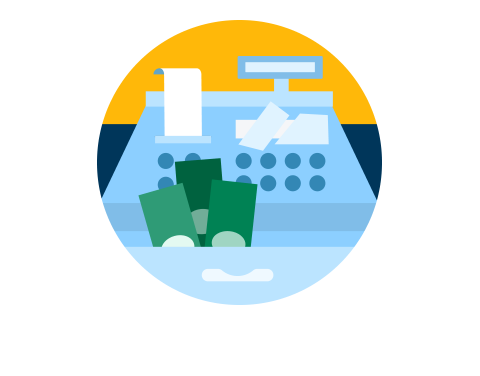 A version of this article was first published on Fundera, a subsidiary of NerdWallet.