How to Create a Small Business Organizational Chart in 4 Easy Steps
Our guide can help you create a business organizational chart designed to represent the structure of your company.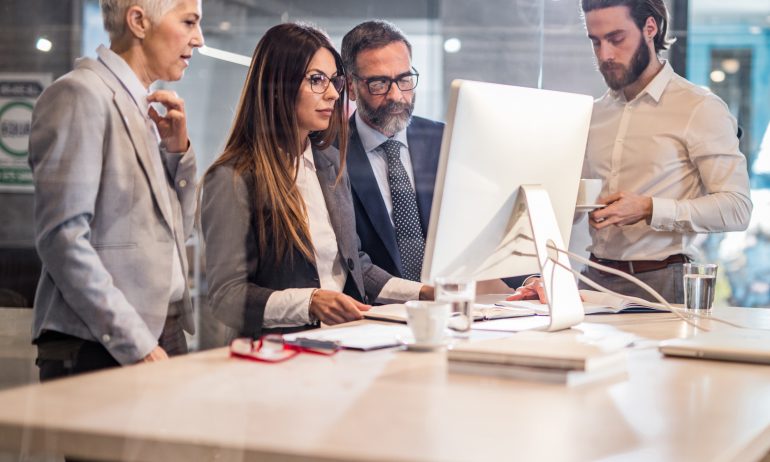 Many or all of the products featured here are from our partners who compensate us. This influences which products we write about and where and how the product appears on a page. However, this does not influence our evaluations. Our opinions are our own. Here is a list of our partners and here's how we make money.
Whether you're just starting out or have been in business for a while, creating and maintaining a business organizational chart can be an extremely helpful way to illustrate how your company operates and can also be used to show how you're going to grow and change in the future.
What is a small business organizational chart? A business organizational chart, sometimes also referred to as a "business org chart," is a visual representation of the structure of your business—it outlines the role of each employee and clarifies who reports to whom within your company. In many cases, developing and updating this chart will fall under the purview of your small business HR department, but if you don't currently have a separate human resources branch (or even if you do) it's worth understanding how these tables work and how to create one.
In this guide, therefore, we'll explain exactly how to create a business organization chart in four simple steps—discussing the various types of diagrams you can choose from, as well as the different goals you should consider when making an org chart for your company.
How to create a business organizational chart
Although looking at business organizational chart examples can be overwhelming, creating one of these diagrams for your company can be broken down into four easy steps. By taking this process one step at a time, you'll be able to decide which type of chart is best for your business and ultimately, develop a table (like many other operational documents you have) that can be utilized throughout the lifecycle of your business. With this in mind, let's get started:
Step 1: Decide how to structure your business organizational chart.
The first step in creating an org chart for your business is deciding what type of chart you want to use. Generally, there are four popular designs to consider and you'll want to choose the one that best suits your business's needs.
Hierarchical business organizational chart
To begin, a hierarchical diagram starts at the top of the business and works its way down the chain of command (as you can see below). A vertical line between individuals indicates that the employee above directly supervises the employee below. Hierarchies also show lateral relationships, where two people are on equal footing within the business framework, but may still collaborate or share responsibilities—these charts use horizontal lines to connect lateral workers. The business organization chart here shows how the company is structured starting with the CEO and progressing through the rest of the company.
You can see another example below, similarly structured, but in a graphics-based format that includes pictures:
Overall, most small businesses use a hierarchical organizational chart because it's the simplest option. This being said, you can use this type of business org chart even if you only have a few names to fill in—as your business grows, it's easy to add new employees.
Functional business organizational chart
Next, you might consider a functional business organizational chart if your company is large enough to divide employees into departments. This type of diagram shows the head of each department and all the individuals who report to them. A functional chart is not entirely distinct from a hierarchical chart, but it does have a slightly different emphasis based on the different departments.
In the example below, each box has dummy text, but here's what we recommend that you list for each individual. You can use this same information in all small business organization charts:
Name of employee (leave blank if the position is open)

Department (sales, marketing, accounting, operations, etc.)

Position or job title (sales representative, supervisor, account manager)

Description of duties (a brief phrase or two should be sufficient)

Location (if you have more than one office)

Contact information (physical address, phone number or extension, business cell phone number, work email address)

Photo (to recognize each other with ease)
As you can see, although the functional small business org chart is fairly similar to the hierarchical option, this diagram can be useful for distinguishing departments, giving a larger insight into how your company functions in this specific way.
Matrix business organizational chart
The third option, called a matrix or cross-functional business organizational chart, is useful if workers report to multiple supervisors. Like hierarchical graphs, matrix org charts illustrate the immediate supervisory relationships between employees, but they also show the project manager, team, or department to which an employee reports. As you can see in the example below, solid lines once again indicate that an individual is the primary manager of the person below them. Dotted lines demonstrate a less direct, but nonetheless important, reporting connection.
As this org chart from the Project Management Institute shows, the matrix small business organizational chart is often used by companies with project managers that work across different teams. Similarly, you may find that product, research, and engineering-based companies are more likely to utilize this type of diagram to illustrate their business structure.
Circle business organizational chart
Finally, the last option to consider is the circle business org chart. The circle diagram has become increasingly popular, especially among startup small businesses that wish to discard traditional business hierarchies. The idea behind these graphs (shown below) is that all teams—and the employees that comprise them—play an equally important role in the company.
Once again, although this example shows dummy text, you can see how you would complete the chart based on your business's information. Each department makes up a spoke in the wheel and the employees within are listed in each section. As we discussed above, you would fill in essential information for each employee—name, job title, brief description, contact information, etc.
Ultimately, this first step may take time—you'll want to consider your business as it exists now and how you want it to grow—that way, you can determine which of these four org chart options will work best for illustrating your company structure.
Step 2: Collect employee information and categorize the data.
Now, once you've decided on the type of business organizational chart you'll use, the rest of your chart development is fairly straightforward.
For your next step, therefore, you'll want to write a list of all the employees at your company and include the pertinent information about them that we mentioned above.
If you selected a hierarchical chart, you'll place each individual in their proper order on the list. The business owner occupies the first tier, anyone who reports directly to them belongs on the second tier, and the chart progresses from there. If you chose a functional or circle chart, you'll organize your list by each department, as shown in the examples we explained above. Finally, if you opted for a matrix small business org chart, you'll want to be sure to make note of all supervisory relationships.
Step 3: Decide how you'll complete your business org chart.
After you've gathered all of the information you need for your employees and categorized it based on the chart type you've selected, you'll want to determine how you're going to complete your chart. As you saw in our examples above, there are images and small business org chart templates you can download and edit using a software program like Adobe Photoshop.
On the other hand, you might choose to create your business organizational chart in a simple, reliable program you might already own, like Microsoft Office (Excel, Outlook, PowerPoint, or Word) or Google Sheets. You also have the option to purchase a template from a provider like SmartDraw or Lucidchart. To make the most out of your investment, however, you might consider purchasing an HR or payroll software that includes this functionality (among other features). As an example, Gusto's all-inclusive platform allows you to create an org chart within their system, as well as manage your essential payroll and HR tasks.
Although technically, you could diagram your small business org chart by hand, if you use an online template or software, you can modify your graph with ease as your business expands and staff changes.
Step 4: Fill in your business organizational chart and file it securely.
Finally, once you've chosen how you're going to complete your org chart, you'll be ready to actually fill it in.
With the data you've compiled, you'll fill in each box or branch of the chart that you've picked. Once again, if your diagram is hierarchical, you'll start with the owner or CEO of the business at the top. Then, you'll create a box below the owner for each person who is an immediate report, and draw a solid vertical line down from the proprietor to each of these supervisees. You'll continue this process for each layer in the company chain of command, and move down the corporate ladder until you've placed every employee on the chart.
If your graph is a functional design, you'll fill in the primary boxes with the information for the head of each department and the remainder with the information for every individual they directly manage. You'll follow the same procedure with a matrix chart—with this chart, however, don't forget to include secondary managers to the side of each department, and make dotted lines (or some other distinction) between boxes to represent those additional supervisory relationships.
Last, with a circle chart, you'll add the information employees and duties of each department to the corresponding pie slice, and your diagram is complete.
Once you've completed your small business org chart, you'll want to be sure you save it in a secure location—if you're not utilizing an HR software or another program that allows you to save it within that system. You'll want to keep your organizational chart on hand to update as your business grows and changes.
Along these lines, it's also helpful to store a copy of your org chart on a shared company server, drive, or employee portal so that everyone in your company can see it (but not change it)—this way, everyone in your organization can understand how the company is structured and refer back to the chart as needed.
Small business organizational chart templates
If you're not ready to invest in a software platform to build your diagram, you may be interested in exploring different small business organizational chart templates. As we mentioned, there are well-known solutions, like Microsoft Office, that offer org chart templates that you can download and use for your business. Let's look at a few examples:
Microsoft Office: Within the templates section of the Office website, you can find various, free business org chart templates that you can download for free and customize within PowerPoint, Word, or Excel. For a simple hierarchical chart option, you might start with this "Minimal organization chart."

24Slides: Among other business template options, 24Slides offers free small business org chart templates that you can copy and edit within Google Slides. They also offer these templates in different types including the classic hierarchical chart, as well as the circle chart.

Canva: Image editing and graphics platform Canva allows you to design and customize your own business organizational chart (for free, you just need to sign up for an account) using their system.

Vizzlo: Although Vizzlo does offer paid plans, with their free version, you can access over 100 different chart types, including small business org templates. Plus, you have the option to edit your template within Vizzlo, or create your chart direct in PowerPoint or Google Slides using a Vizzlo integration.
Of course, these are only a few options—there are numerous additional templates and examples you can find by searching and browsing online.
The benefits of a business org chart
As we've shown through our four-step guide, creating a business organizational chart can be a fairly straightforward and simple process. However, if you're just starting out, or don't have a dedicated employee or department to work on developing this graph, you may be wondering if you really need an org chart. Ultimately, the decision is up to you—but, to this end, it's worth highlighting some of the benefits of one of these diagrams and why they can be so useful for your small business.
Clarify management structure
If you're just starting your business the process necessary to construct a business organizational chart forces you to officially distribute tasks and flesh out the roles of each individual and the purpose of each department in your enterprise. This avoids confusion later, as your business grows. Of course, you can always restructure your business organizational chart down the road—however, if you outline the expectations for each position early on, you're already a step ahead in the entrepreneurial process.
On the other hand, if your company is more established, a business org chart helps both new and existing employees to understand where they fit within the company's framework, which clarifies any questions regarding the chain of command. This transparency saves time and increases efficiency, as workers can consult your organizational chart and determine exactly who to speak with when faced with a given issue. Plus, if your business organizational chart is well-structured, your employees will already know not just the name of the proper individual to consult, but also what position they hold and what responsibilities they oversee.
Increase operating efficiency
Another benefit of creating and maintaining a small business org chart is that by doing so, you can examine your company's current structure and unearth potential ways to improve it. Are certain employees responsible for too many tasks, and others too few? Is there unnecessary overlap between individual workers? Are there any duties that fall through the cracks? Should you reorganize in order to meet those needs, hire additional workers, or possibly even outsource these assignments? You may find that you can better utilize the workers you already have, and thereby increase productivity.
A business organizational chart can also improve cross-functional communication throughout your business, which leads to more effective project management. It's easier to accomplish tasks that involve multiple workers or teams when the reporting structure is clear, and everyone knows who to talk to about what.
Demonstrate current success
Even if you think that your business wouldn't benefit from an organization chart, you may find that potential lenders want to see one when you're applying for financing. Similar to a business plan, banks, institutions like the SBA, and potential investors want assurance that you've carefully considered the structure of your business, as such preparation is often an indicator of future success.
As financial professionals, they'll also want to ensure that the business organizational method you've chosen is one that they believe is likely to prosper—so that you can pay back your potential business loan on time.
Facilitate future planning
Finally, a small business organizational chart can help you prepare for the evolution and expansion of your business. In this vein, we'd recommend that you create two versions of your organization chart: one that reflects your current company structure and one that shows your growth objectives. You might even consider additional charts that indicate how you might reorganize should unexpected changes occur, like reductions in funding or the sudden departure of a key employee.
Your second business organizational chart, of course, will have a lot of blank spaces—room for all the positions you'd like to fill in the future as implement your business growth strategies. In this way, you can use your chart to find possible holes that exist in your current staffing, and you'll have a built-in roadmap for future hiring.
At the end of the day, taking the time to plan and create a business org chart can be extremely beneficial for your small business—now and in the future. Whether you develop this diagram yourself, or work with your team to do so, you can follow our four simple steps to complete the process relatively quickly and easily.
Plus, if you already utilize a payroll or HR software, you can check to see if your platform already includes an org chart builder. If it doesn't, you might decide to use one of the templates we've discussed here. On the other hand, if you don't have an HR or payroll software, you might consider exploring some of the top options out there—Gusto, Zenefits, etc.—as any of these solutions will not only allow you to create a small business org chart, but will also help you efficiently and effectively an important part of your day-to-day operations.
This article originally appeared on JustBusiness, a subsidiary of NerdWallet.